Genius ERP
Cos'è Genius ERP?
Genius Solutions è una soluzione di pianificazione delle risorse aziendali (Enterprise Resource Planning, ERP) completa, che comprende software, servizi di implementazione ed esperienza sul campo per
Scopri di più
produttori personalizzati di piccole e medie dimensioni. Genius ERP è progettato per i produttori che gestiscono la produzione su ordinazione, lavori di ingegneria su ordinazione, lavori personalizzati su ordinazione e assemblaggio su ordinazione. Stime accurate, ingegneria del prodotto, controllo dello stock, pianificazione della produzione, gestione della contabilità e supervisione completa: un sistema che aiuta a semplificare sistemi complessi di produzione.
Mostra meno
Chi utilizza Genius ERP?
Produttori di apparecchiature e macchinari personalizzati Produttori di apparecchiature di processo, impianti fotovoltaici e serbatoi Produttori di attrezzature per il trasporto Produttori di stampi, attrezzature e matrici Fabbricazione di metallo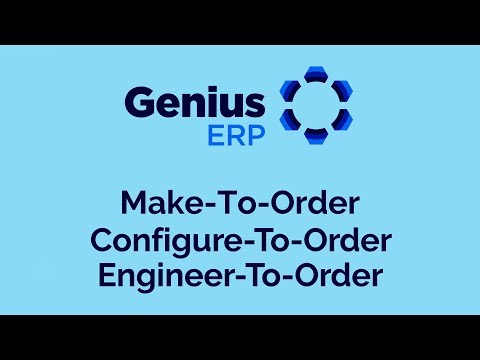 Hai dubbi su Genius ERP? Confrontalo con una delle alternative più diffuse
Non disponibile nel tuo paese
Versione gratuita
Prova gratuita
Versione gratuita
Prova gratuita
Samantha
President & CEO (Canada)
Macchinari, 51-200 dipendenti
Ha utilizzato il software per: 6-12 mesi
Alternative considerate:
Genius - Great Manufacturing ERP Software
Commenti: The whole process from implementation to Go Live has been a great one overall. [SENSITIVE CONTENT] has been amazing with us!! I did feel that we were left alone a bit too much during this process, however this in turn has made us much better at understanding the software overall. Our team has adopted the new system well. We are still working through some issues and need to figure out all of the nuances of a new system.
Aspetti positivi:
Our whole manufacturing process is managed including inventory control. I really like that the team can look into a job and figure out at what stage certain items are at in the manufacturing process. The engineering side is great, and allows our team not to have to do duplicate entries. This also ensures that there is much less human error since the items are imported directly from Inventor to the Engineering Document. This in turn is transferred to the job. From the quoting side, we were doing our small quotes manually previously, and now we quote within the system and then when a PO is given we convert it. Therefor no extra entry is needed.
Aspetti negativi:
The accounting side is not the greatest. You can tell that this was added to the software after. It is really hard to follow the transactions. There is potential for it to be better. I think that one of the biggest downfalls of the software is how buy and sell parts are handled with regards to inventory. The system was not created for this purpose, and therefore is has a big weakness on how this is controlled/handled. The scheduling is a very hard concept to understand and it takes time to get it to work. There are items that don't make sense at times and you have to dig to figure out why. It is not always clear to know why certain dates are given. The standard reports are not great.
Magazzinaggio, 11-50 dipendenti
Ha utilizzato il software per: 6-12 mesi
Alternative considerate:
Great Software and Functionality at a fraction of Big ERP Cost!
Commenti: Very good. From signing the contract to go live with a small trailer manufacturer in NC was 2 months! Good training and experience in ERP helped that, but even if we added more complexity, we could have accomplished it in 4 months, tops.
Aspetti positivi:
Having been in ERP space for 30+ years in Manufacturing Environments, I can attest that Genius ERP provides very robust functionality at a very competitive price. From BOM to Engineering Lifecycle to MRP and MPS, it really does it all. Their training is straightforward and their support is excellent! They also have scheduled "talk with an expert" sessions (~2x week) that enable you to get quick responses on issues of functionality. Being Cloud hosted means you don't have to invest in the infrastructure and sleep at night knowing your data is safe. Their security is as robust or simple as you'd like it to be. Lastly, if you're familiar with SQL databases, they have a very nice interface through their own Analytics Product and Power BI. Other nice features: Downloads of views of data to excel, Export/Import of major data sources; Robust custom fields; Report export to Excel, PDF, etc..; REST API to enable web based integrations.
Aspetti negativi:
Being cloud hosted, we have to RDP into Azure (as opposed to a full-fledged html version) to get to a desktop (I believe this is on their roadmap). They do, however, have a Web Shop Floor interface that eliminates the need of the Remote Desktop for shop floor reporting. Lastly, because of the RDP, we have to rely on local default printers for printing (but there are many option for preview->pdf/excel). No OBC data access, but they do have a nice Power BI connector. Their General Ledger is servicable, but they tell you that from the outset. And I would never make a manufacturing ERP decision with the quality of the G/L being a major factor. Besides, you can get the data out of Genius via Analytics and/or PowerBI and cut/paste into Excel. File exchange (through Azure connectors) is accomplished by creating a share on Azure and local company and syncing the two. It's not immediate, but it is relatively timely. No local admin rights on the desktop, requiring a help desk ticket for any software install or upgrade. These are all relatively minor inconveniences, when you look at the core functionality of Genius.
Macchinari, 51-200 dipendenti
Ha utilizzato il software per: 1-5 mesi
Alternative considerate:
A Genius Fit for Custom Manufacturers
Commenti: The implementation process was shockingly smooth. We were expecting a lot of clean up and things to fix and found that to be very little. Compared to our previous ERP, getting to data and having it available without the need to drill down several levels to find it is a major improvement. The ability to filter data using drag and drop headers makes data processing much faster. Overall it has improved our business functions dramatically and we are only getting started. There are many features we are bringing on board that will further improve the value to the business. The technical team has also been easy to work with and responsive.
Aspetti positivi:
The integration by far was the most seamless and easy process that we've gone through with an ERP implementation. Being a custom manufacturer, we needed an ERP designed for our type of business. From CAD to BOM capability, preliminary purchasing of long lead time parts, scheduling using the drum-buffer-rope method and the ability to access data for metrics and data driven process control, Genius had it all!
Aspetti negativi:
There are some features that are not customizable. If you can't adapt your process to fit then you've got to figure out ways to use other features in a different manner to achieve the goal. Luckily we've been able to do that for most processes and still maintain a high level of efficiency. The software has a Gantt chart feature but its not printable in a format that can be shared. That for us is the biggest omission for software focused on custom manufacturing.
Donnalynn
General manager (Canada)
Produzione di apparecchi elettrici/elettronici, 11-50 dipendenti
Ha utilizzato il software per: 6-12 mesi
Alternative considerate:
Genius ERP_great product for the money
Commenti: Our company has seen many tasks that were being duplicated in various spreadsheets eliminated. All the data needed by any department is now in one place - quoting, sales, production, inventory management. All the users can see what relates to their department and share easily with others. We are still "new" to Genius, only 8 months in. We still have many things we have not had a chance to learn or put into practice but each week we are finding new ways to save time and improve our results.
Aspetti positivi:
Genius has many features we selected it for. It allows customizable BOMs that can continually be updated throughout the build by the engineering team. The Lifecycle engineering feature was core to our selecting the product. It has the flexibility to allow preliminary material buys before the design is complete, and still track these to the job. The material planning and control features are also easy to use and offer flexible solutions. We integrated Genius into our business in about 8 weeks. They provide a full team of support to help get it up and running! Their support team contiues to be there when needed.
Aspetti negativi:
If anything is a bit weak in Genius it is the integrated accounting module. It is not as user friendly as our previous system ( QB). The trade-off though of being able to see live job or order costs outweigh any other concerns. All new products take time to get used to.
Risposta di Genius Solutions
2 anni fa
Hi Donnalyn, Thank you so much for this review! It's great to hear that in the short time you have been using our ERP it has been working really well for you we look forward to a long partnership with you!
Jennifer
Controller (USA)
Macchinari, 51-200 dipendenti
Ha utilizzato il software per: Più di 2 anni
End to End Manufacturing ERP
Commenti: We have had a great experience with Genius. Their product consultants who helped us implement the software focused on how to develop processes through the software that solved some bottlenecks as well as gave us much better cost and hour tracking.
Aspetti positivi:
We chose Genius ERP because we are a custom, make to order manufacturer, and Genius allows us to design and release parts of the machines in Solidworks as they are complete to production. This allows us to manufacture complex machines in less time by getting a jump start on long lead items using just in time purchasing and production scheduling. Genius tracks all costs to each machine which gives great visibility into our margins that we can trace all the way to our financial reports. Genius ERP is utilized throughout all our business processes from customer order through to final shipment and invoicing and then flows through to our financial reports. With all employees working in a single integrated system, it has allowed our process flow to become smoother with less questions popping up across departments.
Aspetti negativi:
I would love to see them update the UI. There are lots of clicks required with each transaction.
Risposta di Genius Solutions
3 anni fa
Hi Jennifer, Thank you so much for taking the time to leave us a review. we are always happy to hear from our great customers like you! I am really glad that Genius ERP is helping you speed up production and making all of your business processes run more smoothly. We love learning how our customers are making Genius ERP work for them! Thanks also for the feedback on our UI. It is important for us to learn where we can improve. We really value your comments on our system, thanks for leaving us a great review! - Jesse Linklater, Director of Marketing