Cos'è Aplos?
Una buona amministrazione inizia con una buona contabilità. Ecco perché la contabilità dei fondi è un elemento essenziale della gestione della chiesa. Aplos Accounting è un software di contabilità
Scopri di più
online semplice che ti consente di conservare i registri senza avere alcuna esperienza. E il supporto è sempre gratuito! Tieni traccia dei fondi designati, accetta le donazioni online e risparmia tempo generando automaticamente dichiarazioni fiscali per i contributi ricevuti.
Mostra meno
Chi utilizza Aplos?
Ideale per le chiese che necessitano di una soluzione di contabilità dei fondi accurata e di facile utilizzo e che devono emettere dichiarazioni fiscali per i membri. Advanced Accounting è perfetto per le chiese con beni immobili, più sedi o progetti speciali.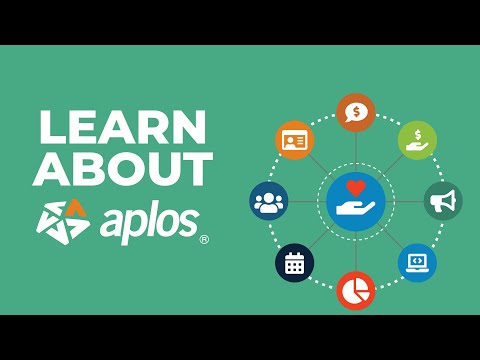 Hai dubbi su Aplos? Confrontalo con una delle alternative più diffuse
Non disponibile nel tuo paese
Versione gratuita
Prova gratuita
Versione gratuita
Prova gratuita
Matthew
Executive Director, Finance (USA)
Servizi e tecnologie dell'informazione, 5.001-10.000 dipendenti
Ha utilizzato il software per: Più di 1 anno
Your solution partner for accounting.
Commenti: Aplos is an accounting software that combines an easy-to-use interface and the power of a robust accounting engine to elevate your business.Aplos makes running your accounting fast, simple, and secure. Users can track their finances and make proactive decisions by analyzing their current and historical data.Aplos provides a variety of unique features, including: A state-of-the-art accounting engine, Customizable dashboards, Multi-currency support.
Aspetti positivi:
Aplos is a new company that is in the process of moving into the accounting industry. Aplos is a membership company designed to help companies like yours manage their membership programs. Aplos offers a wide variety of solutions that can be customized to meet your company's needs.
Aspetti negativi:
Overall interface quality could be improved a bit, I didn't see any other problems.
Crystal
Finance Manager (USA)
Istituzioni religiose, 2-10 dipendenti
Ha utilizzato il software per: Più di 2 anni
Alternative considerate:
Aplos is a lifesaver!
Aspetti positivi:
I like that there is great customer support and easy to understand tutorials and instruction. The team there is always helpful, quick to respond, and so patient and kind. Although I can find the help I need online most of the time, I like to talk to a real person on chat or on the phone.
Aspetti negativi:
There are so many types of reports for a newbie to understand that sometimes it can be a little bit overwhelming.
Istituzioni religiose, 2-10 dipendenti
Ha utilizzato il software per: Più di 2 anni
Floats to the top
Commenti: Aplos is doing the job for me. Some things are frustrating, but mostly, it's better than doing things by hand or by spreadsheet. Occasionally odd things happen. For instance, it's now January 17, and the home page is telling me that my YTD income is different from my monthly income. This can't be true in January. Similar things happen in some reports. The balance sheet will say that a fund has X dollars, but the report for that fund will say Y dollars. So there are some quirks to get around, but it's no worse than making a spreadsheet (or other software that knows nothing about fund accounting) behave. I like the reports Aplos generates. Especially at the end of the year, when everyone in our congregation wants a statement for their taxes. It's really just one button. If I were the boss of Aplos, the first thing I'd change is that I'd clean up the wasted screen real-estate. There's a button on the bottom right that has a bad habit of covering half the number I want to see, and pop-up "alerts" occasionally disrupt my work. And the box the pop-ups come from is also wasted screen area. Actually, this box keeps telling me I'm 85% set up. It's wrong. I'm as set up as I want to be. I can't see how to make the box go away, except to buy more product which I don't need. This amounts to a pop-up ad, and not the good kind. So this isn't a glowing review. But software nowadays is written so poorly, that bare competence floats to the top. Aplos is better than anything else I've used, but that's not saying a lot. If they raise the price again, I'm going back to spreadsheets.
Aspetti positivi:
Fairly clean interface. Most reports are close to what I want.
Aspetti negativi:
It's still buggy. Amounts that should match, don't always. The cost has tripled in the last 3 years.
Risposta di Aplos Software
6 anni fa
Hi Bart, If the numbers are off by a few dollars, this may be due to rounding. If you¿d like, our Support Team would be happy to look into this to give you a more specific answer. Please feel free to reach out to our Support Team at [email protected] For the Setup alert: You can click on the Go To Setup button and choose some of the options like, I don¿t want to set Starting Balances. Or, there are feature options that you can say ¿no¿ to, like Contributions. This should help clear that alert. Also, sorry that the bottom right icon is a bit pesky. We want you to be able to contact our Support Team if you ever have questions, so that¿s why it¿s there, but we realize that it can sometimes get in the way. That¿s a suggestion that we¿re happy to pass along to our development team. The Aplos Team
Gestione di organizzazioni non profit, 2-10 dipendenti
Ha utilizzato il software per: 6-12 mesi
Alternative considerate:
From QuickBooks Online to Aplos
Commenti: From the initial inquiry to day to day activities, the Aplos team has been a great support. They are quick to respond and guide us with the different features. Very refreshing!
Aspetti positivi:
Aplos is easy to use and I appreciate the Fund Reports and the Budgeting Reports. Learning the software was very easy and there are a number of help topics to assist you. Today I ran into a snag and used the chat box and received an answer back very quickly. Aplos has always be very responsive to any inquires.
Aspetti negativi:
It would be nice to have more reporting options. What is there is great, however it would be helpful to have some more analytical reports for number nerds like me. Also 1099 reporting.
Wendy
Volunteer Treasurer (USA)
Istituzioni religiose, 2-10 dipendenti
Ha utilizzato il software per: 1-5 mesi
Fonte: SoftwareAdvice
APLOS Software for my Small (but growing) Church
Commenti: The people at APLOS are great to work with. Easy to reach out to, quick to respond, They are really good at listening to my particular need and showing me how APLOS helps with it vs. just a generic response. Also, you can't beat the price. (I got a Black Friday 50% off special for a year). I looked at other options - some were too much for my need (both cost and complexity) and some could be made to work (Quickbooks for example) but were not really designed for a church. This is PERFECT for us.
Aspetti positivi:
I purchased this software to help me take on a new role as treasurer of a small church. Am about 6 weeks into a "practice period" and will wipe out my practice data and start clean in January. It has (almost) everything I could want and some things I did not expect. The people database for church members, vendors, & prospects supports communication and there are robust accounting features (budgeting, bill pay, offerings, etc.). It has predesigned reports of all kinds that can be easily customized. You can import and export data. And it is really easy to use. Clearly designed for non-professionals like me - a volunteer doing a treasurer's job. Loved it from the first time I started playing with it during the free trial period. Also the resources (webinars, academy, one on one support) are great! Have watched several webinars, and chatted with people in customer support several times to get specific guidance/suggestions on my questions.
Aspetti negativi:
Have found only 2 things missing so far: 1) My pastor wants the ability to use the letter/email functions to communicate with members (uses the contact database) without seeing their donation records - and right now that "separation" isn't available. Also in recording donations, I would like to differentiate between cash and check because you need that info to make your bank deposit. APLOS doesn't provide for that. There's a workaround but not a great one. Customer Service made note of both of these needs for future releases.