Streak
Cos'è Streak?
Streak è l'unico CRM completamente integrato nella tua casella di posta Gmail e funziona insieme a tutte le altre applicazioni di G Suite. Può essere utilizzato per tenere traccia dei molti processi
Scopri di più
aziendali, tra cui vendite, partnership, supporto, assunzioni, flusso di affari e molto altro. Streak include anche un potente set di strumenti e-mail, come il monitoraggio delle e-mail, che ti consente di monitorare quando un'e-mail viene aperta.
Mostra meno
Chi utilizza Streak?
Streak è ideale per startup, piccole e medie imprese e team più piccoli all'interno di aziende commerciali/imprese che cercano un CRM leggero.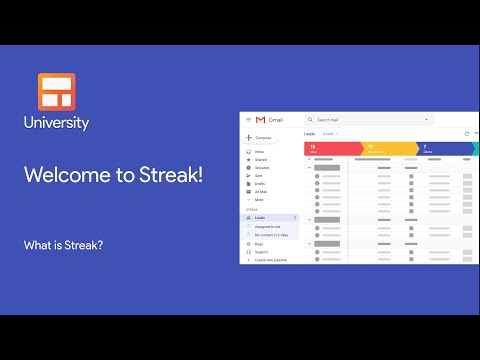 Hai dubbi su Streak? Confrontalo con una delle alternative più diffuse
Non disponibile nel tuo paese
Versione gratuita
Prova gratuita
Versione gratuita
Prova gratuita
George
Data Engineer
Utente LinkedIn Verificato
Servizi e tecnologie dell'informazione, 10.000+ dipendenti
Ha utilizzato il software per: 6-12 mesi
Email tracking made easy in Gmail
Sottotitoli in italiano disponibili nel lettore video
Proprietà immobiliari, 2-10 dipendenti
Ha utilizzato il software per: Più di 2 anni
SOOOO GOOD! Jump in without delay.
Commenti: This is the stuff CRM's dreams are made of.
Aspetti positivi:
Masterful integration with Google's core productivity products (Gmail, G-Cal, G-Contacts, G-Meet, etc.). I wanted a CRM that increased efficiencies AND reduced redundancies, eliminated multiple software subscriptions, and existed WITHIN gmail. Streak achieves all of this (and—believe me—so much more) with flying colours. Not to detract from the many superior features of Streak, but I wish to use the following example to illustrate how exceptional Streak's value offering is. Whatever software you currently use to create snippets (AKA: email templates), if it's robust, your annual cost is likely a significant percentage of what you'd pay for Streak. Yet, Streak's snippet feature is far and away better than every similar snippet software I've ever used (and I've used the top 5 [in terms of largest user base]). While snippets are but a footnote feature amongst Streak's suite of sophisticated features, my point is that snippets alone are worth the value of a Streak account. Oh, that's right! The snippets are included in the free package. That's another point. Streak's free tier is so good that I'm sure many users/reviewers have little need for the paid plans if they run a solo operation. Just know this, though. Streak is the good stuff. If your business needs grow, so will your Streak consumption. Thankfully, Streak's paid plans are phenomenally competitive... dare I say, generous. Streak's ongoing maintenance, enhancements and customer services are golden.
Aspetti negativi:
The guilt I feel, for how little I pay, to use such a refreshingly functional CRM.
Servizi e tecnologie dell'informazione, 2-10 dipendenti
Ha utilizzato il software per: Più di 1 anno
A solid CRM that integrates into your daily life
Commenti: We use Streak to create the whole task flow when starting a project for another company. It is a great tool to see where exactly we are in the integration process and how far along we are with each company we work with. It works well, and is reasonably priced. My favourite part is that it integrates into Gmail which makes it extremely convenient. Streak does not come without issues, but they are minor and not too bothersome.
Aspetti positivi:
It sits right there, in your Gmail inbox, ready to spring into action when you need it. Streak is an ingenious way to deal with CRM and is easy to remember to deal with, as your email is always open anyway. No need to switch tabs or use multiple different solutions for one task.
Aspetti negativi:
There were a few issues I found with Streak. Sometimes it takes ages to load and when I'm trying to follow up on an email, write a note for my team, and have three more tasks sitting in my head, the last thing I need is for my CRM to freeze out for 30 seconds. The other thing I noticed is that, every time I would load any other email address in the same browser, Streak would send me a notification that it should be enabled. It would be great if the Chrome extension would recognize which email address is open and not bother me when it is not the one that it should be managing.
Kamlesh
Director (Singapore)
Servizi di informazione, 2-10 dipendenti
Ha utilizzato il software per: Più di 2 anni
Streak is awesome and the best in class for email integrated CRM.
Commenti: Overall experience has been great and it has been a life saver. A lot could be improved though like automating the workflow of adding leads from emails, auto reminding about contacting leads. Streak has features on the free version, which no other crm has (in our knowledge) llike mail merge for your leads, magic columns, clean interface needing very little training, email integrated. Its a blessing!
Aspetti positivi:
Streak is awesome and the best in class for email integrated CRM, particularly small businesses that work on gmail. It has a clean excel like interface & they developed an App and gave it in free version very early on. It is something every self employed must use and can use. It is a no brainer, goto CRM, compared to all other CRMs out there. We evaluated many CRMs 10 years back, when we first started with Streak.
Aspetti negativi:
For a small company to get onto the paid version, the starting plan is a little expensive for small team. They should make it cheap for upto 3 employees, so a lot more small companies can afford it. They limit upto 50 boxes for leads on free version, that is a little too less, because not all leads are able to convert. With a little ads, you actually get a lot of leads, so a minute of 100 leads should be allowed. Also on the free plan, they don't allow you to share the pipeline with someone above 50 leads, they should allow to share with tleast 1 employee so that it doesn't cripple a small biz and they dont' go hunting for a new crm. Streak doesn't have good videos to boot-up a new customer quickly.
Aline
Business Owner (Canada)
Utente LinkedIn Verificato
Forniture e materiali, 2-10 dipendenti
Ha utilizzato il software per: Più di 2 anni
Fonte: GetApp
Streak is exactly the CRM I was looking for
Commenti: Streak listens to their customers and is constantly improving. They reply quickly and are professional and courteous.
Aspetti positivi:
Streak allows me the flexibility to manipulate my data the way I want to without going from module to module. The integration with my email is the icing on the cake! The ability to access all my data from one location saves time and time is money!
Aspetti negativi:
There is not much that I don't like but their is one option that is a thorn in my side. Since they integrate with Gmail and I have been told that they cannot do anything about this, oh well. It is recommended to turn on CONVERSATION VIEW in Gmail. I will never do this. Every day, my emails are linked to multiple people and what a disaster it is to keep those emails straight. I cannot pull up sent emails because of that and I'm hoping that someday, there will be a fix.
CANDICE
Accountant, CEO (USA)
Contabilità, Lavoratore autonomo
Ha utilizzato il software per: Più di 1 anno
Alternative considerate:
Excellent CRM for Gmail
Commenti: Overall, I love it - I am able to organize workflow & client communications in one place and that is terrific.
Aspetti positivi:
I love that Streak allows me to manage directly from my Gmail inbox - I don't have to juggle multiple platforms to acheive what I need to do.
Aspetti negativi:
The task management does not allow for recurring tasks and it while it does a great job of keeping all communications with a client in one place, it can stil be difficult to find something specific - I wish you could search within a box that would be really helpful!