Insightly
Cos'è Insightly?
Insightly è un potente software CRM facile da utilizzare con integrazioni native per Gmail, Office 365, MailChimp e altre applicazioni note. Con oltre 1,5 milioni di utenti in tutto il mondo, in una
Scopri di più
varietà di settori, le piccole e medie imprese utilizzano Insightly per gestire le opportunità in ogni fase del processo di vendita: stabilire relazioni con i clienti, consegnare progetti, creare preventivi e altro ancora.
Mostra meno
Chi utilizza Insightly?
Organizzazioni di qualsiasi settore alla ricerca di una soluzione CRM semplice da utilizzare, ma potente, con funzioni di gestione e consegna dei progetti. Tieni traccia nella stessa piattaforma di tutti gli aspetti, dai potenziali clienti di vendita ai progetti consegnati.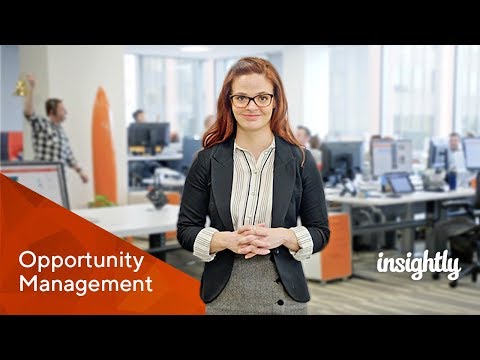 Hai dubbi su Insightly? Confrontalo con una delle alternative più diffuse
Non disponibile nel tuo paese
Versione gratuita
Prova gratuita
Versione gratuita
Prova gratuita
Susan
Sr. Manager-Business Operations (USA)
Utente LinkedIn Verificato
Servizi e tecnologie dell'informazione, 10.000+ dipendenti
Ha utilizzato il software per: Più di 1 anno
A reliable and completely user-friendly tool with immense productivity.
Commenti: Insightly CRM offers a wide range of services for our business to improve our customer services and have provided us with benefits to enhance our marketplace. It has allowed us to successfully engage our working relationships with the clients in a more reliable way. I have also been performing project management tasks with this tool.
Aspetti positivi:
Insightly CRM is itself a very reliable tool which allows the user to gain the most of the advantage with its easy to use features and efficient tools. We can also easily integrate it with other tools to improve the overall productivity. It's super responsive when dealing with the customers. We can easily maintain our sales cycles and ongoing customer service to provide extra care for the clients. The user-interface is also quite easy and manageable than other such tools.
Aspetti negativi:
Chrome extensions are bit of a clunky addition which further complicated the working procedure so mostly avoid it. The other tools integration is right on point but the social media integration misses few of the parts and continues to be a wastage of time for us. In the end, it proves to be much effected on our overall work and improves the efficiency of our work routine.
Risposta di Insightly
3 anni fa
Hi Susan, Thank you for the feedback. The Chrome Extension you're talking about is actually sunset. Try the new Add-On. :)
Anne
Director Operations (USA)
Coaching e formazione professionale, 2-10 dipendenti
Ha utilizzato il software per: Più di 1 anno
Alternative considerate:
Customizing Insightly
Commenti: I think it is a great, affordable product. I'm disappointed in the Customer Care response (or lack thereof). The Customer Support team is great. They can troubleshoot and fix items. Customer Care is required if you are trying to better/best use the product. I think that group needs some work. Anyone customizing the product should be confident that Insightly knows how it will be used for user's business and that may mean more questions upfront, better understanding of a client's business.
Aspetti positivi:
That we could customize. We were able to make this software work for our needs, which were a bit different than how the typical sales team might. We can track our orders and do great reporting. Dashboards are very nice feature. Ability to customize pipelines very helpful and visuals are great. Customer support team is helpful and responsive.
Aspetti negativi:
Integration with our needs was a bit difficult. Our sales person seemed to understand what we needed to accomplish but I don't think the customer care person is as savvy. Customization is great, but if it impacts how you can report items or get most accurate data, user needs to understand that. We got creative in how we used items and where possible, didn't customize, just repurposed so we got the benefit of the connections Insightly makes. In our haste to be up and using, I don't think enough time was spent on that and rework was involved.
Matthew
Head of Client Engagement & Services (UK)
Consulenza manageriale, 11-50 dipendenti
Ha utilizzato il software per: Più di 2 anni
Insightly highs and lows
Aspetti positivi:
It is relatively intuitive easy to customise, easy to align to specific business needs.
Aspetti negativi:
Effective linkage of the databases that sit behind the product. If i log an activity for a against a contact that is part of an organisation, that activity will not be visible under the organisation. This is a big miss. There needs to be total linkage between all databases that sit within the system. There should be a hierarchy from Organisation to Contact to Project to Opportunity etc etc. This causes significant issues when trying to track client experience. Reporting No reports are drillable - they are simply static reports limiting their use. I constantly find myself needing to export a report to Excel so I can build a pivot table to effectively use it. User interface The user interface is very old fashioned and clunky. This is not just a statement about look and feel. When i create a report i get a list of objects with certain data that changes on a regular basis. So I need to select the item from within the report and change the value. But I cant do this quickly from within the report. I need to click on the item which then loads a separate page for the record. Then I need to click into that record which show all of the fields for the entire record. Then I need to click on the field in question, change it and then save it. I then need to close that page down and go back to the report page and refresh the page before this change is visible. This is a terrible UI and UX for a modern product today that is now significantly behind the the currently expected standard.
Denise
Marketing Specialist (USA)
Utente LinkedIn Verificato
Marketing e pubblicità, 201-500 dipendenti
Ha utilizzato il software per: Più di 2 anni
Insightly developed to enhance our feeds
Commenti: In my experience using Insightly, I haven't run into any serious issues. We used to utilize a strange CRM that was built out of sheets and required us to constantly switch between windows. Using Insightly, we can have all of our data in one place, neatly organized in custom fields. In my opinion, the project page may benefit from more fields in which to provide pertinent data.
Aspetti positivi:
Insightly is how I keep track of all the initiatives we have in the works right now. The management of our company's 5,000+ open positions is a major challenge. Insightly makes it easy for us to keep track of all the moving parts, which would otherwise be difficult to do in a secure manner given the project's multi-stage nature.
Aspetti negativi:
In most cases, the newly opened Org or Project tab doesn't take up more than half of my screen following a search. I can't figure out how to make the page larger. For some reason, the columns on the Relate and Activity tabs don't remember my saved column width. Every time I use it, I have to resize it.
Joshua
Owner (USA)
Utente LinkedIn Verificato
Opere pubbliche, 2-10 dipendenti
Ha utilizzato il software per: Prova gratuita
Alternative considerate:
Brings all record-keeping together
Commenti: We have only been using Insightly for a couple of weeks, but overall I've liked it a lot. Prior to using Insightly, we were manually note-taking in Word documents for each client. Each time that a lead was converted, we then had to go and update everything. Now that we are able to integrate all of our notes, contacts, emails, etc. into one system, the workload has drastically lightened.
Aspetti positivi:
The thing that I like most about Insightly is that it allows me to document everything from start to finish with each customer. For example, if I send an email to a lead/customer, all I have to do is add that as an attachment in Insightly and I can go back at any time and see anything that was linked with that particular person. This helps track progress when passing off to other team members, too. In a sense, Insightly brings all of the "record-keeping" together and puts in one simple platform.
Aspetti negativi:
The project management function is pretty basic. Unlike a couple other CRM software that I've tested, Insightly does not offer many of the graphical views that the others do. Being someone who has an easier time seeing data in the visual realm, this was a feature that I wished Insightly would add.
Risposta di Insightly
3 anni fa
Hi Joshua! Thanks so much for your kind words. We work hard to make Insightly a preferred CRM for businesses like yours, and are thrilled you're making the most out of our platform. Thank you for being our valued customer. We look forward to helping you and your team reach new heights!