Cos'è BigCommerce?
BigCommerce è la piattaforma di e-commerce basata sul cloud leader nel mondo per imprese affermate e in rapida crescita. Combinando funzionalità aziendali, un'architettura aperta e un ecosistema di app e prestazioni leader del mercato, BigCommerce consente alle aziende di aumentare le vendite online con l'80% in meno di costi, tempi e complessità rispetto ai software on-premise. BigCommerce supporta l'e-commerce B2B e B2C per oltre 60.000 brand, oltre 2.000 aziende di fascia media, 30 società Fortune 1000 e marchi leader di settore.
Chi utilizza BigCommerce?
Startup, PMI e clienti enterprise che desiderano vendere beni online
Dove si può implementare BigCommerce?
Basato sul cloud
Locale
---
Informazioni sul fornitore
BigCommerce
Sede: austin, USA
Fondata nel 2009
Assistenza di BigCommerce
Assistenza telefonica
Assistenza diretta 24 ore su 24
Chat
BigCommerce prezzo
Prezzo di partenza:
29,95 USD/mese
Sì, offre prova gratuita
Senza versione gratuita
BigCommerce non dispone di un piano gratuito ma offre una versione di prova gratuita. La versione a pagamento di BigCommerce è disponibile a partire da 29,95 USD/mese.
Informazioni sul fornitore
BigCommerce
Sede: austin, USA
Fondata nel 2009
Assistenza di BigCommerce
Assistenza telefonica
Assistenza diretta 24 ore su 24
Chat
Video e immagini di BigCommerce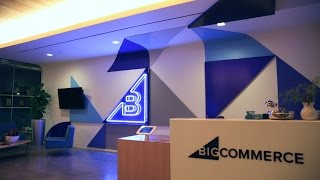 Caratteristiche di BigCommerce
API
Accesso da dispositivi mobili
CRM
Carrello degli acquisti
Catalogazione/categorizzazione
Conto clienti
Controllo dell'inventario
Creazione di report/analisi
Disaccoppiamento frontend e backend
Email Marketing
Funzionalità di anteprima
Generatore di shop online
Gestione SEO
Gestione degli ordini
Gestione degli sconti
Gestione dei canali
Gestione dei contenuti
Gestione dei modelli
Gestione dell'e-commerce
Gestione dell'inventario
Gestione della clientela
Gestione delle promozioni
Gestione delle spedizioni
Gestione delle tasse
Gestione di documenti
Gestione di siti web
Gestione multi-canale
Gestione progettuale
Importazione/Esportazione di dati
Integrazione di mercati
Integrazioni di terze parti
Marketing multi-canale
Modalità di pagamento
Modelli precompilati
Modifica in tempo reale
Monitoraggio dell'inventario
Opzioni di pubblicazione
Opzioni di pubblicazione di contenuti
Ordini ripetuti
Ottimizzazione dell'inventario
Pagamento elettronico
Per B2B
Per piccole imprese
Quadro della attività
Rendicontazione e analisi statistiche
Riprendi il processo d'acquisto
Sicurezza SSL
Sicurezza dei dati
Sistema multi-valuta
Touchpoint cliente
Alternative a BigCommerce
Recensioni su BigCommerce
Michael J.
CEO
Utente LinkedIn Verificato
Marketing e pubblicità, 2-10 dipendenti
Ha utilizzato il software per: Più di 1 anno
Fonte della recensione
Strong but could use a few improvements. WordPress integration!
Sottotitoli in italiano disponibili nel lettore video
Martina
Operational Manager (Italia)
Arredamento, 2-10 dipendenti
Ha utilizzato il software per: 1-5 mesi
Fonte della recensione
big commerce per e-commerce multicanale
Commenti: stiamo ancora implementando i vari sistemi aziendali con questo nuovo software, abbiamo bisogno di tempo per capire meglio pregi e difetti, ma nel complesso attualmente siamo soddisfatti
Aspetti positivi:
il prodotto è molto integrabile con i diversi sistemi aziendali (aggregatori di spedizioni, gestionali interni per monitorare gli stock e la produzione..) e l'interfaccia è intuitiva
Aspetti negativi:
la personalizzazione dei diversi aspetti del sito che si va a costruire non è facilissima, bisogna avere delle competenze per customizzare le varie parti dell'e-commerce
Nathan
Marketing Manager (USA)
Utente LinkedIn Verificato
Articoli sportivi, 11-50 dipendenti
Ha utilizzato il software per: Più di 1 anno
Fonte della recensione
Among the best ecommerce solutions for growing businesses
Commenti: We initially transitioned from Lightspeed eCom over to Bigcommerce because their platform offered greater scalability and entry-level features than what Lightspeed offered. Because we use Lightspeed POS, however, integrating product data between the systems was a challenge and a lengthy process. It also takes some effort to maintain the connection (via a third-party service using their API).
Aspetti positivi:
Bigcommerce offers some of the most inclusive features in their entry-level product options, making them excellent for small businesses. Their level of customer support and transparency about service issues and new features in development are excellent and perhaps one of the main reasons why we've kept using Bigcommerce instead of switching to a platform that meets other essential features that we are still awaiting from Bigcommerce. The availability of third-party apps (including shipping and logistics integrations) has been great to work with so far.
Aspetti negativi:
Storefront development is currently very lackluster and it can be difficult to get a truly customized website without hiring a developer or investing in web development skills of your own. This is also true of their e-mail features. If you don't have more than a basic understanding of HTML, it will be next to impossible to customize their system e-mails without a third-party solution. Also, while their entry-level features are among the most plentiful in the industry, a few features (such as Google Reviews integrations and Abandoned Cart Recovery) are reserved only for higher-tier plans, which doesn't make sense from a financial standpoint as their costs to support these features should be minimal.
Alternative considerate: Adobe Commerce, WooCommerce e Shopify
Perché scegliere BigCommerce: Note: We switched from Lightspeed's integrated e-commerce offering but still utilize their cloud POS and inventory management software (connected to Bigcommerce via API). We switched because Bigcommerce offered greater scalability than Lightspeed's own solution, especially concerning the ease of managing our inventory across multiple marketplace channels.
Software precedente: Lightspeed Retail
Perché passare a BigCommerce: Bigcommerce ultimately offered the greatest financial value in terms of entry-level features and marketplace functionality that were available to us as a growing small business.
Justin
Director of E-commerce & Marketing (USA)
Utente LinkedIn Verificato
Vendita al dettaglio, 201-500 dipendenti
Ha utilizzato il software per: Più di 2 anni
Fonte della recensione
TYLER'S x BigCommerce
Commenti: BigCommerce has been absolutely phenomenal. We're glad to be based in Austin, Texas alongside some of the BigCommerce team. Their support staff has been instrumental in our ability to adjust when a problem arises, and find a long term solution to ensure our ongoing success.
Aspetti positivi:
BigCommerce has developed a simplistic software that's allowing small and mid size companies to maneuver at scale. We've been able to learn and adapt new strategies as their team continues to open new capabilities to developers and as they push development in their app market. Fast and reliable apps will be key to building and maintaining the next evolution of ecommerce businesses and having that infrastructure in place will be pivotal in the years to come.
Aspetti negativi:
When we teamed up with BigCommerce, they were a newer competitor in the market. Some similar companies were able to offer functionalities that were limiting to our initial growth through ecommerce. Being a brick and mortar based business since 1978, we had a multitude of functionalities needed to keep up with our physical locations. Although they couldn't offer these features out of the gate, they were quick to get them implemented and worked closely with us to resolve our issues.
Marketing e pubblicità, 11-50 dipendenti
Ha utilizzato il software per: 6-12 mesi
Fonte della recensione
Bigcommerce: E-commerce website builder for fast-growing companies.
Commenti: BigCommerce's robust, scalable sales tools make it suitable for growing companies. If you are new to e-commerce, you can use other platforms such as Shopify, Commerce Tools, Salesforce, or WooCommerce.
Aspetti positivi:
Bigcommerce has a plethora of features; in fact, I believe they have the most comprehensive e-commerce features on the market.Bigcommerce provides a drag-and-drop website builder, templates, marketing tools, analytical tracking, abandoned cart recovery tools, and excellent SEO features.Bigcommerce allows you to sell an unlimited number of products, integrate with numerous email marketing tools, and accept payments through PayPal, Stripe, Apple Pay, and Square.The most important feature of Bigcommerce is the ability to do omni selling, which allows you to sell on marketplaces such as Amazon, eBay, and social media platforms.All BigCommerce plans include unlimited staff accounts and there are no transaction fees.They also offer a free 15-day trial and 24/7 customer service.
Aspetti negativi:
Bigcommerce lacks a good user interface, so new users may face a somewhat steep learning curve.The biggest disadvantage of BigCommerce is that it is difficult to migrate your site to another e-commerce platform. Your entire website is built on Bigcommerce, and if you want to migrate, you will have to pay exorbitant fees.In addition, they have a limited number of free design templates.
Max
Director of Systems Operations (USA)
E-learning, 51-200 dipendenti
Ha utilizzato il software per: Più di 2 anni
Fonte della recensione
Terrific admin UI and purchaser experience - BigCommerce will not fix bugs customers find
Commenti: The software has been solid for our customers and the administration UI is very easy to use. We have outstanding technical issues that have been open for more than a year and are still not resolved (HTTP status 500 errors that intermittently are returned from their backend APIs) - they say they cannot see the errors in their backend logs and we must send them examples even though we have this happen 10-12 times a day, continually, for over a year. Their Stripe integration does not include the email address field when they send payment requests to Stripe, so customers do not get a credit card receipt from Stripe. Requesting this be changed resulted in them telling us only 1 other customer wanted this feature and that we should switch to Authorize or Brain Tree because it works with those processors) - this felt like a move to downplay the use of Stripe and push us towards vendors that BigCommerce perhaps prefers? It is hard to believe we are the only customer that would want Stripe to send CC receipts to customers - their built-in receipt mechanism does not allow a store to include the last 4 digits of the credit card in the receipt the store sends, which means customers have to call in to customer support when they are organizational customers to figure out which CC is used - a very poor experience for our customers and for our customer support team.
Aspetti positivi:
It is highly customizable, has most of the features you'd expect in an e-commerce solution, and the APIs are well-documented.
Aspetti negativi:
* Seemingly easy solutions to known issues get stuck in their support bureaucracy and disappear * Their logging does not allow software engineers nor CSRs to see the specifics of errors - customers must provide client-side stack traces to help them find errors on their backend (for example, API calls that return HTTP status 500)