Cos'è Freedcamp?
Freedcamp è gratuito per un numero illimitato di utenti e progetti. La visione dell'azienda è creare un prodotto veramente freemium, con la maggior parte delle funzionalità gratuite per tutti gli utenti. Gli account gratuiti sono attualmente limitati a una dimensione dei file di 10 MB con uno spazio di archiviazione illimitato in tutti i piani. Freedcamp offre gratuitamente funzionalità in genere a pagamento a insegnanti e studenti del settore non profit. In Freedcamp puoi aggiungere i componenti di cui hai bisogno; ad esempio, mansioni, attività cardine, discussioni, registrazione del tempo e altro ancora.
Chi utilizza Freedcamp?
Freedcamp è adatto a piccole e grandi imprese, utenti aziendali, organizzazioni non profit, scuole, privati e freelancer.
Dove si può implementare Freedcamp?
Basato sul cloud
Locale
---
Informazioni sul fornitore
Freedcamp
Fondata nel 2010
Assistenza di Freedcamp
Assistenza diretta 24 ore su 24
Chat
Disponibilità per Paese
Stati Uniti
Informazioni sul fornitore
Freedcamp
Fondata nel 2010
Assistenza di Freedcamp
Assistenza diretta 24 ore su 24
Chat
Disponibilità per Paese
Stati Uniti
Video e immagini di Freedcamp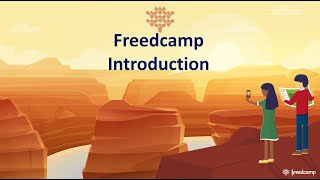 Confronta il prezzo di Freedcamp con prodotti simili
Caratteristiche di Freedcamp
Codici cromatici/icone
Condivisione di documenti
Controllo ore e spese
Fatturazione e contabilizzazione
Gestione delle attività
Gestione delle risorse
Grafico a barre
Modelli personalizzabili
Monitoraggio dei progressi delle attività
Monitoraggio dei report/progetti
Monitoraggio della percentuale di completamento
Monitoraggio dello stato
Monitoraggio di attività e progressi
Pianificazione/Programmazione dei progetti
Programmazione delle attività
Programmazione di progetti
Rendicontazione e analisi statistiche
Strumenti collaborativi
Tabella del metodo Kanban
Vista di Gantt e Timeline
Khothatso
Freelancer (Sudafrica)
Utente LinkedIn Verificato
E-learning, 2-10 dipendenti
Ha utilizzato il software per: 1-5 mesi
Offers everything you need on one software
Aspetti positivi:
Freedcamp is a great software that meets all task and project management needs. Its convenient, customizable to fit my needs and user-friendly. I integrated my calendar and Google Drive with it and it has really helped me keep track of my deadlines and tasks and access my files a lot better. The interface is easy to navigate and not overwhelming like the apps I've used so that is a plus for me when it comes to being organised. I'm pleased with it.
Aspetti negativi:
Setting it up can be a bit challenging but otherwise I have no complaints about it.
Christopher
CEO (USA)
Utente LinkedIn Verificato
Marketing e pubblicità, 2-10 dipendenti
Ha utilizzato il software per: 6-12 mesi
Alternative considerate:
All In One Business Management @ Amazing Prices
Commenti: I think what impresses me about Freedcamp the most is the level of support. I asked about an automation feature I needed to maximize my workflow, and they rolled it out across the whole platform not long after! I have tons of experience with SaaS but this is next level.
Aspetti positivi:
I love how accessible the team here has made Freedcamp to just about anyone. At first this devalued the whole thing in my mind, until I started trying out the premium features. I love how responsive the team is, and how customizable the software is. Between the combination of these two things, you can achieve pretty much anything you can imagine as far as project management software goes. The enterprise features are super cool too. The custom domain is almost unheard of in this space, tie that in with the branding and wow my mind is blown.
Aspetti negativi:
The learning curve. There is SO many features that figuring out how to prioritize and train on the ones you want to use can be overwhelming. I think this is a good problem to have, but it must be taken into consideration especially with larger organizations
Olga
University lecturer (Paesi Bassi)
Gestione formativa, 51-200 dipendenti
Ha utilizzato il software per: Più di 2 anni
It was struggle, struggle and struggle again
Commenti: See above
Switching to another tool (basecamp) was something I lobbied and asked and could support myself through my organisation but the project coordinator who liked the tool was not in favour of any changes. The project is almost over, I will be happy to forget this nightmare.
Please do more usability testing and make software user friendly!
Aspetti positivi:
The only thing I liked it that the person who implemented it seemed to enjoy all the intricacies of the tool . I can imagine that computer science background was of help to this person. Otherwise, as a user I found this the worst software package I had to use in my entire professional life.
Aspetti negativi:
3 years of struggle with each functionality of the tool - discussion threads, status, notifications etc. make it impossible to name one thing. I wonder whether there was any form of usability testing with new users ? I doubt it. I conquered the tool each time I needed some response from colleagues badly however it was never easy and I gave up doing an additional e-mail round to be sure the message reached the addressee.
Risposta di Freedcamp
2 anni fa
Hi! I'm sorry you had a bad experience. We rarely get complaints like these, but we will consider implementing more usability testing. I would also like to add that we have no record of you ever being in contact with our support team, so I think the 1/5 rating in that category is a bit unfair.
Jorge
CEO & Founder (Messico)
Marketing e pubblicità, 2-10 dipendenti
Ha utilizzato il software per: Più di 1 anno
Alternative considerate:
Great software for team management
Commenti: Great experience. I use it for my team and is just the perfect mix between functionality and power and easiness of use.
Aspetti positivi:
I like that it works according your needs. If you need Gant Chart, or a Kanban workflow, or a table task view of your project you can easily do so. The team is really active and improving everytime to make better the software.
Aspetti negativi:
Some functionalities (like Wiki) could improve on the interface. Sometimes it has so much features that can be a little step learning curve.
Michael
Founder and CEO (USA)
Utente LinkedIn Verificato
Prodotti alimentari e bevande, 2-10 dipendenti
Ha utilizzato il software per: Più di 2 anni
Freedcamp is amazing and a life saver overall
Commenti: It is an amazing amount of software for the free tier and I highly recommend it for those with large teams, and those with small minimal teams the premium version is well worth it.
Aspetti positivi:
Freedcamp is an amazing tool on the free version. For a company like mine, where I have a lot of different clients, and they have a lot of different marketers, designers, etc. that often need to be included on their tasks and conversations, it makes all the sense in the world for me to use this free tool... It organizes each client into its own project and we are able to create different types of task lists etc.
Aspetti negativi:
There are features in the pro/paid version that I would LOVE to have... The problem here is that if you have 30 - 50 clients, with 2 - 5 persons on each team, all with varying degrees of involvement on their website but all need to be kept in the loop on what tasks are open and what arent... It becomes impossible to upgrade, because I would have to upgrade for each user license... This kept me from an awesome appsumo deal that I really wanted to buy, but didnt make sense. My suggestion to them would be able to find a way to have just a few users, or even just one, that has the capabilities to upgrade the plan, and create subtasks, etc. while still keeping the same functionality for the free tier users. I NEED the clients to be able to create, edit, etc. their own tasks. I would literally lose functionality and the ability to use the platform for upgrading. My 2 cents.