Premier
Cos'è Premier?
Questo prodotto consente alle imprese che operano in campo edilizio di lavorare in modo più intelligente. Premier è un software multifunzione per gestione della contabilità, del costo del lavoro, dei
Scopri di più
progetti e dei documenti, valutato con un ottimo punteggio da Gartner. È stato sviluppato per appaltatori generici, aziende di gestione delle costruzioni e di creazione di disegni, sviluppatori di terreni e di case e appaltatori specializzati. È considerato affidabile da migliaia di aziende e valutato come il miglior prodotto leader nel 2019 e nel 2018. Incentrato sulla fornitura di un software moderno e potente, semplice da utilizzare per gli utenti finali e facilmente accessibile da qualsiasi luogo.
Mostra meno
Chi utilizza Premier?
Appaltatori generici, aziende di gestione delle costruzioni e di creazione di disegni, sviluppatori di terreni, costruttori di case alla ricerca di una soluzione multifunzione, moderna, potente, per la gestione dei costi del lavoro, della contabilità e dei progetti.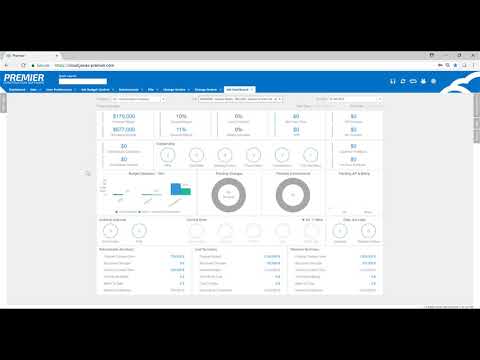 Hai dubbi su Premier? Confrontalo con una delle alternative più diffuse
Non disponibile nel tuo paese
Versione gratuita
Prova gratuita
Versione gratuita
Prova gratuita
Philip
Vice President (USA)
Industria edilizia, 11-50 dipendenti
Ha utilizzato il software per: Più di 2 anni
Fonte: SoftwareAdvice
Alternative considerate:
Great Software with Excellent Customer Support
Aspetti positivi:
This a robust software that includes both financial management and project management functions. Having both functions under one platform is fantastic for our operations team. The full suite of project management functions means that we do not need additional software to fill gaps in functionality. The best feature is the customer support! The team at Premier actively seeks our feedback, always makes themselves available when we have major issues or simple questions, and the actually use the feedback to develop new features that make the software easier to use. The fact that we can make a suggestion and have it implemented in a relatively short time frame is extremely valuable to us.
Aspetti negativi:
At the start there is a bit of a learning curve, but the software is very intuitive so people learn quickly. There were some modules that were slightly cumbersome but Premier has been pushing significant updates that have solved those issues and expanded functionality significantly.
Amy
Director of Operations (USA)
Industria edilizia, 11-50 dipendenti
Ha utilizzato il software per: 6-12 mesi
Fonte: SoftwareAdvice
Alternative considerate:
Implementation - Customer Service
Commenti: Our overall experience has been very positive. The customer service is exceptional. The software itself is very complete - it has more capabilities than we even use, but having the options makes for a pleasant surprise when we do need to dive deeper or track additional costs.
Aspetti positivi:
We are very pleased with the software. The ability to connect project management with accounting has made us much more efficient. Overall, we are excited about our decision. What makes Premier an even better decision for us, is the customer service and support staff. We have had the pleasure of working with Aisha over the past couple of months to iron out some of our implementation process and she has gone over and above any of our expectations.
Aspetti negativi:
There have been some learning curves coming from QB. In my opinion, QB has set a standard for accounting softwares where the rest of the industry has followed suit. Cons are not necessarily from the software, but in breaking habits that had become "our" normal.
Nicole
Contoller (Canada)
Industria edilizia, 11-50 dipendenti
Ha utilizzato il software per: Più di 2 anni
Fonte: SoftwareAdvice
Alternative considerate:
Premier is AMAZING!
Commenti: Jonas has a great implementation team, overall very impressed. A little more information on the implementation process would be helpful. The "muted" meetings could be listened to anywhere. The private 1:1 meetings should involve a group of employees in a large room. I wish I had known that part earlier on.
Aspetti positivi:
I love the Project manager dashboard. It makes it easy to click on hyperlinks to find all the details I need and to explain my needs to non- accountants. The price point is amazing, I was unable to find another ERP solution in the market at the price point I love that I can click on a number in the Income Statement Report and all the details are displayed Unlimited document storage is great! The workflows for approvals of AP, PO, and CO is very helpful too- no more paper!
Aspetti negativi:
The foreign exchange functionality could be improved, but at there is foreign exchange of any kind at this price point. I would like more help after implementation with making custom reports/ webinar on how to customize system. Its too busy during the implementation to work on customization I don't like forced password resets The mobile AP could use improvement, very slow when entering labor time hours
Proprietà immobiliari, 2-10 dipendenti
Ha utilizzato il software per: 6-12 mesi
Fonte: SoftwareAdvice
Alternative considerate:
I've already commended Jonas to friends in the industry
Commenti: Having some experience in the software implementation and client-support roles, competent and timely support is very important and can make or break the adoption of new technologies and processes. On all fronts (the technical, functional and even accounting principles) the support team is delightful to deal with. I get personal attention (that I try not to abuse!) and I never get the run-around. Each inquiry is met with personal interaction and complete ownership to resolution. "'dem Canadians have their ducks in a row!!"
Aspetti positivi:
This is a proper accounting system that encourages the disciplines that promotes scalability, completeness and consistency in operations. An outgrowth of that are the tools and processes that support the financial project management aspects including job cost tracking, reporting and billing. The controls around change orders, other modifications to the original contract, subcontractor compliances and a host of other facilities allow for professional and thorough handling of the real aspects of custom home building and large renovation projects.
Aspetti negativi:
Transaction-level automation... with time as a crucial element in a fast-paced environment, I would like to see feeds from our financial institutions so that manual re-keying is a thing of the past. I hear they are working on this, as I realize it is no small task and is very expensive to implement). In a mobile world, the IOS app should be included and be robust enough to get work done in the field ( I've never used it because we don't have a subscription to it).
Industria edilizia, 11-50 dipendenti
Ha utilizzato il software per: Più di 1 anno
Fonte: SoftwareAdvice
Love Jonas
Commenti: My goal with Jonas was to implement a software that would take us into the future and allow some automation. The time savings I have seen has been incredible. It has allowed us to stay steady with the accounting staff we have with little to no overtime! The staff has been great and at times extremely patient with us.
Aspetti positivi:
It is easy to get around the software. It is great to store all documents in one area. The drill down capabilities make it easy to get to documents without having to do dig for paper in a file. The financial reports are amazing. There are so many options it is great. You can make your own, but the canned solutions make month end reporting a snap. There is a job dashboard that will show you everything about a job at a glance. I am in this quite often for varying reason. There is a lot of information in a snapshot. I like that Jonas listens to the users and implements options that make sense. I also have a main go to person for customer service. He is amazing and listens. While he may not always agree, he will point out the reasons my solution will not work. Most of the time, he takes it to the team to further action. They have a great online search area. While there isn't a ton of people contributing, there are a good number that are consistent with good best practice advise (users like me).
Aspetti negativi:
Check writing with lien waivers is a bit cumbersome. I can't wait for lien waiver tracking to be automated. There are so many fields we use, but Jonas doesn't use them in any way. For example: email addresses are just there, it would be nice if you could email people directly using these fields (invoices and pay apps?) Adhoc reporting does need some help. I am used to being able to get to all the fields and I cannot always get to the field I need.