Cos'è Cin7?
Cin7 è una piattaforma di gestione automatizzata dello stock per i marchi che aumentano le entrate di oltre un milione di dollari. Cin7 sincronizza lo stock con le vendite e gli ordini su ogni canale di vendita fisico e online, automatizzando i processi di ordinazione per una maggiore efficienza. I marchi che vendono o distribuiscono prodotti utilizzano Cin7 per mantenere bassi i costi, avere margini e flusso di cassa elevati e tenere le scorte al giusto livello. Nota: Cin7 non è adatto per la gestione delle risorse.
Chi utilizza Cin7?
Grossisti, dettaglianti, importatori e produttori di prodotti leggeri multicanale si rivolgono a Cin7 quando hanno bisogno di un'unica piattaforma che consenta loro di contenere i costi mentre si espandono in nuovi mercati e aggiungono canali di vendita.
Dove si può implementare Cin7?
Basato sul cloud
Locale
---
Informazioni sul fornitore
Cin7
Sede: Auckland, Nuova Zelanda
Fondata nel 2011
Assistenza di Cin7
Assistenza telefonica
Assistenza diretta 24 ore su 24
Chat
Informazioni sul fornitore
Cin7
Sede: Auckland, Nuova Zelanda
Fondata nel 2011
Assistenza di Cin7
Assistenza telefonica
Assistenza diretta 24 ore su 24
Chat
Video e immagini di Cin7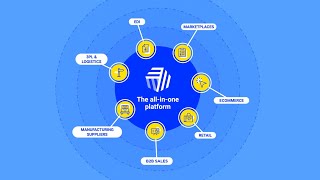 Confronta il prezzo di Cin7 con prodotti simili
Caratteristiche di Cin7
API
Accesso da dispositivi mobili
Acquisto e ricezione
Archiviazione e conservazione
Assemblaggio di componenti (kitting)
Avvisi/Notifiche
CRM
Carrello degli acquisti
Catalogazione/categorizzazione
Check-in/Check-out
Codici a barre/RFID
Contabilità integrata
Conto clienti
Controllo dell'inventario
Creazione di report/analisi
Database contatti
Elaborazione di carte di credito
Elaborazione di pagamenti
Email Marketing
Etichette di spedizione
Evasione di ordini
Fatturazione e contabilizzazione
Formulazione di previsioni
Gestione 3PL
Gestione SEO
Gestione degli approvvigionamenti
Gestione degli articoli
Gestione degli ordini
Gestione degli ordini arretrati
Gestione degli ordini d'acquisto
Gestione degli sconti
Gestione dei canali
Gestione dei fornitori
Gestione dei resi
Gestione del magazzino
Gestione dell'e-commerce
Gestione dell'inventario
Gestione della catena logistica
Gestione della clientela
Gestione della qualità
Gestione della ricezione e dello stoccaggio
Gestione delle anomalie
Gestione delle fatture
Gestione delle promozioni
Gestione delle spedizioni
Gestione di siti web
Gestione importazione/esportazione
Gestione multi-canale
Gestione nuovi ordini
Gestione stock commercianti al dettaglio
Identificazione del prodotto
Importazione/Esportazione di dati
Inserimento ordini
Integrazione di mercati
Integrazioni di terze parti
Monitoraggio degli ordini
Monitoraggio dei costi
Monitoraggio dell'inventario
Operazioni commerciali integrate
Ordini ricorrenti
Ottimizzazione dell'inventario
Pagamento elettronico
Per B2B
Per negozi al dettaglio
Personalizzazione
Pianificazione di vendite e operazioni
Previsione della domanda
Previsione di vendita
Protocollo AS2
Punto di vendita
Quadro della attività
Relazioni sulle vendite
Rendicontazione e analisi statistiche
Ricerca/Filtro
Rilevamento di numeri di serie
Scansione di codici a barre / biglietti
Sicurezza dei dati
Sistema multi-locale
Sistema multi-valuta
Supporto multi-formato
Supporto per il database
Trasformazione di dati
Verifica dell'inventario
Sean
General Manager
Utente LinkedIn Verificato
Vino e liquori, 2-10 dipendenti
Ha utilizzato il software per: 6-12 mesi
Extremely powerful inventory and order processing and logistic package
Sottotitoli in italiano disponibili nel lettore video
David
Utente LinkedIn Verificato
Ha utilizzato il software per: 6-12 mesi
Fonte: GetApp
Great Cloud based Software - Easy to use and lots of features
Commenti: We were a loyal system based inventory software user for almost 3 years (Inflow), everything with our previous software (Inflow) was good. As we have grown, we wanted multiple users and we looked at other options and decided we have to upgrade to a cloud based software. I personally did not want to go on the path of server, VPN etc.. We were very nearly about to sign in for another cloud based system and at the last minute we realised that it is not a special software for fashion industry.. We wanted a software that can cope with Size, Colour, Fabric, Style and Fit variations.. Thank God the other software people actually recommended Cin7 which is a Fashion Industry special software. We are so glad we made the move.. It makes our business day to day operation a breeze and our sales agents in multiple locations (Some offshore as well) entering orders directly into the system.. This cut down or data entry time dramatically.. also we are now able to see or "Out of stock items" by size.. Also the Web portal B2B is a God Send... Our customers love this feature.. I also have to say that the customer service experience I had is double 2 x 5 STAR... On Boarder Jeff made the whole operation so smooth that I never felt I was all alone in this journey... This is genuinely a good product backed by good people.. I recommend this to any business who are looking to upgrade from system based software to cloud based programme.. Thank you guys.. we are still a long way to go with implementing this software in our business, but I am confident that we will get through this..
Aspetti positivi:
Software specially designed for Fashion Industry.. Multiple Size, Style, Fit, Fabric etc.. No problem... Many advanced features like B2B webportal, Xero Integration, Email Integration etc at no extra cost. On-Board support is worth $$$$ of dollars.. They do this so well.. Thank you Jeff... Pivot table reports - We were used to excel reports.. But this Pivot table stuff is out of this world..
Aspetti negativi:
At times Crashes during log-ins.. I assume a bug... It is understandable considering cloud based system.. Not a major, but it will be great if they can rectify this soon. Automatic email reports.. for example a weekly email to our customers on stock or sales report etc would be a great feature. Simplified data entry short cuts (like Control + D - for entering same data for all lines) would be a great feature to add. Rather than Xero or QuickBooks, a simplified inbuilt payment system in Cin7 will be beneficial for small businesses who don't want to use accounting packages. Single user low cost (under $ 100 per month) version would benefit some small operators..
Risposta di Cin7
6 anni fa
Hi David, thank you for the overall 5 star review! It's great to hear you think the product is awesome and the staff at Cin7 have been helpful. Thank you for the great feedback especially about Jeff your on-boarder. Thank you for the honest feedback we're always looking to improve for our customers and this has been passed onto support. We look forward to the continued support and value you as a customer.
Sean
Owner & IT Manager (Nuova Zelanda)
Utente LinkedIn Verificato
Prodotti alimentari e bevande, 2-10 dipendenti
Ha utilizzato il software per: 6-12 mesi
Alternative considerate:
Extremely powerful inventory and order processing and logistic package
Commenti: While challenging to learn and deploy, it's unique feature set and capabilities mean they don't have any one direct competitor and you'd have to piece together multiple platform and cloud services to get the same level of features and functionality.
Aspetti positivi:
Cin7 has allowed us to integrate and resolve most of our order processing, logistics, inventory and accounting functions into one platform. The API integration into Xero is critical for our business. The reporting capabilities are very powerful and can be used to resolve a number of sales, inventory and regulatory reporting requirements. There really isn't any product on the market that rolls all these features into one package.
Aspetti negativi:
The price is very expensive and the learning curve is quite steep. The CRM functions are pretty light and need fleshing out. Of most concern were the surprisingly large number of bugs and errors in the reports. Support has been responsive and fixed most issues we have discovered in a timely fashion, but it has been surprising how many bugs we have identified and had to report. This left us feeling like we were paying to be a beta tester. As time goes on and the product matures, this should become less of an issue and I don't consider it a deal breaker, but Cin7 could really improve in this area.
Risposta di Cin7
3 anni fa
Hi Sean, Thank you for your review. We are glad to hear that you found value in our software system and support team. We will share your feedback with the product team, as we are always looking for improvements.
Vendita al dettaglio, 2-10 dipendenti
Ha utilizzato il software per: 6-12 mesi
Alternative considerate:
Cin7 or the others.
Aspetti positivi:
Inventory management in Cin7 gives a very clear and precise overview of our business. Managing inventory by using Cin7 is super easy and clear. We always had issues with gaining a bird eye view of our inventory with other past inventory softwares, but Cin7 gives a complete snapshot and details for our inventory, as we are a product-based company, inventory asset is the most valuable asset to us. Inventory tracking with Cin7 is very detailed! We can trace the sales order back to its source, which stock we used for a particular sales order. If there's quality issues or any other issues arise with a sales order, we know which batch or purchase order the stock comes from and we could perform quality inspections to the entire batch or purchase to prevent the same issue arising again, which ensures customer satisfaction. Inventory tracking at each location is also extremely detailed, it may not be the most user friendly (even though it's already very user friendly), but it gives a very detailed information of tracking every single unit we have on every single location, including Amazon FBA. Cin7 has some reports or functionalities for replenishment and re-ordering, but these features are a bit simpler than I though it would be. Improvements could be made on to these functionalities for sales demand forecasting, reordering based on lead time and safety stock. Currently, we use Inventory Planner to predict, forecast, and reorder our inventory.
Aspetti negativi:
The software integrates with ShipStation for label printing, there're multiple extra steps for our warehouse team to print the shipping label from ShipStation, rather than directly in Cin7. ShipStation only expose carrier packages, instead of custom package types via API, which we couldn't select the custom package types in Cin7's WMS app for direct label printing. And the workflow for packing and shipping in WMS could be improved, a lot to be improved. Custom product label needed to write CSS code. We print product or purchase order label on different label size and that took me 6 hours to write, since my major in university is not computer science.
Tyra
Business Operation Manager (USA)
Vendita al dettaglio, 2-10 dipendenti
Ha utilizzato il software per: 1-5 mesi
Alternative considerate:
Great software with a lot of potentials , terrible set up & support
Commenti: I truly want to love the software but it is still a fairly-new developing software. Their built-in EDI integration is very questionable as it depends on who was assigned to do your set up. I would not recommend Cin7 to a moderated or complex business setting.
Aspetti positivi:
API integration with Ecommerce shopping cart such as Shopify & Esty is great and seamlessly. Customized report is a powerful tool and Cin7 came with many great functionalities for a light ERP system. My second onboarding specialist, [SENSITIVE CONTENT], is amazing, always responsive and willing to help. My 3PL integration engineer, [SENSITIVE CONTENT], is wonderful. He has been the rockstar who not only helped us with building our integrations, but also help resolve many issues that other people created and/or cannot help!
Aspetti negativi:
There were many hiccups started with our sale person who messed up our monthly bill and did not even get our Company Name correct! Other problems such as Cin7 does not work with multiple tracking # in one order, BOM components does not get shipped with BOM parents, etc. I had to continuously chase and escalate different work arounds with their team to get things moving. The biggest challenge for us is until now, 3 months after going live, we kept find out more and more issues with the EDI files that was built initially. Some issues was addressed thanks to [SENSITIVE CONTENT]. Others were extremely hard to resolve due to the fact that " the issue was not raised during implementation". After numerous email exchanges, instead of recode/ remap data on our EDI file, they told me to edit data on each order manually and went MIA. Due to many coding & mapping mistakes with the initial EDI setup that was not address until live. We had to re-process many EDI error files which caused our EDI processing bill from trading partner increased another $2,000. As I am writing this review with many built-up frustration, we have not been paid by our vendors since Cin7 started due to the EDI invoice files error and their customer support team has not resolved this.
Marcos
Director of E-Commerce (USA)
Utente LinkedIn Verificato
Imballaggi e contenitori, 11-50 dipendenti
Ha utilizzato il software per: Più di 1 anno
Alternative considerate:
CIN7 is Great for the Middle Tier company looking to move from small business
Commenti: CIN7 was easy to implement into our Techstack, When placing orders on CIN7 it was made with ease. But CIN7 only works with small to mid-level businesses. If your company continues to grow, You will grow out of CIN7.
Aspetti positivi:
CIN7 works excellently as a Sales Tool, CRM, and Order Management software when connecting your eCommerce platform. it is excellent for Small businesses looking to get a grip on a more enterprise-level Inventory Management system.
Aspetti negativi:
CIN7 works great for a company not focused on manufacturing and just distribution. Due to CIN7 not being able to Commit stock for Backorders. Also not being able to have a Barcode System is a negative aspect.