Accounting Seed
Cos'è Accounting Seed?
Accounting Seed is a full accrual, cloud-based accounting solution built on Salesforce. Our solution tracks financial data through the entire business lifecycle. As a top-rated solution by G2, CFO
Scopri di più
Tech Outlook, and the Salesforce AppExchange, our customization and automation enable a 360º view of your business that eliminates uncertainties and errors. Make more proactive, more accurate, and more strategic business decisions with Accounting Seed.
Mostra meno
Chi utilizza Accounting Seed?
Perfect for small to mid-market companies on the Salesforce Platform looking to connect the front and back office for one complete business solution.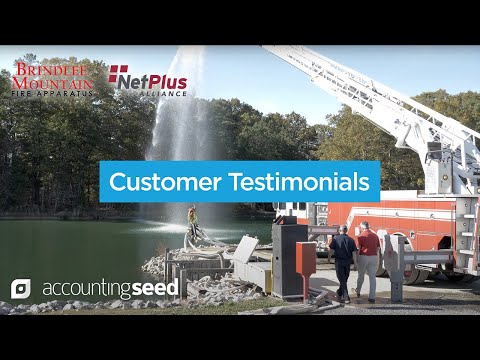 Hai dubbi su Accounting Seed? Confrontalo con una delle alternative più diffuse
Non disponibile nel tuo paese
Versione gratuita
Prova gratuita
Versione gratuita
Prova gratuita
Alternative a Accounting Seed
Recensioni su Accounting Seed
Collin
Chief VoIP Evangelist (USA)
Utente LinkedIn Verificato
Telecomunicazioni, 11-50 dipendenti
Ha utilizzato il software per: Più di 1 anno
Best Accounting Software for Fast Growing SMB
Commenti: We have been using Accounting Seed for a bit over a year now and our whole teams loves it!
Aspetti positivi:
Super easy to use and easy to customize to meet your needs
Aspetti negativi:
Not the easiest to transition over to and it lacks good quality consulting partners.
Risposta di Accounting Seed
4 anni fa
Hi, Collin. Thank you for your awesome review of Accounting Seed! We are thrilled to hear you are finding great value in the software and that it is meeting your needs as a fast growing small business. We are always looking to improve - you mentioned there were some challenges with the transition. I would love to hear more about your experience. Please feel free to contact me at [email protected] to discuss in more detail or set up a phone call. Again, thank you for taking the time to review our accounting solution! I look forward to connecting. - Shannon
Andersen
Business Analysis (USA)
Software informatici, 11-50 dipendenti
Ha utilizzato il software per: Più di 2 anni
Alternative considerate:
HIG Capital Backing Moving Accounting Seed to the Next Level
Commenti: I have been working on the Salesforce platform for 17 years and with Accounting Seed for 10 years in accounting for my Legal Funding, Real Estate Rental and Professional Services businesses. It is the ability to leverage the strength of the Salesforce platform that makes the experience strong and the HIG Capital investment and Partner environment that makes the future look stronger.
Aspetti positivi:
In 2021 HIG Capital made a majority investment in Accounting Seed that is moving this native Salesforce application to the next level. This investment has allowed the organization to move beyond an excellent leveraging of the Salesforce object architecture to add the competitive functionality of their more mature enterprise competitors such as Sage Intacct and Oracle Netsuite. Newly release features include Multi-Ledger Consolidation with Elimination Entries, further advancements in reporting. Focusing on the importance of the partner channel has brought much needed integration with Bill.com, Partner Portals and applications. Project Accounting is also been made stronger through a Project Management platform developed by the partner community.
Aspetti negativi:
The Accounting Seed Orders and Entry do not add up to the functionality required in an enterprise resource planning application. One needs to use an outside partner integrated application such as Legendary Supply Chain. The budgeting and commission functionality could still be improved although several partners are stepping up in this area as well.
Danielle
Office Manager (USA)
Settore automobilistico, 11-50 dipendenti
Ha utilizzato il software per: Più di 2 anni
Accounting Seed Review
Aspetti positivi:
Accounting seed is a very user friendly software
Aspetti negativi:
It would be nice to have the ability to have a 13th month for accounting
Utente Verificato
New Product Development (USA)
Utente LinkedIn Verificato
Beni di consumo, 51-200 dipendenti
Ha utilizzato il software per: Più di 1 anno
Pricey
Aspetti positivi:
Nicely formatted reports that can be customized to any needs. Customer service and on boarding was helpful and the inventory management system is very complex. Works well with Salesforce.
Aspetti negativi:
Very pricey system for small to mid range companies. The system can be overly complex.
Stephanie
Director of Finance (USA)
Relazioni governative, 51-200 dipendenti
Ha utilizzato il software per: Più di 1 anno
Happy Customer
Commenti: Once you adapt to moving around the system, it makes getting from one area to another very easy. It has been a pleasant experience learning this system.
Aspetti positivi:
The ability to attach all types of documents in one place. Having a client/vendor record with all transactions and documents in one place allows for easy research and reconciliations. Being able to customize the system and made reporting more efficient. Working with customer service has been a pleasant experience.
Aspetti negativi:
The budgeting feature is very complex compared to other accounting software.