Pardot
Cos'è Pardot?
Scopri Salesforce Pardot: CRM di automazione del marketing B2B molto efficiente. Pardot consente ai team di marketing e vendita di collaborare per coinvolgere gli acquirenti, concludere affari e
Scopri di più
sviluppare relazioni. La gestione dei lead di Pardot include integrazione del CRM, e-mail marketing, sviluppo dei lead, lead scoring e creazione di report sul ROI. Queste funzioni consentono ai team di marketing e vendite di collaborare per generare e qualificare i lead di vendita, abbreviare i cicli delle vendite e tenere traccia del ROI del marketing.
Mostra meno
Chi utilizza Pardot?
Se la tua organizzazione utilizza il marketing online per la lead generation, probabilmente sei un buon candidato per la marketing automation.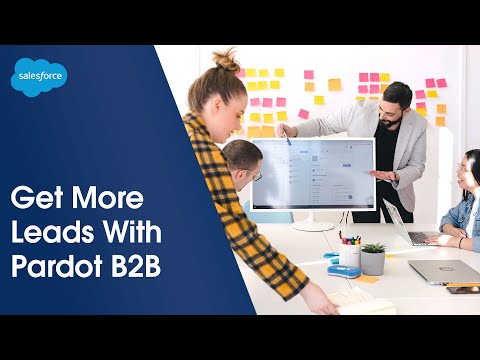 Hai dubbi su Pardot? Confrontalo con una delle alternative più diffuse
Non disponibile nel tuo paese
Versione gratuita
Prova gratuita
Versione gratuita
Prova gratuita
Sabal
Data & Impact Associate
Utente LinkedIn Verificato
Gestione di organizzazioni non profit, 11-50 dipendenti
Ha utilizzato il software per: Più di 1 anno
Pardot for Non Profits
Sottotitoli in italiano disponibili nel lettore video
jose luis
JEFE DE CONTADURIA (Argentina)
Servizi finanziari, 51-200 dipendenti
Ha utilizzato il software per: 6-12 mesi
Pardot
Aspetti positivi:
La accesibilidad en el programa y software
Aspetti negativi:
Lentitud en la carga de los datos y acceso.
Dede
Demand Generation Specialist (USA)
Circuiteria, 51-200 dipendenti
Ha utilizzato il software per: Più di 2 anni
Easy To Use, Great for Small Companies, Not as powerful as their competitors
Commenti: Overall I've had a positive experience with Pardot and would recommend it to others. It has been a very powerful tool for us and has helped us grow our business, generate leads, move leads through the sales funnel in an automated way, etc. It's really been great for us and I love the challenge of designing and building automations. Just be aware that its not all unicorns and butterflies. Each initiative we executed on took longer than we expected to roll out.
Aspetti positivi:
The software is pretty intuitive and easy to use. There is a huge community that's eager to collaborate and assist (local user groups, blogs, the Dreamforce conference, the connections conference, twitter, slack groups, linkedin groups, etc). We utilized the product for List Emails ( about 30 each month), Automated Nurture Campaigns, Segmentation, Email Preference Center, and so much more. It is very powerful and played a key role in our marketing efforts.
Aspetti negativi:
The trade off to ease-of-use is lack of complexity. After working with the platform for 5 years, I have concluded that it is a great fit for smaller companies that want to use their features in a straightforward, uncomplicated way. We are a medium sized company with multiple target audiences, some that overlap, some that don't, territories with multiple languages and a vast and diverse product line. I am regularly (daily if not weekly) frustrated by the platform's limitations. The saving grace is that there is usually a work around. We are always able to figure out how to solve a problem, but each time it requires more steps, more time, then more "overhead" to manage in the future. While, Salesforce is regularly rolling out enhancements and features, the list of wants and needs created by users is long. There are features that seem completely basic and have been in demand by the users for years that have yet to be delivered. Things that are sometimes minor but quite surprising to learn aren't included. One of Pardot's biggest weaknesses is reporting. We do all our reporting in Sales Cloud dashboards or in Excel.
Kate
Marketing & Account Management (USA)
Utente LinkedIn Verificato
Servizi finanziari, 11-50 dipendenti
Ha utilizzato il software per: 6-12 mesi
Alternative considerate:
Pardot delivers on promises
Commenti: Pardot has made it easy to understand how our marketing is working, know who is a hot lead versus a disengaged one, and to create content that is easy to share and delivers good ROI. It's built in many safeguards to keep you from getting in trouble with spam rules and avoid sending emails multiple times.
Aspetti positivi:
The software is great for staying in touch with prospects and clients. It makes it easy to set up emails, create content, measure and report on results, and build stronger relationships. It's fun to use, once you understand how it works.
Aspetti negativi:
There's a long learning curve for adopting Pardot, and if I hadn't had a consultant to hold my hand through the integration and kick off, I'd be struggling. I find Pardot and Salesforce training to be overly confusing and it's really hard to find what you're looking for. It's a knowledge based system and continually adds more and more information, and it's not always clear if the instructions apply to you or apply to a different level of service. Other than that I highly recommend it because of all the functionality and way it can dramatically improve your digital marketing.
Saurabh
Operations Manager (UK)
Servizi e tecnologie dell'informazione, 201-500 dipendenti
Ha utilizzato il software per: Più di 2 anni
Alternative considerate:
The best Marketing Automation tool out there!
Commenti: The experience so far has been nothing short of exceptional. We have been using Pardot since the last 5 years and have been able to facilitate amazing co-ordination with the Sales and Marketing teams. The automation Pardot provides also helps generate reports to measure Campaign ROI and overall lead generation.
Aspetti positivi:
Pardot is unmatched in its ability to automate your marketing activities. The Engagement Program features it offers is probably the best in the market and allows you to design Customer journeys with customization based on the customer attributes as well as engagement. The WYSIWYG builder allows you to build beautiful email templates and Landing pages for Lead generation and Lead nurturing. It also integrates seamlessly with Salesforce CRM and a wide variety of 3rd party applications.
Aspetti negativi:
Pardot allows you to create multiple leads with the same email address. This is a compulsory feature and causes issues with duplicate and bad data. You need to make sure the data is cleansed regularly.
Utente Verificato
Creative and Digital Manager (USA)
Utente LinkedIn Verificato
Gestione di organizzazioni non profit, 51-200 dipendenti
Ha utilizzato il software per: 6-12 mesi
Alternative considerate:
Pardot Helps us Treat Each Donor as an Individual
Commenti: Before, we were treating email like it was direct mail. Just send out a high enough quantity and you'll get enough donations. However, this was treating our donors as pocketbooks and not individuals with unique interests and hearts. Using Pardot means we can tailor what we share to each individual and tell a story they can relate to. Transformational rather than transactional. Donations have increased but that's a byproduct of involving unique people in the story of our organization. Once you learn the UI, it's very simple to use as long as you have even a bit of html and css experience or if someone on your team has made some great templates. We love the reporting on the individual level and the integration with Salesforce.
Aspetti positivi:
We love engagement studio and how easy it is to build out automated campaigns and dynamic lists. The ease of automation has meant less time spent uploading csv's and more time developing great content.
Aspetti negativi:
We wish it had a drag and drop editor. Not everyone on our team can code and it makes it difficult when we have a heavy season for deploys. The good news is, they've announced a beautiful drag and drop editor for the 20 winter release.