Cos'è Flip PDF?
Flip PDF is a powerful flipbook maker for e-catalogs, online magazines, digital brochures, and eBooks. This digital publishing software makes it easy and simple for designers, publishers, advertisers, entrepreneurs, and trainers to create stunning page-flipping publications and distribute via websites, email, iPad, smartphones, and social networks. With Flip PDF Professional, users can easily enrich their publications with YouTube/Vimeo video, animation, and photo gallery.
Chi utilizza Flip PDF?
Cloud-based eBooks creator that helps businesses convert PDF magazines, brochures or catalogs into interactive and multimedia-based eBooks.
Dove si può implementare Flip PDF?
Mac (desktop), Windows (desktop)
Informazioni sul fornitore
da FlipBuilder
Fondata nel 2010
Disponibilità per Paese
Cina
Lingue
Non specificato dal fornitore
Informazioni sul fornitore
da FlipBuilder
Fondata nel 2010
Disponibilità per Paese
Cina
Lingue
Non specificato dal fornitore
Video e immagini di Flip PDF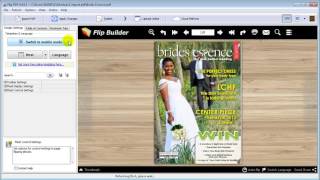 Confronta il prezzo di Flip PDF con prodotti simili
Prezzo di partenza
99,00 USD/una tantum
150,00 USD/una tantum
59,00 USD/mese
12,99 USD/mese
Caratteristiche di Flip PDF
API
Analisi dell'andamento delle vendite
Archiviazione di documenti
Automatizzazione della localizzazione
Branding personalizzabile
Carrello degli acquisti
Catalogazione/categorizzazione
Catalogo di prodotti
Catalogo online
Categorizzazione / Raggruppamento
Confronto tra prodotti
Controllo accessi/Autorizzazioni
Controllo della versione
Creazione di cataloghi
Etichettatura
Funzionalità di cross-selling
Gestione degli ordini
Gestione dei contenuti
Gestione dei dati del prodotto
Gestione dei prezzi
Gestione dei servizi di storage
Gestione del flusso di lavoro
Gestione dell'e-commerce
Gestione dell'inventario
Gestione della campagna
Gestione delle promozioni
Gestione di documenti
Gestione multi-canale
Gestione utenti
Importazione/Esportazione di dati
Inserimento ordini
Integrazione di social media
Integrazioni di terze parti
Layout e design
Libreria di contenuti
Libreria di immagini
Marketing multi-canale
Merchandising
Modelli
Modelli personalizzabili
Monitoraggio
Ordini di vendita
Personalizzazione
Pubblicazione di database
Quadro della attività
Rendicontazione e analisi statistiche
Ricerca/Filtro
Sincronizzazione di dati
Sistema plurilingue
Trascinamento della selezione (Drag & Drop)
Visualizza l'elenco completo di Programmi per creare cataloghi
API
Accesso da dispositivi mobili
Analisi dati della campagna
Analisi dati in tempo reale
Analisi dati sito web
Analisi visiva
Archiviazione di documenti
Branding personalizzabile
CRM
Catalogazione/categorizzazione
Controllo accessi/Autorizzazioni
Controllo del processo di valutazione
Editing di immagini
Email Marketing
Etichettatura
Gestione SEO
Gestione dei calendari
Gestione dei contenuti
Gestione dei modelli
Gestione del flusso di lavoro
Gestione della campagna
Gestione della diffusione
Gestione della pubblicità
Gestione delle prenotazioni
Gestione delle promozioni
Gestione di abbonamenti
Gestione multi-canale
Integrazione di social media
Integrazioni di terze parti
Layout e design
Marketing multi-canale
Modelli personalizzabili
Monitoraggio
Monitoraggio dei social media
Monitoraggio del coinvolgimento
Monitoraggio delle attività
Newsletter
Parametri prestazionali
Programmazione della campagna
Promozione sui social
Quadro della attività
Quotidiani
Rendicontazione e analisi statistiche
Report personalizzabili
Ricerca/Filtro
Riviste
Sistema plurilingue
Strumenti collaborativi
Trascinamento della selezione (Drag & Drop)
Visualizzazione di dati
Anthony M.
Owner/Director (Irlanda)
Utente LinkedIn Verificato
Design, Lavoratore autonomo
Ha utilizzato il software per: Più di 2 anni
Great Software Great Support
Commenti: Excellent.... just easy to use, effective software. [SENSITIVE CONTENT HIDDEN] at Support is a great help also. Very helpful and responsive.
Aspetti positivi:
The speed at which it take your PDF file... and in a few mins your publication could be live online looking glorious and interactive... literally 5mins from start to finish.
Aspetti negativi:
Has occasional bug errors... but has never stopped me making a successful publication. Hopefully will be fixed in future software updates.
Steph M.
Brand Manager (USA)
Software informatici, 51-200 dipendenti
Ha utilizzato il software per: 1-5 mesi
A solid option for budget-conscious marketers
Commenti: Flip PDF is allowing us to transform large PDFs into professional, web-friendly eBooks while staying within our allotted marketing budget.
Aspetti positivi:
I like that the software is not subscription-based. We don't do a ton of eBooks, so this is a great option for limited-budget marketing team.
Aspetti negativi:
It took quite a bit of trial and error before I figured out how to format the book. Once I did, it worked fine, but future versions would benefit from a more user-friendly interface.
Utente Verificato
Publisher (Canada)
Utente LinkedIn Verificato
Editoria, 2-10 dipendenti
Ha utilizzato il software per: 1-5 mesi
Continuing Audio Challenges with this User-Friendly Multi-MediaSoftware
Commenti: Technical support from Hong Kong has been frustrating - very small window of awake time for sending and receiving messages immediately because of the time zone difference. The person assigned to my account has not been able to solve my audio challenges on her own and we have been held up on publishing our very first Flip PDF for [SENSITIVE CONTENT HIDDEN] because of this. She should have had ready answers to my questions AND they should also be FAQ, e.g., should be stated that the audio format must be mp3 -- it took me a good week to get this vital information when I was using another extension. Then I did not get a clear answer to how to assign audio variably to single and double pages -- another FAQ should state that sound must be attached to single or double pages for the whole Flip book and user cannot mix single and double pages. I had to figure this out myself. Also no clear answer as to when Flip PDF will get updated to include a download function. I'm still waiting for a response to my query about the alternative for Flipbook sales when there is no download function. Access to a link is not a viable option for unique access to a publication. I am dissatisfied that no way to contact the supervisor or administrator for Flip PDF either by email or phone when the person assigned to me is clearly out of her depth. The last message she sent me was a screenshot for setting the playback function to zero, which is not even available in my version.
Aspetti positivi:
Flip PDF meets the needs of our multi-media niche publishing company dedicated to the healing arts because it allows integration of text, audio, video, and hyperlinks into a flipbook. Also, user-friendly in that a moderately computer-savvy person can create a Flipbook without hiring technical help.
Aspetti negativi:
The integration of the sound files has been unreliable. The playback function (number of rotations set to 0) worked on a trial file but when I published the final for publication under the [SENSITIVE CONTENT HIDDEN] primatur, it repeated after every page.
Jacob T.
Hat Wearing Specialist (Brasile)
Editoria, 2-10 dipendenti
Ha utilizzato il software per: 1-5 mesi
Powerful Software that Produces Stunning End-Products With Lots of Room for Improvement
Commenti: The pros far outweigh the cons, and the cons that I detail are minor gripes in contrast to how pleased I am with the finished products I can crank out with this software. It's because I love the software as much as I do that I even harp on them, in the hopes that the devs will see these critiques and keep working at refining and improving the UI. As of now, I'd say it's very good... and though expensive... is worth the money. It could be amazing though... so here's hoping that they keep at it.
Aspetti positivi:
-The monetization potential is through the roof. The ability to brand and customize your Flipbooks, while turning somewhat passe PDF's and Epubs into animated, interactive digital products that really feel like something you SHOULD be paying half to 2/3 the price of an actual book for makes this software worth its weight in gold. -The ability to make your ebooks into stunning presentations that can be fully integrated with other media make this software a really powerful tool for anyone more message-oriented as well. People wanting to educate the public and get info out there take note. This software offers the ability to make ebooks great again, and give people reasons to be excited about engaging with digital content. -The support team seems all-around responsive and eager to help with the occasional issues you'll encounter.
Aspetti negativi:
-The software is glitchy at times, and aspects of the UI seem very dated in some areas. -Can be frustrating to use at times. While the UI is overall pretty solid, things are unresponsive on occasion, and when that happens it can be difficult to figure out how to correct the problem. -Navigating the software is occasionally confusing, and how to properly utilize some features is not explained very well.
Rachel H.
Director of Communications (USA)
Gestione formativa, 201-500 dipendenti
Ha utilizzato il software per: Più di 2 anni
Alternative considerate:
Professional Qulity
Commenti: We needed a cost-effective solution for making interactive documents for families. This was the perfect solution. The software provides outstanding, professional results.
Aspetti positivi:
The software is very easy to use and provides beautiful interactive documents that really highlight material while making the content user-friendly.
Aspetti negativi:
We would love to see additional templates.