Cos'è SimplyBook.me?
SimplyBook.me mette a disposizione il sistema di prenotazione online più completo del mercato, consentendo di apparire sempre professionali e di soddisfare ogni esigenza online. Consente di realizzare un sito web completo in cui è possibile presentare la propria attività, accettare appuntamenti e vendere prodotti, abbonamenti, pacchetti e servizi aggiuntivi. Permette di sincronizzare gli appuntamenti con i più diffusi calendari online oltre che di ottenere statistiche dettagliate sulla propria attività. Dai un'occhiata a SimplyBook.me per conoscere tutte le funzionalità disponibili!
Chi utilizza SimplyBook.me?
SimplyBook.me è adatto alle aziende di servizi che accettano prenotazioni basate sull'orario come parrucchieri, SPA, scuole, organizzatori di eventi, palestre, istruttori privati, consulenti, consulenti finanziari e così via.
Dove si può implementare SimplyBook.me?
Basato sul cloud
Locale
---
Informazioni sul fornitore
SimplyBook.me
Sede: Limassol, Cipro
Fondata nel 2008
Assistenza di SimplyBook.me
Assistenza diretta 24 ore su 24
Chat
SimplyBook.me prezzo
Prezzo di partenza:
6,70 €/mese
Sì, offre prova gratuita
Sì, offre versione gratuita
SimplyBook.me dispone di un piano gratuito e offre una versione di prova gratuita. La versione a pagamento di SimplyBook.me è disponibile a partire da 6,70 €/mese.
Piani tariffari
richiedi una prova gratuita
Informazioni sul fornitore
SimplyBook.me
Sede: Limassol, Cipro
Fondata nel 2008
Assistenza di SimplyBook.me
Assistenza diretta 24 ore su 24
Chat
Video e immagini di SimplyBook.me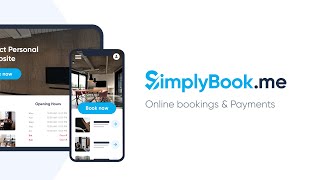 Caratteristiche di SimplyBook.me
Accesso da dispositivi mobili
Aggiornamenti in tempo reale
Ammissione di pazienti
Appuntamenti ricorrenti
Assistenza clienti
Automazione del marketing
Avvisi/Notifiche
Banca dati cliente
Branding personalizzabile
CRM
Catalogo dei servizi
Comunicazione bidirezionale
Comunicazione con i membri
Conferma/Promemoria
Conforme alla legge HIPAA
Creazione di report/analisi
Database clienti
Database contatti
Elaborazione di pagamenti
Email Marketing
Email Reminders
Fatturazione e contabilizzazione
For Barbershops
For Medical Spas
For Yoga/Pilates Studios
Gestione appuntamenti
Gestione degli studenti
Gestione dei buoni regalo
Gestione dei calendari
Gestione dei clienti
Gestione dei docenti/dello staff
Gestione dei medici
Gestione del personale
Gestione della disponibilità
Gestione delle cartelle cliniche
Gestione delle comunicazioni
Gestione delle iscrizioni
Gestione delle prenotazioni
Gestione di corsi
Gestione eventi
Integrazione di siti web
Integrazione di social media
Integrazioni di terze parti
Invio promemoria via SMS
Lezioni online
Messaggistica via SMS
Moduli personalizzabili
Note SOAP
Note di prenotazione
Pagamenti online
Pagamento elettronico
Per arti marziali
Per centri estetici e benessere
Pianificazione automatica
Pianificazione delle lezioni
Pianificazione di gruppi
Pianificazione in tempo reale
Portale clienti
Portale genitori/studenti
Portale self-service
Prenotazioni di gruppo
Prenotazioni online
Profilo clienti
Programmazione
Programmazione appuntamenti
Promemoria
Promemoria delle chiamate
Punto di vendita
Quadro della attività
Registrazione online
Rendicontazione e analisi statistiche
Riprogrammazione
Sincronizzazione dei calendari
Sistema di calendari e promemoria
Sistema multi-locale
Alternative a SimplyBook.me
Recensioni su SimplyBook.me
Cynthia
Founder
Utente LinkedIn Verificato
E-learning, Lavoratore autonomo
Ha utilizzato il software per: 1-5 mesi
different pricing structure
Sottotitoli in italiano disponibili nel lettore video
Steven
Owner (USA)
Utente LinkedIn Verificato
Design, Lavoratore autonomo
Ha utilizzato il software per: 1-5 mesi
Amazing software at an amazing price, FREE!
Commenti: I don't use their booking page but I do embed the calendar into my website so everything stays on my site. I personally like how some other calendars look but overall, I can't complain. I was able to customize it to my liking and it sends austomatic email reminders to myself and the people who booked the time. It was very straightforward and it has been used and tested a lot lately and I am very impressed.
Aspetti positivi:
Being able to customize the product to match my branding was the biggest challenge while I was trying different online booking softwares. SimplyBook.me was the only one that allowed color customization on the free plan. So, I figured the rest would not be good. Boy, was I wrong! This software has gone above and beyond what I expected for a free online booking calendar.
Aspetti negativi:
The only thing that I am not 100% satisfied with is the look. If I could change the layout of the calendar that would be amazing but for the price, I can't compain and everything works as it is supposed to or better than I expected which is wonderful!
Alternative considerate: YouCanBook.me, Calendly e Fresha
Perché scegliere SimplyBook.me: I was paying monthly for something that I wasn't really utalizing and I wanted to find a cheaper option. I am still trying to grow my business, so I don't have too many online bookings yet, so I felt like I was just trowing away money each month. I liked the look and functionality of YouCanBook.me better however, I love the customization and price of SimplyBook.me and that is why I made the switch.
Software precedente: YouCanBook.me
Perché passare a SimplyBook.me: The ability to make some many customization in order to match my brand colors and it was free. In my opinion, there is nothing out there better.
Utente Verificato
CEO (Thailandia)
Utente LinkedIn Verificato
E-learning, 2-10 dipendenti
Ha utilizzato il software per: 1-5 mesi
Fonte: GetApp
The BEST booking system out there. Please keep updating & improving this epic/pioneering software.
Commenti: App = incredibly good. iFrame embeds a bit sketchy looking! Wish there was a way for employees to simply update/add to their schedules directly within our website or an app (not simply a homepage shortcut to a website that poses as an app).
Aspetti positivi:
Incredible tool. So many features. Build epic booking systems.
Aspetti negativi:
It seems to be something that they do not actively work on, which seems crazy to me. Customer support ([SENSITIVE CONTENT]!) is dire. She sits on her little throne of customer support power/possession and then acts as a mindless, droning, and passive-aggressive gatekeeper for SimplyBook. It makes working with the company a chore, and I would seriously not want to pay money every month with her as our Account Manager. She makes the process of this (incredible!) application, seem hopeless, limited, and dire. You need your first point of contact to laude the company, and care about it deeply! To inspire its customers, and to show them how much of an incredible booking system can be built with SimplyBook.
Alternative considerate: Setmore, Acuity Scheduling, Booknetic, Bookly e Amelia
Perché scegliere SimplyBook.me: SimplyBook has so much more genuinely deep and powerful potential. Incredibly well-coded. User friendly for the service providers (as well as the customers). A truly epic and well-thought-out product, held back by shoddy customer service and a lack of passion at the front gate.
Software precedente: Calendly, Setmore e Amelia
Perché passare a SimplyBook.me: Fantastic UI and endless potential with all of the addons. The perfect options for entrepreneurs and business owners looking to "build" a booking system for their business, that suits them and their specific business model. They are endless ways to build a business model that works using their system. PLEASE keep updating, and marketing your product. It is amazing, and far far better than Calendly/Setmore/Acuity and all the big boys, who have absolutely no potential, and incredibly limited coding for serious businesses and booking systems. SimplyBook has it all worked out when it comes to Team Members Scheduling (although this could be better with a simple frontend panel), Classes, Recurring Meetings, Timeslot booking simplicity, Coupons, etc.!
Artigianato, 2-10 dipendenti
Ha utilizzato il software per: Più di 2 anni
Simply Book meets alot of our needs
Commenti: We have used simply book to schedule appointments which saves us loads of time in the office. We really like the printout of our daily appointments and the ability to set up the columns/info that we want. Payment is completely smooth. Many of our customers have problems using the software to sign up.
Aspetti positivi:
Setting up the software was relatively easy and day to day use on our end is good.
Aspetti negativi:
Our customers have issues when signing up, which they wind up calling us to resolve.There are problems signing up for consecutive appointments and to reschedule an appointment they have to call us to do it on our end. The set up is kind of goofy where you have to get all 3 schedules lined up. Perhaps that could be on one page. The calendar is greyed out and our customers sometimes get the dates wrong. A more visable calender would help.
Stacy
Program Director (USA)
Servizi legali, 11-50 dipendenti
Ha utilizzato il software per: Più di 1 anno
A game-changer!
Commenti: When COVID-19 hit, my legal services nonprofit had to figure out a way to pivot from walk-in, in-person weekly consultations with new potential clients, to a completely virtual model of service. When we eventually began using SimplyBook, multiple staff called it a "game-changer" - it took so much time and stress out of scheduling consultation appointments and accepting payments in advance! It is pretty user-friendly, and tech support has always been incredibly helpful when we've contacted them via live chat. We also love how customizable the system is. Overall we've had a great experience for the past 1.5 years!
Aspetti positivi:
I love how customizable SimplyBook is - it took me a long time to get everything set up the way we wanted it at the beginning, but that was just because of how many different features I was able to customize to our exacts specifications. We also like the payments feature so that we can require clients to prepay for their appointments.
Aspetti negativi:
I wish there was a way to create certain types of appointments that are only available to certain people (for example, people with a certain password); I have suggested this feature to SimplyBook in the past and hope they develop it soon! We want to be able to, for example, only allow clients who have been prescreened to register for certain events, but we don't see a way to do that in the current system and so end up using a different (much less user-friendly) software program for those events instead of SimplyBook. I also wish we could see which clients have used which coupon codes in a single report.
Alternative considerate: Acuity Scheduling
Perché passare a SimplyBook.me: Integration with Authorize.net payment processor (preferred by our Finance department)
Risposta di SimplyBook.me
settimana scorsa
Dear Stacy, thank you so much for taking the time to leave us your fantastic feedback, we truly appreciate it! Have you tried as a workaround to setup hidden categories, have your services appear there too and then you can prepare separate links for clients that you have already approved of. You can also contact our Live Chat if you want to know more about that. All the best The SimplyBook.me team
Intrattenimento, 2-10 dipendenti
Ha utilizzato il software per: Più di 1 anno
Great product that I have used for over a year
Commenti: I tell people about simplybook.me a lot because it just works. It works for about 90% of the things I need it to do, so to have one package, for such a great price, that includes so much, is really invaluable to me and my business.
Aspetti positivi:
I like the adaptability. Even though it has a learning curve, once I understand how to do something, it does it well. It does most things that I need it to do. Clients can book easily, the reminders go out without me checking on them, the product is definitely well priced, and it just works. I think I have a semi-complicated set up, but was able to make it all work (with some help from their excellent live chat agents). The widget codes work on my website, payments integrate with it, it's all just one great package for my needs.
Aspetti negativi:
There are still some things that I would like it to do that it doesn't do. The example would be too long, but I have worked around it. It has to do with the ability to book kids/adults/how many at a time of each, for a certain time frame. I also don't like that once I make a change, it is retroactive...I would really like the ability to change something for the future, and have it set up to go on a certain date, without the changes going live right away.
Alternative considerate: Trello, Checkfront, Xola, Bookeo e FareHarbor
Perché passare a SimplyBook.me: Price mostly, but also because it does everything I need it to do FOR that price.