Nutshell
Cos'è Nutshell?
Nutshell è il CRM essenziale per i team di vendita. Muoviti più velocemente, lavora in modo più intelligente e concludi più affari con strumenti di prim'ordine, integrazioni che fanno risparmiare
Scopri di più
tempo, automazione delle vendite e supporto in diretta di livello mondiale. Nutshell è ideale per i team di vendita e i team di vendita lo adorano. Se non ti fidi, chiedi alle migliaia di aziende che crescono ogni giorno con Nutshell. L'esigenza è un CRM logico e funzionale e Nutshell è proprio così. - Kristen Hay, Bloomerang.
Mostra meno
Chi utilizza Nutshell?
Team di vendita in uscita di piccole imprese alla ricerca di un CRM economico e di facile utilizzo che possa essere completamente implementato dal primo giorno.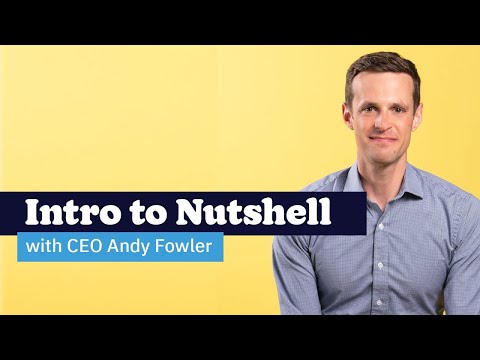 Hai dubbi su Nutshell? Confrontalo con una delle alternative più diffuse
Non disponibile nel tuo paese
Versione gratuita
Prova gratuita
Versione gratuita
Prova gratuita
Mark
President & COO (USA)
Consulenza manageriale, 2-10 dipendenti
Ha utilizzato il software per: Più di 2 anni
I've used CRM software on Mac, PC, & midrange IBM systems. Nutshell is at the top of the heap.
Commenti: It's CRM that actually is liked and used!
Aspetti positivi:
Easy and flexible setup; consistently clear design. Can use basic functions without tripping over the advanced ones, and can gradually add feature/function for a smooth transition from beginner to power user. I also like the way you have color-keyed the function buttons to the main color on functional screens. A nice visual orientation cue!
Aspetti negativi:
I worked full-time in the design profession for 17 years, so this is a 'studied' critique: There is a lot of market pressure for tech products to follow design trends. Unfortunately, design trends often are based on designers designing for other designers -- which tends to leave certain kinds of user needs out in the cold. One of the most common of these 'orphaned' needs is the need for contrast and clarity. Nutshell's UI gets high marks in my book for uncluttered design and common-sense functionality. But as people get older, it gradually becomes harder to distinguish low-contrast elements in a design. Contrast (and color, of course) also can be used (and is used to a degree in Nutshell) to 'lead the eye to where the action is. ' My suggestions for improving the main user screen are these: 1) Search Everything is, by definition, a key feature -- it should have a STRONG presence, instead of looking almost greyed-out. 2) Use bolder and slightly larger text throughout. To a degree, weight and size will compensate for lack of contrast -- and without cluttering the layout.
Risposta di Nutshell
6 anni fa
Hi Mark! Thanks for taking the time to give us some feedback. We appreciate the positive review and will pass along the feedback to our design team. Thanks for being part of the Nutshell community. Amanda
Produzione di apparecchi elettrici/elettronici, 2-10 dipendenti
Ha utilizzato il software per: Più di 2 anni
Good starter CRM
Commenti: Consolidated location for prospects and communication history.
Aspetti positivi:
We explored a number of CRM solutions and initially selected Insightly after trying to get Tiger CRM working. Insightly functionality was too limiting and consequently was not being used. Our second round of trials lead us to Nutshell, which we have been using for about two years. We found Nutshell to be reasonably robust and easy to use. We have been using it for about two years now. We have about 30,000 contacts and 11,000 companies.
Aspetti negativi:
We are now running into some functional issues which we have to address with addons, including Mailjet for email campaigns and Zapier for data transfer. The lack of a quoting interface, manual address entry into Quickbooks, lack of phone integration, and incomplete email integration. With the exception of QB integration, the other functions can be addressed with more addons. By the time we get done adding on the functional holes, the price becomes quite high. The reliance on addons also means that the system becomes unwieldy; a different system, management interface, and subscription for each function. At this time, I don't think there is a good solution for QB integration at all. This may not be significant since QB for Manufacturing is below our needs anyway. Our next step may be to use PostBooks, Xtuple, or some other MRP system that includes CRM. But, those also carry their own management burdens and costs. Nutshell does have a reasonable email interface to send correspondence through our IMAP server, but the markup tags are cumbersome, are error prone, has no CC or BCC field, and the reply emails don't populate under the Nutshell customer(s). Consequently, only half of the conversation is visible. Of all of the above, this is the most significant limitation at this point.
John
National Sales Director (USA)
Macchinari, 11-50 dipendenti
Ha utilizzato il software per: Più di 2 anni
Alternative considerate:
Excellent CRM for our Niche Application - Best of Multiple Reviewed/Used
Commenti: Excellent! The customer service has been responsive and the system has been 100% reliable.
Aspetti positivi:
Barrier to entry was low with minimal upfront cost needed to evaluate the software. Ease of use for a small company with minimal resources to devote to developing, executing, and maintaining the system.
Aspetti negativi:
So far the only con that we have experienced has been in the reporting functions. This could be a by-product of our unique needs or our lack of resources available to investigate it further. It does seem limited compared to Salesforce.
Sebastian
National Account Manager (USA)
Ha utilizzato il software per: Più di 2 anni
Nutshell is overall a great CRM that incorporates good features and provides great customer service
Aspetti positivi:
I appreciate the constant updates. Nutshell has some ways to come, so it is nice seeing changes be made. Customer service is always on spot and very friendly. Nutshell support page is great for new employees, referring them straight to there for advice. The adaptability & usability of the interface is very user friendly.
Aspetti negativi:
I have been using this software since October of 2014. So far, I think what needs to be implemented on the "Admin/SetUp side" is making sure Products, Reasons why Leads Close, the Sales Process Competitors, and so much more need to be added from the start with Nutshell and the business buying the service. The reason being is because over the last two years, slowly things have been added/removed/changed. So now we have 2 years worth of jumbled data IMO. Going through a thousand leads that only a handful of them have tags on to find out why something was closed via notes or what product was sold is a little silly. I think the setup process should include this for the end user (being our company). Mind you, I was not the one to set up the account with Nutshell so I am unsure if this is something offered, but It helps a lot when running reports on products, etc.
Risposta di Nutshell
6 anni fa
Hey Sebastian! Thanks for taking the time to share your feedback with us. I hear you on the changes over the last couple of years. I will talk to our dev team about the requests you mention below on the Company. We appreciate you being a part of the Nutshell community. Amanda
Madalynn
IT/Projects Manager (USA)
Marketing e pubblicità, 11-50 dipendenti
Ha utilizzato il software per: 1-5 mesi
Alternative considerate:
An Elegant Yet Powerful CRM
Commenti: We are now better organized with our sales process and are more collaborative. This allows us to keep our important information in one place that is easy to use and work as a team to get things done!
Aspetti positivi:
I love the filtering ability with our companies and people lists. It allows us to really drill down and get the exact metrics we want. We are better able to see a lot of information at a glance in a dynamic way.
Aspetti negativi:
I would love more options when emailing groups of people in the system. Currently, I need to only use templates when emailing groups and I would like to be able to type out the email in one shot instead.