PHP Point of Sale
Cos'è PHP Point of Sale?
Potente punto vendita per i negozi al dettaglio per Mac, PC, iOS e Android progettato per una piccola e media impresa e le sue sedi. Il servizio e l'assistenza iniziano con una prova senza impegno e
Scopri di più
proseguono quindi con 28,25 - 34 $ al mese per sede con più opzioni di fatturazione. Punto vendita PHP che fornisce aggiornamenti software continui e supporto leader del settore negli Stati Uniti. Le funzionalità comparabili includono e-commerce, integrazione di carte di credito su piattaforma aperta, account di negozi, programmi fedeltà e altre funzionalità avanzate che ti aspetti nel mercato al dettaglio di oggi.
Mostra meno
Chi utilizza PHP Point of Sale?
Si rivolge alle piccole imprese/startup che necessitano di una soluzione economica per gestire lo stock e le vendite.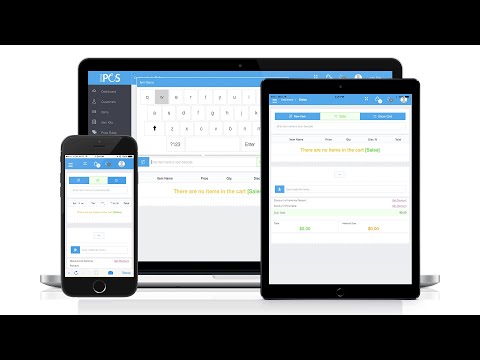 Hai dubbi su PHP Point of Sale? Confrontalo con una delle alternative più diffuse
Non disponibile nel tuo paese
Versione gratuita
Prova gratuita
Versione gratuita
Prova gratuita
Alternative a PHP Point of Sale
Recensioni su PHP Point of Sale
Vendita al dettaglio, 2-10 dipendenti
Ha utilizzato il software per: Più di 1 anno
Alternative considerate:
A lot of value for the price
Commenti: We used a fairly old, desktop-based POS for years. When web-based POS's started coming out, it seemed that they offered some significant advantages - though our first try with one (Hike POS) was an utter failure, based on what was promised with it. PHP POS worked great right from the start. The features they promoted all worked great - in fact, the biggest challenge was in determining how to utilize it's full potential. We've used both the downloaded and hosted version of it, which are virtually identical. We've used it on Windows pc's, ipads, and android devices. As mentioned, they offer exceptional support, including a robust feature request/implementation feature. They don't seem to pursue the same level of marketing as other POS systems, which I'm guessing would account for why they charge only about half the price of similar setups. We're all extremely happy with it.
Aspetti positivi:
There are an incredible number of ways to customize the software, and the range of capabilities is equal to POS software that's far more expensive. On top of that, there's support that surpasses pretty much any other software I've ever used.
Aspetti negativi:
I'd kind of like to see certain reports that aren't readily available, but that's an awfully minor issue.
Marenyane
Entrepreneur (Lesotho)
Utente LinkedIn Verificato
Servizi e tecnologie dell'informazione, Lavoratore autonomo
Ha utilizzato il software per: Più di 2 anni
The best software to manage inventory in your business
Commenti: I had a phenomenal experience using PHP point of sale. It is easy to calculate how much turnover the available stock is going to make. I am able to plan well how much I am going to save from that turnover and how much is going to purchase more stock. Despite that, I like the fact that during busy hours, it is easy to serve the customers because I don't have to manually calculate how much the items bought cost and how much change is required. I also like the fact that with this software, I am able to track my employees work. Some people become tempted to steal when there is no Inventory Management Software. This software is so awesome, I like the fact that it is secure, every person has to have his or her account in case mistakes happen, that particular person is held responsible without implicating the entire staff.
Aspetti positivi:
I like the fact that I am able to manage my inventory easily with this software. I am able to know how much profit the available stock is going to generate It is easy for me to see my employees are cheating me. The cashed money has to correspond with the sales made per day. What I like most is the fact that I don't have to calculate how much change I will have to give back to the customer, it calculates it automatically as I am selecting the items bought.
Aspetti negativi:
There is nothing I would disregard about this software. But you will find that we hire unskilled labor or illiterate people, so it becomes a challenge when you have to train such a person to use the system.
Risposta di PHP Point Of Sale
8 mesi fa
Thanks so much!
Carmen
Owner (Paesi Bassi)
Vendita al dettaglio, 2-10 dipendenti
Ha utilizzato il software per: 1-5 mesi
Alternative considerate:
I don't know how we dit it without PHP Point of Sale
Commenti: As a small business owner of a dog store and groomer, a web shop and store took up so much of my time. Especially the syncing of the products in the shop and the store, because sometimes I would forget to do that, so people would buy a product online that was sold out in the store.
After many comparisons I chose PHP Point of Sale and from day 1 that it was up and running I felt a lot calmer.
Aspetti positivi:
There is little not to like about this product. It is easy to set up. Has a ton of features, not even all of which we use. And offers so much more compared to other POS systems, truly value for money. What I especially love is the fact that I don't have to spend extra time on inventory and synchronization between store and web shop. And what I also love is that every new product I create in PHP POS is immediately available in the webshop. The possibilities are great, the support is great and fast and the program is very easy to use even for people who have never worked with a POS system before.
Aspetti negativi:
Our only problem was with syncing the products. I wasn't aware that all the products were re-entering my webshop, so suddenly there were a lot of duplicates and I had to spend some extra time on them. But that could also have been a stupid mistake on my part.
Vendita al dettaglio, 11-50 dipendenti
Ha utilizzato il software per: Più di 2 anni
Very flexible and easy to extend
Commenti: Overall, we are extremely happy with PHP Point Of Sale. We've invested a lot of time in customizing it for our specific needs. I don't think we would've been able to integrate it so tightly with our other systems if we had gone with another POS system. It has also been extremely reliable.
Aspetti positivi:
The built-in API and the ability to extend the system with your own PHP code are the features that set this apart from other POS systems. We have modified our system extensively, which would not have been possible with other software. Technical support was outstanding, even when we were adding completely new features. The developer was very open with sharing information and tips. Probably the best technical support I have ever received with a software package. Also, the ability to host the software on our own on-premises server was important.
Aspetti negativi:
We found some of the features to be a little confusing and unintuitive, but once you understand how they work it all makes perfect sense. Like anything, there is a learning curve.
Ben
Managing Member (USA)
Vendita al dettaglio, 2-10 dipendenti
Ha utilizzato il software per: Più di 2 anni
Robust, intuitive, and cheap for the small business!
Commenti: I came across phpPOS while researching different POS systems when we were first opening. Suggested by a user on /r/smallbusiness, we were seeking a POS option that allowed us to utilize categorized products for our own stock, consignment based sales, and reporting features. Another caveat we held was that the POS was within our "limited" budget at the time -- phpPOS fit all of those needs, and more. We purchased, and two years later still use, the stand-alone version of phpPOS which fit our needs perfectly. We only use one register, but all staff have their own unique password protected logins and we can easily backup our inventory, sales history, etc. to an external drive. For larger businesses that require concurrent registers, etc -- you may want to consider the online version instead. Very happy with phpPOS and would definitely suggest it to other small business folks out there looking for a robust yet affordable POS option.
Aspetti positivi:
- detailed inventory options with categorization - ability to separate consignment sales and suppliers - product / service separation - good reporting options - can customize with knowledge of php - extremely affordable - stand-alone product -- service outages don't affect your sales! - item-grid compatible with touch-screen (we have too many items, so don't utilize this feature -- but it's there!)
Aspetti negativi:
Very little cons. Never had any major issues, nor had to resort to customer support. The POS is intuitive enough to figure out on its own. Gift cards can be a little confusing at first.