Adobe Learning Manager
Cos'è Adobe Learning Manager?
Forma impiegati, partner e clienti in modo efficace con un LMS di nuova generazione. Offri un'esperienza di apprendimento migliore e piacevole ai tuoi studenti. Riduci le carenze di competenze per
Scopri di più
gestire un ecosistema di discenti coinvolto, conforme e aggiornato. Prova un LMS aziendale di livello mondiale di Adobe, che è: 1. Riconosciuto dai principali analisti e organismi del settore. 2. Premiato per l'eccellenza in più categorie. 3. Adottato dalle principali società di tutto il mondo. 4. Utilizzato da milioni di studenti impegnati.
Mostra meno
Chi utilizza Adobe Learning Manager?
Organizzazioni commerciali con focus sull'apprendimento.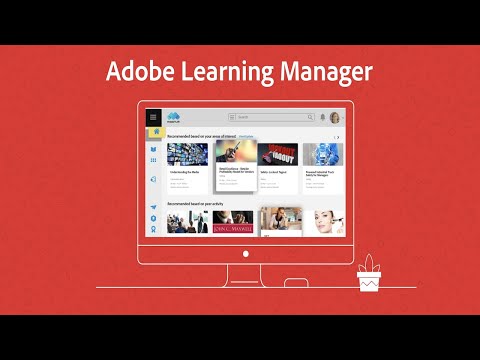 Hai dubbi su Adobe Learning Manager? Confrontalo con una delle alternative più diffuse
Non disponibile nel tuo paese
Versione gratuita
Prova gratuita
Versione gratuita
Prova gratuita
Alternative a Adobe Learning Manager
Recensioni su Adobe Learning Manager
Francis
cito (Kenya)
Utente LinkedIn Verificato
Servizi e tecnologie dell'informazione, 2-10 dipendenti
Ha utilizzato il software per: Prova gratuita
Captivate as a tool for LMS
Commenti: Still a newbie will know more as i interact. However the features are what drew us to this software
Aspetti positivi:
presentation development and deployment as well as integration to adobeconnect
Aspetti negativi:
Instal was a handful and took very long.
Mitchell
Retail Training Manager (Canada)
Utente LinkedIn Verificato
Vendita al dettaglio, 11-50 dipendenti
Ha utilizzato il software per: 6-12 mesi
Alternative considerate:
Solid LMS that's in the process of improving.
Commenti: The software meets our needs, and hosts all content we need. It takes a lot of learning to grasp the system, and you will be doing most of the learning on your own. Certainly a competitive service. Definitely worth your consideration.
Aspetti positivi:
This software has all the features that you may be looking for in an LMS. It has some CRM features, can host all standard e-learning file types, has a social learning function, and allows for a solid user experience.
Aspetti negativi:
I didn't like how there is no method to execute all functions on the LMS without swapping between user profiles. Admin has certain permissions, as does the author and learner roles. It's your responsibility to learn which profile type does what. Additionally, the customer service is quite slow. If you're looking for quick support on the service, you'd be better off troubleshooting on your own. I rarely get an appointment with my CapPrime rep within the same week I request it. Finally, the system is inexpensive, but requires a big upfront cost. They currently only offer a 3-year commitment plan to the service. If I would've known about the speed of customer service I would've reconsidered our choice.
Utente Verificato
agent de facturation (Marocco)
Utente LinkedIn Verificato
Trasporti/Trasporto merci/Ferrovie, 501-1.000 dipendenti
Ha utilizzato il software per: Più di 1 anno
savoir plus sur Adobe Learning Manager
Aspetti positivi:
C'est le meilleur outil pour la simulation et la conception adaptative pour des appareils spécifiques. Je l'utilise pour le développement de modules d'E-learning.Des choses très intéressantes qu'il est possible de développer avec le logiciel.Il est facile d'accéder sur le mobile et la tablette en utilisant l'application, Il dispose d'un bon navigateur.
Aspetti negativi:
Ce serait bien si on intégrait une conférence interne plutôt qu'une intégration externe.
Cassie
HR-Training and Development Specialist (USA)
Produzione di apparecchi elettrici/elettronici, 201-500 dipendenti
Ha utilizzato il software per: 6-12 mesi
Alternative considerate:
RAE Corp - Captivate Prime Review
Commenti: It has been good. I wouldn't say great. The customer support is good, very responsive and friendly but often they don't have a solution or explanation for what I need help with. The product is good. It's user friendly but sometimes it can be glitchy and doesn't seem to accommodate every thing that we need it to do in a manufacturing facility.
Aspetti positivi:
I like the new social aspects, developing content and always having fresh content is a huge tasks and I have a very small team so I can see how that will be extremely helpful especially for professional positions. It is very easy to use, I demo's several learning management systems before deciding and this one seemed most practical and affordable. My rep is great and very responsive.
Aspetti negativi:
The reports. It does an okay job of reporting what activities have taken place, but there is still a lot of information that we need that we cannot easily get. We have to do a lot of manipulating in excel to get the info we need. Examples: who can who has logged in but it doesn't tell you who hasn't logged in. You cannot export a report from the content library to easily see what all content exists in the system. Admins don't get notified or have a central place to review what is happening in the social aspect of the system or course discussion boards so it is very hard to control and make sure people don't post anything that would be considered unprofessional or misleading. We need our employees to engage in and track their hands on training but they work in a manufacturing setting, they aren't at computers all day, they don't have access, and most don't know how, to upload a document to confirm they completed an activity module. Because many of our employees don't have computer access on the shop floor they also don't have work email accounts so it would be extremely helpful for them to receive push notifications via text messaging, I know that currently exists for billing and password recovery I don't understand why it isn't possible for enrollment notifications. Supervisors cannot communicate or do evaluations with their employees through the system. I know several LMS systems we demo'd did include that, I was suprised that Adobe didn't have something like that.
Mikella
Human Resources Coordinator (USA)
Intrattenimento, 5.001-10.000 dipendenti
Ha utilizzato il software per: Più di 2 anni
Adobe Learning works, but its pricey and has its flaws.
Commenti: Overall it works solid as LMS software and allows employees to learn via mobile devices - which is our biggest request/need. I think it could be better, but currently, it fulfills our needs. If scores and adaptable elements were saved better I think it would be perfect! We do enjoy using if for our learning platform and will continue to do so for the foreseeable future.
Aspetti positivi:
Adobe learning as a portal/service is extremely fluid and functional. We have multiple courses and they are easy to manage and access for all of our employees. They are known as the industry leader and thus they garner more customers than other LMS, but that requires them to upkeep the software and that is a large benefit for us as the customer / consumer. The learning portals do work well and the tests are good when you are navigating them.
Aspetti negativi:
I wish it did a better job of saving test scores/certifications. Sometimes our employees will finish a class but the scores they tested with don't save and they have to attempt again. This is a technical issue we have asked for help with - so they provided a button to submit as support - which was nice, but we still have the issue.