QuickBooks Time
Cos'è QuickBooks Time?
TSheets è una soluzione di monitoraggio e pianificazione del tempo dei dipendenti che consente ai proprietari di impresa di risparmiare tempo e denaro. Sbarazzati dei vecchi cartellini e dei foglio
Scopri di più
di calcolo e semplifica le buste paga, la fatturazione e i costi di ogni lavoro. Che si trovino in ufficio o in situazioni di mobilità, i dipendenti possono tenere traccia delle ore di lavoro da qualsiasi luogo utilizzando uno smartphone, un tablet, un desktop o un laptop in tempo reale. TSheets è l'unico sistema di registrazione dei tempi integrato in QuickBooks.
Mostra meno
Chi utilizza QuickBooks Time?
TSheets offre soluzioni per tutti, dai liberi professionisti alle aziende Fortune 500. TSheets ha applicazioni per ogni azienda che vuole tenere traccia degli orari dei dipendenti in relazione a lavori specifici.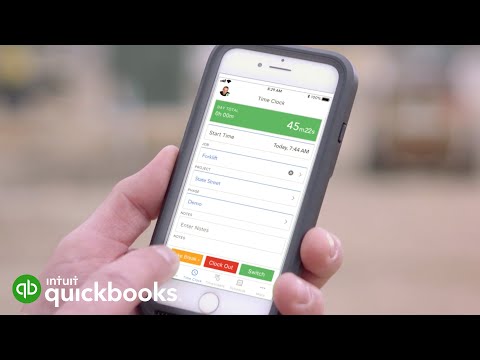 Hai dubbi su QuickBooks Time? Confrontalo con una delle alternative più diffuse
Non disponibile nel tuo paese
Versione gratuita
Prova gratuita
Versione gratuita
Prova gratuita
Alternative a QuickBooks Time
Recensioni su QuickBooks Time
Industria edilizia, 51-200 dipendenti
Ha utilizzato il software per: Più di 1 anno
Alternative considerate:
QuickBooks Times by Hugo Orlando
Commenti: QuickBooks time is an easy and efficient way to track and do everything that you need to be done and with the timing sheets and make sure everything's on you know basically finished and everything's precisely you have never had a problem with that I have actually to have good prices they're really good and their customer service is great people should try this
Aspetti positivi:
Basically what I like the most about QuickBooks time is that they are precise there's nothing that I need to fix or try to intend to make it better or not it just comes out the way it's supposed to be it's awesome I don't have to deal with any problems I could call customer service at any time and be able to get my get anything fixed that it needs to be fixed so I give them a big thumbs up you should try it out
Aspetti negativi:
I'm sorry the only thing I can say is good things about QuickBooks time there's really nothing bad that's with it so that's my thing and there's nothing really bad enough the way it is
Victor
Marketing Assistant (Kenya)
Marketing e pubblicità, 501-1.000 dipendenti
Ha utilizzato il software per: Più di 1 anno
2022 QuickBooks Best Review
Aspetti positivi:
You can manage your team's time and schedules using QuickBooks Time without a physical time clock or laborious spreadsheets. It can be found in QuickBooks Online and effortlessly works with QuickBooks Payroll and other well-known payroll programs. For firms with employees who need to travel to a job site as well as remote teams, QuickBooks Time is a great fit. In contrast to other time tracking tools, QuickBooks Time offers all the tools you need for light project management as well as task and project costing. Since QuickBooks Time and QuickBooks Online are integrated, data entry for billing and payroll is almost removed. Managing paid time off is one of its fundamental HR aspects, which will lessen the need for extra software. For your small business, QuickBooks Time is a great option because of all of these capabilities. Your employees might really like keeping track of their time if they have a variety of ways to clock in and out and nice, witty reminders when they forget.
Aspetti negativi:
The base-plus-subscriber charge for QuickBooks Time might be too expensive for some companies, especially if they employ a very large or very small number of people. Furthermore, other companies with straightforward time tracking requirements might find QuickBooks Time to be overly complex. However, QuickBooks Time's failure to manage employee attestation in areas where employees are required to take breaks is by far its worst flaw. Employers risk incurring significant fines if they don't give rest intervals as specified by state legislation and at the appropriate times. Employers are responsible for ensuring that rest breaks are provided and taken. Consider a different time tracking solution with an attestation toolkit if your company operates in a state that mandates employee rest periods.
Gennyfer
Office Administrator (USA)
Industria edilizia, 2-10 dipendenti
Ha utilizzato il software per: Più di 2 anni
QuickBooks Time (formerly TSheets) Is a Must Have
Commenti: QuickBooks TIme makes my payrolls, job costing, and reports so much more accurate, efficient, and expedient. The time I save pays for the software over and over again. Not to mention, the customer service is stellar!!! Each and every time I have had to contact a representative for any reason, they have been some of the most friendly, helpful, and knowledgeable customer service reps I have ever encountered with any company or product, ever. I cannot say enough good things about QuickBooks Time!
Aspetti positivi:
In the construction industry, you don't always have employees reporting to the office each day, they report directly to the job site. This makes it difficult at times, to know that they are actually reporting on time, this program eliminates any question of employee integrity regarding stolen time. It is also difficult to keep track of how much time is spent on each job, making the accuracy of job costing a problem. This software solves ALL of those issues. With GPS tracking, you can easily see that the employee was on site at the time that they clocked in. Also, rather than just being "on the clock", the software allows the employees to clock in specifically to the job that they are on and switch jobs mid-day if they go to multiple job sites, making job costing a breeze. This is so important in the construction industry!
Aspetti negativi:
The one and only feature I feel needs improvement is the tracking of mileage pay. It would be nice if the software could use its integrated GPS to track the number of miles between job sites in one day and translate that to a dollar amount of mileage pay due to the employee for the day. But, the amount of time the program saves me otherwise definitely off-sets the time I spend calculating mileage pay. So overall, it really is no big deal.
Stuart
Finance Director (UK)
Ambiente ed energie rinnovabili, 2-10 dipendenti
Ha utilizzato il software per: Prova gratuita
Alternative considerate:
Great product
Commenti: Only having one add on to QBO to do Time, Mileage and Expenses tracking/submission would be great. Flexibility and GREAT CUSTOMER SERVICE.
Aspetti positivi:
Syncing employees and vendors who are subcontractors with QuickBooks Online.
Aspetti negativi:
Expenses and Mileage tracking using GPS would be great (you're part way there with the GPS for employees). So what I like least is not having these fully developed. Note your link to Expensify Integration "Learn more" in the add on section refers to this page: http://help.tsheets.com/knowledgebase/articles/890430 that does not load so I have no idea how it works. Can you please advise how this works.
Melody
Billing Manager's Assistant (USA)
Salute mentale, 11-50 dipendenti
Ha utilizzato il software per: 1-5 mesi
Easy to track & submit hours worked! TSheets can even be used as a schedule!
Commenti: This has been a great program that our business has used to track hours worked for payroll. We have multiple offices accross several counties and it's nice to have a central place that all of the hours are entered and available for HR to do payroll. Our company has also used this program as a schedule for our support staff and it's been very helpful to able to reference who is in what office so you know who to contact when you need to speak to a specific office.
Aspetti positivi:
TSheets has some flexibility in how you enter in your hours worked - they can be entered manually or by clocking in and out on the website. There is also a phone app for this program, so if you're on the go then this makes it easy to still track your hours or clock in/out. In addition, when you enter hours or clock in you have the ability to choose what "job" this was for. This is especially in tracking expenses for specific projects, jobs or offices. In addition, TSheets has a Schedule function. You are able to enter a schedule for all employees using the program and can specify what "job" the time is used for on the schedule.
Aspetti negativi:
When I use TSheets, I open up the website and just leave the browser up sometimes for weeks at a time. The only issue I've found is that when I do that, the schedule and/or time entries do not update to the next week automatically. It has to be done manually as it will continue to show the original week until "told" to change. It does work fine if you log out though. This is a specific problem for if you leave the browser open. This isn't really a big deal - it's easy enough to either click to the next week or just log out & log back in. It just surprised me though that it didn't auto-update when the week changed.