Meetmaps
Cos'è Meetmaps?
Meetmaps is the event management software to organize one event or all your events, for face-to-face, hybrid or virtual format. As event manager, Meetmaps' all-in-one platform brings you a digital,
Scopri di più
private and branded space in which to offer the best experience to your attendees, boosting the engagement. We cover every stage of the event: online registration and forms, attendees database management, creation of your event app or virtual venue, 1to1 meetings and acces control for in-person events
Mostra meno
Chi utilizza Meetmaps?
- Professional event planners, managers and coordinators - Professional event agencies - OPC's - Event marketing manager - Design and Event Tech Consultant - Conference and conventions manager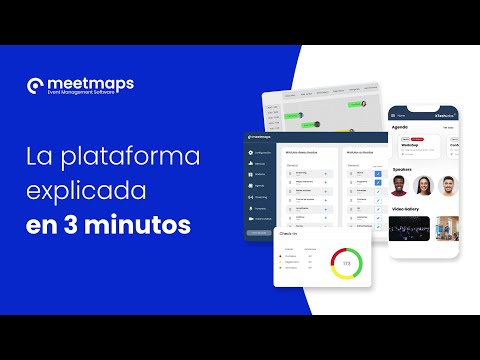 Hai dubbi su Meetmaps? Confrontalo con una delle alternative più diffuse
Versione gratuita
Prova gratuita
Nessuna integrazione trovata
Versione gratuita
Prova gratuita
Yanick
CEO Manager (Camerun)
Utente LinkedIn Verificato
Prodotti alimentari e bevande, 2-10 dipendenti
Ha utilizzato il software per: Più di 1 anno
Everything is there...
Aspetti positivi:
Attractive interface Intuitive and easy to use features Free trial solution to make users feel comfortable Incorporates various online payment methods
Aspetti negativi:
Nothing to say about Meetmaps for the moment, but we hope to see an increase in functionality.
Alvaro
Director (Messico)
Dispositivi medici, 2-10 dipendenti
Ha utilizzato il software per: 1-5 mesi
Alternative considerate:
Excelente Producto
Commenti: Excelente trato de ventas y del servicio prestado
Aspetti positivi:
Muy funcional de acuerdo a nuestros requerimientos para llevar adelante Congresos Médicos
Aspetti negativi:
Es de una sola dimensión. No tiene 3a. dimensión
Risposta di Meetmaps
3 mesi fa
Muchas gracias Alvaro por tu reseña. Un placer ayudarte a organizar mejores congresos con nuestra herramienta. Saludos!
Utente Verificato
Gerente (Argentina)
Utente LinkedIn Verificato
Organizzazione eventi, 2-10 dipendenti
Ha utilizzato il software per: 6-12 mesi
Jornadas de Veterinarios en Mar del Plata
Commenti: Hoy con el avance tecnológico, creo que todos los eventos deberían ser de modalidad híbrida. Permitiendo así ver las charlas por Streamming y desarrollar una buena calidad en la sinergia Asistente - Sponsors.
Aspetti positivi:
Sinceramente lo mas impactante del software fue poder ver las transmisiones por Steamming, con muy alta calidad de sonido y proyección. Ese era nuestro gran desafío, y pudimos satisfacerlo.
Aspetti negativi:
No es compleja la utilización de la plataforma. Si vimos mucha rigidez en las plantillas, o precisamente la falta de Flexibilidad y Adaptación a distintas maneras de abordar un evento.
Roger
Systemic Coach, Sparkling Strategies Founder (Spagna)
Coaching e formazione professionale, 2-10 dipendenti
Ha utilizzato il software per: 1-5 mesi
A must for future events
Commenti: We went for Meetmaps after having the opportunity to test it during Primavera Pro 2016. We thought that it would be not only a stylish tool to create engagement for our event (EODF 2016) but also a cohesive statement as we were trying to put together an event whose aim was to feel, think and play "21st century Organisation Design for the 21st century Organisation"... being one of the main topics the implications of Big Data and digitalization, for example. That being said, you can infer we were all excited about getting Meetmaps. And, after successfully surviving the event, we can say that Meetmaps meet our expectations and beyond. In practical terms, Meetmaps comes with predefined options and it's really easy to customize and get everything together so the tech team can launch the app as agreed (there are different options available and we went for the Event Mobile App). In this sense, the tech and support team was incredibly communicative and problem-solving. They did their best to stay within the deadline even though our materials arrived later than expected. But what really surprised us is the adaptability and effectiveness of Meetmaps when they created, ex profeso, a new section in their app in a sort of record time (specifically, we were wondering if it was possible to add a module in the app that consisted entirely of graphics). So, on top of that, that's why, after our experience with Meetmaps, we would conclude: handy and easy to use, highly-customizable, beautifully packed, top-class service/support team and further possibilities. We would suggest, for example, that Board module (where you can propose topics of discussions as in a forum) could integrate graphic content in the future, in the case, for example, that some attendee wants to attach a photo from his or her smartphone. But again, that's only an example of what we would like to expect from Meetmaps in the future. All in all, and most probably, Meetmaps will a must for our next event.
Noelia
Senior Key Account Manager (Spagna)
Organizzazione eventi, 10.000+ dipendenti
Ha utilizzato il software per: Più di 2 anni
Evento Accor
Commenti: Utilizamos la app para nuestro evento B2B y nos ayudó a reducir el tiempo de gestión de las citas 1to1, ya que el software nos creó agendas de reuniones personalizadas para cada asistente.
Aspetti positivi:
La inmeditaez, quita mucho trabajo admistrativo, la responsabilidad que ofrece a los participantes
Aspetti negativi:
No deja imprimir en formato sencillo No es visible en la app las citas con el Nombre y la empresa a la vez del participante
Risposta di Meetmaps
5 mesi fa
¡Gracias por tu comentario Noelia! Tu feedback nos ayuda a seguir mejorando y creciendo como software. ¡Esperamos trabajar juntos de nuevo muy pronto!