Homebase
Cos'è Homebase?
Homebase rende più facile il lavoro ad ora per l'intero team. Con strumenti online gratuiti e applicazioni per dispositivi mobili al servizio di manager e dipendenti, Homebase elimina le scartoffie e
Scopri di più
i grattacapi di pianificazione, paghe, assunzioni e comunicazioni di squadra. Inizia a risparmiare più di 4 ore ogni settimana visitando joinhomebase.com. Utilizzato da oltre 100.000 aziende di tutte le dimensioni negli Stati Uniti.
Mostra meno
Chi utilizza Homebase?
Caffè, ristoranti con servizio rapido, ristoranti con servizio completo, dettaglianti e qualsiasi altra attività con dipendenti a ora.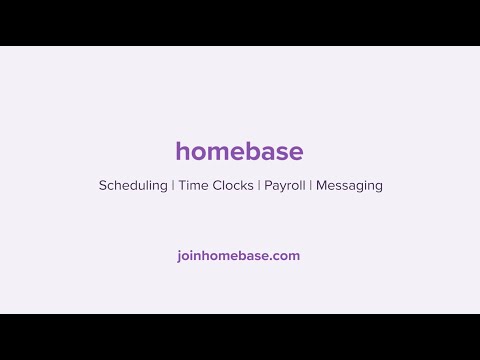 Hai dubbi su Homebase? Confrontalo con una delle alternative più diffuse
Non disponibile nel tuo paese
Versione gratuita
Prova gratuita
Versione gratuita
Prova gratuita
Kevin
Recruiter (USA)
Utente LinkedIn Verificato
Internet, 1.001-5.000 dipendenti
Ha utilizzato il software per: Più di 1 anno
Great system for employee time tracking.
Commenti: Great experience! US-based representative whom were very kind, understanding and WILLING AND READY to resolve any and all issues when I needed to call to resolve the only issue I've ever had.
Aspetti positivi:
Homebase is extremely easy to set up employee time clock which happens to be free if your business has a single location and with a single location you may set it up for unlimited employees. For a small business owner where every dollar and cent matters, it's a no brainer. A business owner may assign or allow the employee to set up their clock in and out code. Also, it may be set to take a photo of the employee during the clock in and out sessions to help or eliminate other employees from clocking in and out for them. Homebase offers an iPad, iPhone and an android app. You may also use your device's browser. We downloaded the app, installed it on an iPad for our employees to clock in and out on. The administrator has 100% access via web browser login. There's also a feature which allows employees to clock in and out in the field which would geo-tag the location of the clocking activities.
Aspetti negativi:
Not a lot a negative things to say. This software is best if you have multiple employees who may have a staggered schedule. Example: an employee opens, then you have a mid day shift, then a closer. You also have many employees that may be out in the field. geo-tag is not the best choice for a single entrepreneur who's trying to track their time, set up easier ways to do so.
Prodotti alimentari e bevande, 2-10 dipendenti
Ha utilizzato il software per: 6-12 mesi
Convenient & All-in-One Place
Aspetti positivi:
Homebase combines scheduling, payroll and tax information for each employee and makes onboarding simple.
Aspetti negativi:
I haven't experienced any issues with Homebase, as of yet.
Della K
Owner (USA)
Utente LinkedIn Verificato
Sicrezza e indagini, 11-50 dipendenti
Ha utilizzato il software per: Più di 2 anni
Fonte: GetApp
Honeymoon phase is definitely over........contemplating a "divorce".
Commenti: Heartbroken, disgusted....and anything else I didn't mention above.
Aspetti positivi:
In 2018 everything was so great and at an incredible price, by my second year as a monthly subscriber I upgraded my plan, in spite of the problem integrating homebase timecards with my QuickBooks payroll, and had to manually enter the data personally. I loved being able to see the total hours per employee when creating a schedule, until one day it disappeared. Still undeterred, I loved the ability to access the app from any mobile device and desktop. Only androids & Desktops access the app easily and iphones or ipads come with headaches. I fell in love with the ease, simplicity and it's sexy platform look of this time tracking/management app, until one day everything changed and I lost my ability to view time cards all on one screen. Little issues were just an alert in the far upper right corner like a nudge. Now they scream in double size that takes up half the monitor, leaving only an inch or two to view time cards accompanied with a lot of scrolling. Nowadays I'm afraid to login and be greeted by a scowling dashboard with a list of issues nagging to be resolved. Issues caused by employees that can't log in or out and got tired of uninstalling and reinstalling the app as a temporary fix. I knew my relationship with homebase was reaching a bitter end when without so much as a "heads up" warning there would be an increase to my subscription (almost $20.00 more). When I said "Oh h#!! NO!" and lowered it to essentials...
Aspetti negativi:
I was denied the ability to manage my PTO mandated sick leave pay feature that never matched QuickBooks anyway, and the feature to assign different roles/rate of pay for different jobs among my existing employees. I now have a default pay rate/role homebase deems as "fitting". After a 5 year relationship with all the little things I loved, I can have back if I pay $20.00 more a month. Out of some "disturbed" sense I felt I owed to Homebase, I emailed support with an offer to pay a small increase but not at their ridiculous price with it's 15 features included that I would never use. If they can't find my request reasonable and let me pay only for what I use, I will fly into the arms of another app that gives me the basic features for free. The email was sent last week and long past the "24 hour" promise to respond. I never called out their promised "money back guarantee" after 5 years and the inability to integrate their application with my payroll system......Seriously? How much alimony is it worth? No, it's too late now. I'm divorcing homebase from my company forever.
Cheryl
Administrator (USA)
Utente LinkedIn Verificato
Gestione formativa, 51-200 dipendenti
Ha utilizzato il software per: Più di 1 anno
Game Changer
Commenti: Finally getting up to speed with technology. We had so many issues with our previous time clock provider, I'm so glad we found Homebase!
Aspetti positivi:
Being able to use the software anywhere and have the ability to change the schedule, communicate with staff, find coverage and my staff to always be up to date with what's going on.
Aspetti negativi:
Sometimes staff tell me they don't get notifications of schedule change when I post it.
Taryn
customer representative (Sudafrica)
Forniture e materiali, 1.001-5.000 dipendenti
Ha utilizzato il software per: Più di 2 anni
homebase time tracking genius
Commenti: my overall experience has been amazing so far
Aspetti positivi:
what I like the most about homebase is the functionalities like online time tracking and much more
Aspetti negativi:
what i like the least about homebase is that most of features works online