Cos'è Connecteam?
L'app multifunzione di Connecteam consente di pianificare i lavori e monitorare i tempi ed è potente e facile da usare, progettata e realizzata appositamente per i dipendenti che lavorano fuori ufficio. La pianificazione comprende funzionalità avanzate come la spedizione con trascinamento, turni privati o di gruppo, caricamento dei turni via Excel e molto altro, per rendere veloce, facile e produttiva l'esperienza di pianificazione. Questa soluzione consente anche di usufruire dell'unica vera collaborazione per i turni con aggiornamenti dello stato GPS, note e chat integrata. Costi a partire da soli 29 $/mese per un massimo di 200 utenti.
Chi utilizza Connecteam?
Adatto a tutte le attività verticali dei settori che gestiscono team di dipendenti che lavorano fuori ufficio.
Dove si può implementare Connecteam?
Cloud, SaaS, Web, Mac (desktop), Windows (desktop), Android (mobile), iPhone (mobile), iPad (mobile)
Informazioni sul fornitore
Connecteam
Sede: New York, USA
Fondata nel 2015
Assistenza telefonica
Chat
Disponibilità per Paese
Australia, Canada, Regno Unito, Stati Uniti
Informazioni sul fornitore
Connecteam
Sede: New York, USA
Fondata nel 2015
Assistenza telefonica
Chat
Disponibilità per Paese
Australia, Canada, Regno Unito, Stati Uniti
Video e immagini di Connecteam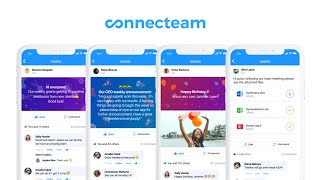 Confronta il prezzo di Connecteam con prodotti simili
Caratteristiche di Connecteam
Accesso da dispositivi mobili
Accesso/Controllo remoto
Acquisizione di documenti
Aggiornamenti in tempo reale
Aggiunta ed editing di foto
Analisi della produttività
App per dispositivi mobili
Apprendimento a distanza (Mobile Learning)
Apprendimento interattivo
Apprendimento sociale
Approvazioni delle modifiche dei profili
Appuntamenti ricorrenti
Archiviazione di documenti
Archiviazione e conservazione
Archiviazione sicura dei dati
Attività ricorrenti
Attività/News Feed
Autoapprendimento
Automazione dei processi aziendali
Autorizzazioni basate sul ruolo
Avvisi/Notifiche
Benchmarking
Brainstorming
Branding personalizzabile
Calcolo delle ore di straordinario
Cambio dei turni
Catalogazione/categorizzazione
Chat dal vivo
Chat/Messaggistica
Commenti/Note
Comunicazione multi-canale
Condivisione di documenti
Configurazione del flusso di lavoro
Contabilità integrata
Controlli della visibilità dei profili
Controllo accessi/Autorizzazioni
Controllo degli orari di lavoro
Controllo del processo di valutazione
Controllo delle assenze
Controllo ore e spese
Creazione di corsi
Creazione di report/analisi
Creazione di task subordinati
Creazione e design di moduli
Cronologia dei servizi
Database clienti
Database contatti
Database impiegati
Directory degli iscritti
Directory del personale
Directory unificata
Discussioni / Forum
Distribuzione multi-canale
Domande personalizzabili
Editor di testo RTF
Editor grafico di flussi di lavoro
Etichettatura delle attività
Feedback a 360 gradi
Firma elettronica
Foto dei dipendenti
GPS
Generatore di sondaggi
Geofencing
Geolocalizzazione
Gestione appuntamenti
Gestione candidati
Gestione contatti
Gestione corsi
Gestione degli elenchi delle directory
Gestione degli ordini di lavoro
Gestione dei calendari
Gestione dei conducenti
Gestione dei contenuti
Gestione dei feedback
Gestione dei fornitori
Gestione dei moduli
Gestione dei tecnici
Gestione dei trasporti
Gestione del lavoro
Gestione del personale
Gestione dell'assistenza sanitaria domiciliare
Gestione dell'inventario
Gestione della conformità
Gestione della disponibilità
Gestione della formazione
Gestione della knowledge base
Gestione della manutenzione
Gestione delle apparecchiature
Gestione delle attività
Gestione delle azioni
Gestione delle buste paga
Gestione delle comunicazioni
Gestione delle conoscenze
Gestione delle ferie
Gestione delle iscrizioni
Gestione delle mansioni
Gestione delle prestazioni
Gestione delle prestazioni dei dipendenti
Gestione delle pulizie
Gestione delle risorse
Gestione delle risorse delle infrastrutture
Gestione delle spedizioni
Gestione di documenti
Gestione di gruppi
Gestione di incidenti
Gestione eventi
Gestione foglio presenze
Gestione task di onboarding
Gestione terzisti
Gestione utenti
Ideazione
Importazione/Esportazione di dati
Individuazione del veicolo
Individuazione delle competenze
Inserimento aziendale
Integrazioni di terze parti
Ispezione di edifici residenziali
Layout e design
Libreria di commenti
Libreria di contenuti
Libreria di domande
Live Chat
Manuale per dipendenti
Mappe geografiche
Messaggistica
Modelli
Modelli personalizzabili
Modifica del testo
Modifica/aggiornamento delle attività
Moduli elettronici
Monitoraggio dei corsi
Monitoraggio dei progressi
Monitoraggio dei progressi delle attività
Monitoraggio dei riconoscimenti
Monitoraggio del carburante
Monitoraggio del tempo online
Monitoraggio del tempo tramite cellulare
Monitoraggio della conformità
Monitoraggio della percentuale di completamento
Monitoraggio delle assenze per malattia
Monitoraggio delle attività
Monitoraggio delle attività dei dipendenti
Monitoraggio dello stato
Monitoraggio in tempo reale
Monitoraggio ore online
Monitoraggio vacanze/congedi
Monitoraggio/analisi dell'uso
Notifiche in tempo reale
Orari e presenze
Parametri prestazionali
Per agenzie per il lavoro
Per giardinaggio
Per il settore idraulico
Per società di climatizzazione
Pianificazione automatica
Pianificazione del personale
Pianificazione delle capacità
Pianificazione di eventi
Pianificazione in tempo reale
Portale self-service
Prenotazioni online
Profili dei dipendenti
Programmazione
Programmazione delle attività
Programmazione di infrastrutture
Promemoria
Pubblicazione di corsi
Pubblicazione di offerte di lavoro
Quadro della attività
Randomizzazione
Rapporti sulla cronologia
Relazioni sui progressi
Rendicontazione e analisi statistiche
Report personalizzabili
Ricerca del testo completo
Ricerca/Filtro
Richiesta di ferie
Riconoscimento meriti dei dipendenti
Riconoscimento tra pari
Rilevamento automatico del tempo
Rilevamento della posizione
Scheda perforata
Scheda perforata online
Sincronizzazione dei calendari
Sistema plurilingue
Sondaggi e feedback
Sondaggi sul coinvolgimento dei dipendenti
Sottoscrizione alle prestazioni online
Storico delle trascrizioni/chat
Strumenti collaborativi
Tastiera virtuale
Touchscreen
Trascinamento della selezione (Drag & Drop)
Scott W.
Director of Operations (USA)
Utente LinkedIn Verificato
Servizi e tecnologie dell'informazione, 2-10 dipendenti
Ha utilizzato il software per: Prova gratuita
Alternative considerate:
Most Valuable APP for SMB Ever
Commenti: Our company utilizes employees here in the US, and numerous remote employees in the Philippines (less than 20 employees). We had one solution for scheduling, another program for task and project management, another app for messaging, and a cloud-based program for time-tracking. Until we found ConnectTeam. Everything we needed (plus more), all in a single solution. Not only did we cut our previous costs by 80%, everything is now in a single solution.
Aspetti positivi:
- Only add the functions you want. Not encumbered by bloatware or features we will never us. - EXTREMELY intuitive. Once create an account, do the 5 minute walkthrough and you feel confident enough to manage yoir company. - Their FREE option is actually very useful and includes 80% of the features. - FLAT-FEE pricing! Once you decide to upgrade (we chose $29 plan) No 'per-user' cost like virtually every other solution. One flat-fee and can add up to 200 users with no hidden fees. - 24/7 live support; even for the free account! When we first got started, we had a couple hiccups, and at 1:30am, their live support spent over an hour helping us get everything working perfectly (thanks again Noam). - Supports overseas employees in other countries natively. E.g. we have employees in Philippines, and the installed the app and verified their phone numbers via text on their Philippines phone with no issue. Can text-message filipino worked through app, even on free mode. - Messaging/chat options are way better than other messaging apps. Like 'voice' chat, and the ability to integrate other formats. Supports rich text. Take FB messenger, Sling, and viber and combine all the good features, and this is what you have. - GPS tracking of all remote employees.
Aspetti negativi:
- At the time of writing this review, all admin features have to be done through website, and not through the app (though they say they are working on that). - Could use more hierarchy fratures, other than just basic. Would be nice to see customizable permissions for Administrators (may support but I didn't see). - App only supports Android and iPhone. No desktop app for Windows or Mac available.
Risposta di ConnecTeam
2 anni fa
Hi Scott! Thank you so much for taking the time to write this amazing review! Please note that there's A LOT you can do as an admin from the app, under the the ADMIN tab. Make sure to reach out to us for further assistance if needed :)
Sarah L.
General Manager (USA)
Salute, benessere e fitness, 11-50 dipendenti
Ha utilizzato il software per: 1-5 mesi
Alternative considerate:
ConnectTeam helped us transition from a handful of productivity apps to ONE.
Commenti: We are very satisfied with the app, as well as the service! Thank you for helping us work through the initial transition and we appreciate your team's attention to detail. Our staff have adapted to using the app with incredible ease and we are looking forward to using this as a tool moving forward.
Aspetti positivi:
The user-end is designed for mobile use, so it's super convenient and easy to use your personal mobile device to stay connected with the team. There are so many time-saving features available that take advantage of the tools we already have on hand and make an impact on our daily operations. The mobile app is clear, looks great, and even incorporated our logo into the initialization window. Very professional.
Aspetti negativi:
Our previous scheduling software had quite a bit more clarity and control over schedule creation, shift swapping, time-off requests, and general management. ConnectTeam has a functional scheduling feature, which is honestly better than some of the other apps out there, but this aspect could use some improvement. As with any good app company, they have assured me they are continuing to develop this feature and will release any improvements in an update.
Risposta di Connecteam
10 mesi fa
Sarah, you're amazing :) Thank you so much for taking the time to write such a detailed review, and share with others about your positive Connecteam experience. At Connecteam, we do nothing else but building a product that helps companies manage their remote teams easily and efficiently, so as always, you can expect improvements coming out on a regular basis :) It's really great that you were able to combine so many other softwares into one and become more productive as a company. Thanks again, and please make sure to reach out to our team for more feedback and things you'd like to see in Connecteam :)
Sport, 2-10 dipendenti
Ha utilizzato il software per: 6-12 mesi
Alternative considerate:
Great software would recommend
Commenti: I'm generally happy with it - the customer service is great.
Aspetti positivi:
The employee scheduling is so easy to use, it's a really intuitive design and you can implement it and get employees on boarded so quick with it
Aspetti negativi:
I dislike that I can't book 1-2-1 sessions for employees - a live timetable I can send front end to customers so they can book my employees out per session. Would be a great add. It's also not cheap price wise.
Risposta di Connecteam
4 settimane fa
Thank you so much for your review, Harry! It's great to know that you find Connecteam to be simple to use both for you and for your employees and that you're happy with our customer service :) Although Connecteam is an employee management tool, we already talk internally about adding capabilities for the business' customers to book their meetings directly in the schedule, so that's definitely something to look forward to in the future :) If you have any more feedback for us or would like to suggest an improvement, please reach out to us at [email protected] at any time :) Thanks again!
Michael B.
Director (UK)
Utente LinkedIn Verificato
Gestione delle risorse, 51-200 dipendenti
Ha utilizzato il software per: 6-12 mesi
Alternative considerate:
User-friendly software with many features, but needs improvements around scheduling & time clock
Commenti: We have been using the software for about 8 month now. Some problems have been resolved. A huge improvement was around open shifts. That feature was basically unworkable until a few months ago. However, no improvement in core functionality of job scheduling and time clock since then.
Aspetti positivi:
We mainly use software for job scheduling and time clock. Pros: It is easy to create a job and a shift Easy to add an employee Job scheduling views are good Training module (courses) has been useful
Aspetti negativi:
The more employees and jobs you add, the slower it gets for admin users The jobs schedule opens slow on mobile phones The app users a lot of RAM memory on desktops If you have many shifts in the schedule, the app may start freezing The company often focuses on getting some minor features rather than improving their core elements, such as Job Schedule and Time Clock Not easy to go through Time Clock entries as the hours in Job Schedule are not shown. They claim that Time Clock and Job Schedule are synced, but sync only works for mobile users to clock in and out. There is no sync for admin users, who are checking the entries! Chat feature is undeveloped. It is easy to send information to staff, but it is not possible for field staff to have 1 clear communication channel. The job schedule shows names of the person, who created a job, so field staff have multiple conversation about various jobs, rather than have 1 point of contact. If the person who created the job is away, there is no way to see the message. So software creates a communication nightmare for admin and for field staff as well.
Risposta di Connecteam
mese scorso
Thanks for the feedback, Michael. First, it sounds like you're experiencing some technical issues. Things should not load slow or freeze. The best we can suggest is to contact us so we can investigate your issues and have them resolved. As for the schedule and time clock sync, there might be a misunderstanding or unfulfilled expectations here, and we'd like to clarify: the sync doesn't mean that any scheduled shift will automatically create a time entry in a schedule. The schedule lets users know what they need to do, when and from where, but they must clock in and out for those entries to show in their timesheets. As for the chat - what's missing for you that you feel it's undeveloped? As for employees seeing who created a shift - that's 100% to your control as an admin. Simply remove this option from the scheduling settings menu. Would like to connect with us so we can see what can be done to assist you? Please email me personally at [email protected] :) Thanks!
Karen T.
Administrative VP (USA)
Industria edilizia, 11-50 dipendenti
Ha utilizzato il software per: 1-5 mesi
Explore the features they are gems
Commenti: I am getting the forms and documents I need from the field. They were using paper forms before this and would lose them, forget them...bottom line we would never get them in the office. Getting the documentation keeps us OSHA compliant and helps us with unemployment claims if we had a legit reason to terminate someone. Also, I cannot stress enough, their support is fabulous. I scheduled a training online and the rep that helped me, [SENSITIVE CONTENT], was phenomenal! She continues to reach out and offer to help. She showed me all of the extra features that I really did not anticipate using and I am so glad she did.
Aspetti positivi:
I love the ease of implementation. The software automatically sent invites to the users to download the app. The form creator gives so many options to use forms already created or to create one of your own. The forms are simple and can be signed from a mobile phone. Signatures are critical for documentation of training, write ups, injury reports etc.
Aspetti negativi:
Unless a user purchases the expert version there are limits to the number of jobsites you can use GPS tracking on. With the level that we have we are limited to 10 jobs. I would be much happier with the ability to have 15 to 20 without having to upgrade. We are working with the limits of 10 for now because there really is a large jump in price.
Risposta di Connecteam
3 mesi fa
Amazing review, Karen! Thank you so much! It's great to hear Connecteam helps you better manage your business and team, save time, and automate day-to-day workflows. As for the capabilities you're looking to have in your plan without upgrading again, the best would be to communicate that to your Customer Success Manager at Connecteam and ask if there's something that can be done to help :) Thanks again for your positive detailed review!!