Cos'è Simply Voting?
Simply Voting Inc. is a full-service provider of secure, hosted online elections. Founded in 2003 and based in Montreal, the company has built a reputation for delivering excellent service and solid technology. Over 2000 organizations from municipalities to universities to unions rely on Simply Voting for safely executing their elections. Our secure protocols, ease-of-use and flexible solutions transform elections across industries.
Chi utilizza Simply Voting?
Non specificato dal fornitore
Dove si può implementare Simply Voting?
Cloud, SaaS, Web
Informazioni sul fornitore
Simply Voting
Sede: Montreal, Canada
Fondata nel 2003
Assistenza telefonica
Assistenza diretta 24 ore su 24
Chat
Informazioni sul fornitore
Simply Voting
Sede: Montreal, Canada
Fondata nel 2003
Assistenza telefonica
Assistenza diretta 24 ore su 24
Chat
Video e immagini di Simply Voting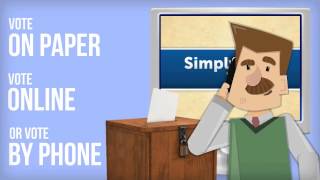 Confronta il prezzo di Simply Voting con prodotti simili
Caratteristiche di Simply Voting
Autenticazione dei votanti
Candidature
Gestione delle elezioni
Ponderazione dei voti
Profili dei candidati
Schede elettorali stampate
Sistema con voto di preferenza
Votazione online
Alternative a Simply Voting
Recensioni su Simply Voting
Recensioni per dimensioni dell'azienda (numero di dipendenti)
<50
51-200
201-1.000
>1.001
Trova recensioni per valutazione
Bradley C.
Chief Officer - Strategy and Governance (Canada)
Utente LinkedIn Verificato
Sicurezza pubblica, 51-200 dipendenti
Ha utilizzato il software per: 6-12 mesi
Easy to use online election solution
Commenti: While our use of Simply Voting was for a straight-forward/non-complex election, we found the process very smooth. Our Project Manager provided clear information regarding what was required of us at every stage of the project. The company was flexible and very professional to deal with.
Aspetti positivi:
Strong & supportive Simply Voting project management, very responsive customer service, easy to use, lightning fast results, election stats available the day after the election closed, reasonably priced.
Aspetti negativi:
Individuals who have unsubscribed to Simply Voting communications in the past with other clients did not receive our election materials until we identified a workaround which happened quickly with SV's support.
Yasmine B.
Program Officer & Country Office Liaison (Canada)
Ha utilizzato il software per: Più di 2 anni
Very positive experience. The support service is prompt, courteous and professional.
Aspetti positivi:
-Extremely user friendly. The option to send electors a direct link to vote allows a smooth experience - Specific reminders only to registered electors who had not yet cast a vote (fantastic that reminders did not spam everyone, but targeted only those who had not been active) - Segmentation feature: where we are running one election but has multiple portions to it - Integrity of the platform: data was handled very securely, and we had multiple staff comment on how comfortable they felt with the experience - Reports generated from the system shows percentage of active electors (extremely useful metric for us) - Run-off election handled very easily - Excellent support system and guidance from the folks working at Simply Voting; when we explained what we needed, we felt like they were on the same page with us and provided us with solutions
Aspetti negativi:
Suggested improvements: - If I understand correctly, the system only allows 250 votes per question: cap seems a little low if this is the case; - In the case of large numbers of electors spread out over segmentations, the export files in excel are very tiny to read. At our request, the project manager at Simply Voting was able to provide us with a regular excel file and pdf after working with the IT team. Suggestion that the software enable an easier file export - The standard wording provided in the email blast can be a little confusing to folks, as it gives the option for both a password entry and for a direct link. Suggest to refine the language so it is clearer.
Laurel B.
Secretary (Canada)
Ufficio del Direttore, 51-200 dipendenti
Ha utilizzato il software per: 1-5 mesi
Simply Voting
Commenti: My overall experience with Simply Voting was great and I hope we use this format in the future to conduct our voting as we live in a rural area and this had a much better voter turn out than an in person one has in the past.
Aspetti positivi:
Simply Voting was a user friendly program to use in a time of uncertainty and pandemic. I found it fairly easy to use and when I did have an issue customer service was very quick to assist with fixing the situation. Thanks to the Simply Voting team for your help and for making our vote easy to manage.Some
Aspetti negativi:
A couple of areas were harder to navigate than others but that could have been because of the user as well.
Jaci C.
Chair, National Election Committee (Canada)
Trasporti/Trasporto merci/Ferrovie, 5.001-10.000 dipendenti
Ha utilizzato il software per: Più di 2 anni
The fact that the Project Mgr assigned to our account made himself available was invaluable.
Commenti: An election that made it convenient & easy for any member to vote. The fact that the results were available less than 1 minute after the voting closed. The fact that the results were verified by Simply Voting & had nothing to do with any Member of our Union. The fact that Simply Voting assigned a Project Manager to our account to help with any aspect of our election voting. They offered their expertise on the type & size of material that would fit on the site. They gave me updated information on voter turnout. They are simply an outstanding company to work with. I would not hesitate to use them again for any future local or national election.
Aspetti positivi:
It was idiot proof. All one had to do was make their choice & follow the clear directions given to finish casting their vote. There was no way that anyone could make a mistake. The choices were clear, the instructions were clear & there was a final opportunity to abort the process if one chose to.
Aspetti negativi:
That one had to remember or have on hand both their Voting ID & Voting PIN which had been previously sent by royal mail or by email. It could be that one did not have that info at the ready when they went online to vote, so that could be a bit of an inconvenience.
Alex G.
National Secretary (Canada)
Ha utilizzato il software per: Più di 2 anni
RCMP VA use Simply Voting for elections and resolutions
Aspetti positivi:
Easy for Veterans to understand and simple to use which is very important for the RCMP Veterans' Association
Aspetti negativi:
We have used Simply Voting since 2015 and we find the system suits the RCMP Veterans' Association perfect for election of Directors and voting efficiently on resolutions. Great support any time we need it and reporting on voting results next day.