Retail Pro
Cos'è Retail Pro?
Retail Pro è una piattaforma software di gestione della vendita al dettaglio versatile, specializzata e indipendente dai dispositivi con un potente punto vendita, rifornimenti e gestione dello stock,
Scopri di più
promozioni, gestione dei dipendenti, gestione dei clienti, back office, prestazioni e capacità di creazione di report KPI. I rivenditori possono utilizzare Retail Pro per superare la frammentazione dei dati e personalizzare Retail Pro in base alle esigenze di flusso di lavoro, di marchio e aziendali, indipendentemente dal fatto che operino come franchising, negozio aziendale, punto vendita o rivenditore multi-filiale, in qualsiasi parte del mondo.
Mostra meno
Chi utilizza Retail Pro?
Retail Pro è scelto da oltre 159.000 utenti in settori verticali specializzati nella vendita al dettaglio come abbigliamento, calzature, lusso, elettronica, articoli da regalo, giocattoli, beni durevoli, arredamento per la casa, gioielli, articoli sportivi e altro ancora.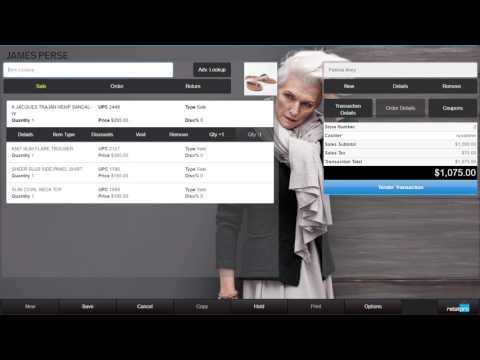 Hai dubbi su Retail Pro? Confrontalo con una delle alternative più diffuse
Non disponibile nel tuo paese
Versione gratuita
Prova gratuita
Nessuna integrazione trovata
Versione gratuita
Prova gratuita
Jose Miguel
Software Development Team Manager (El Salvador)
Utente LinkedIn Verificato
Software informatici, 11-50 dipendenti
Ha utilizzato il software per: Più di 2 anni
Alternative considerate:
Full Stack Retial Software
Commenti: I install Retail Pro for several Clients in America, with different requirements and Retail Verticals, but one common requirement is allow software to connect with thier ERP, and with the Retail Pro strong API, you can accomplish this. So, my experience has been mostly very positive.
Aspetti positivi:
I've been using Retail Pro since version 8 and now We are on Prism, which is a huge update and change of mind for Retail Pro user... but for the good. Retail Pro Prism its a store distributed web application now, with this I mean that you can have one Retail Pro server per store, in a multi store chain kind of business. As a web application, it uses AngularJS as a front end, allowing a incredible flexibility to customize the User Interface, so you can create your own look and feel for the system, not only for the Cashier view, but for all the modules. About that, you have: - Inventory - Vendors and Purchases - Transfers - Customers - POS - Physical Inventory - Inventory Adjustments - Customer Loyalty So, you see... It is the full package. One more thing: their global support with their partners around the globe will give your peace of mind for your multi store chain in almost any country, to name a few (Full North/Central/South America, Full EU, Some EMEA, Full ASIA, some Africa).
Aspetti negativi:
Cost, period... But you are paying a Porsche for a Porsche, you know what I mean. This is a serious Retail software, for serious Retail business. You can use it in small business as well, as its perfectly scalable. So, If you foresee a bright future in your Retail Business, you can bet on Retail Pro.
Articoli sportivi
Ha utilizzato il software per: Non specificato
Fonte: SoftwareAdvice
I'm a managing partner and CIO.
Aspetti positivi:
It does 90% of everything we want & need. Frankly, that other 10% is probably unrealistic without custom programming. We get awesome tech support when needed, and I especially love the live chat feature that lets us ask quick questions. The product is very quick and easy to train an employee on and setting up levels of permission is awesome. We're able to delegate job duties easily with the different features. Receiving is a perfect example. That workstation is set up to be used completely differently than our cash registers. For example, we have three cash registers our of eight total machines running Retail Pro. Each has a unique function, and the software works well in supporting those varied functions simultaneously.
Aspetti negativi:
Some of the more intricate details of the software take quite a while to learn. It's easy for an average sales associate to use the main functions, but some of the higher level features get complex. The software can be "quirky" with some old features that were added on to, so there are features that are not intuitive. An example is polling: some things happen automatically and others require initialization. Like every time we add an employee to the system, it's a process to get them into other locations and requires higher-level knowledge.
Vendita al dettaglio, 11-50 dipendenti
Ha utilizzato il software per: Più di 2 anni
Fonte: SoftwareAdvice
Retail Pro 9
Commenti: We pay for the software assurance and don't seem to get any benefit from the program. We haven't had our system updated anytime recently, since we have so many features that are custom we always run into issues right after updates and it requires us to have down time and constantly figure out what caused the issues. We also seem to have a problem with the follow through on projects from Granite/Retail pro. Once we contact granite with an issue it seem like it's either pushed to the side or forgotten about. When Granite is reminded of the issue multiple times through emails and phone calls they will fix the issue, it seems like we are constantly reminding them about any issue we are dealing with. We are currently trying to update our system so we are compliant with the tls from Cayan. The process started well over a month ago and the updates still haven't been installed. Yesterday we were affected by the brownout from Cayan for over 45min and lost multiple sales because of the software not being updated even though we are trying to be proactive on our end.
Aspetti positivi:
Customization of inventory screens, printing inventory, jewelry tags customization of checkout screen. Granite Info Sys has done great work for us in the past and continue to always follow through when reminded of issues. A lot of the custom pieces of our system make our store more successful because of the features & functions Granite created.
Aspetti negativi:
When using central gift cards, scanning cards always creates a "?" after the last number. Retail pro has done nothing to fix this issue, we have had the system for almost 4 years now and still deal with this issue daily. Granite Info Sys informed retail pro about this issue days after implementing our new system and still the bug remains. Applying updates to the software isn't easy and requires us to pay our software provider each time an update is available. Reports function, reordering capability, inventory alerts, speed of processing gift cards all lacks. Lack of customization for loyalty programs, we had a lot of custom work done by our service provider, anytime we have an issue it costs money to figure out what's wrong because it's something that wasn't available in retail pro. Lots of bugs still in the software that haven't been addressed.
Vendita al dettaglio, 11-50 dipendenti
Ha utilizzato il software per: Più di 2 anni
Fonte: SoftwareAdvice
Retail Pro 9.4 is a very unfortunate product.
Commenti: V9.4 is very very slow and without features or benefits to offset the moving from V8 to V9.4. If you love lack of features and watching a spinning wheel you will love Rpro 9.4
Aspetti positivi:
ECM polling replace the 32 bit polling in Rpro 8.6. In theory this allows close to real time updates to your main. unfortunately, seeing it failing for various reasons with no logs or error message to help navigate.Therefore, Never know if it works or not. The Retail Pro dealer has been helpful in trying to fix the numerous issues with Rpro.
Aspetti negativi:
Unbelievably slow. We have had replaced all hardware with SSD, tons of ram and fast processors. Views, filters, moving from Sales to Customer management system pauses each step of the way. Even direct connect to server does little to speed up process. Missing most basics elements. Can not view inventory by sold as this element is missing from filter. Likewise, Cannot view on order in inventory as this most basic feature is also missing from filters. We currently 95,000 active SKU very hard to manage as system is so slow. My Rpro dealer blames it on the Oracle data base. Reporting in 9.4( why we have the system) is basically missing. We have to export all of the 9.4 data into our old 8.6 in order to run even the most basic reports. Therefore we are essentially running two systems. 9.4 heavy data base requires more management and is expensive and time consuming. If an emergency reinstall is needed it might take a while. Rpro 9.4 only allows one EFT interface. End user is stuck in a noncompetitive relationship with POS EFT which has it owns struggles. Have been with Retail Pro Since 1998. Been on V8 since 2004. V8 while not the most advanced product in the market place was a stable
Mohamed
Project Manager (Egitto)
, 51-200 dipendenti
Ha utilizzato il software per: Più di 2 anni
i'm working with retail pro since 2013, it was wonderful experience.
Commenti: i got the knowledge that gave me the chance to implement and support our customer in the market, very important thing is that i learned how business operate with one of the biggest retail solution ever
Aspetti positivi:
very powerful inventory management solution, full of function and features. the second thing is the scalability and durability the solution can support large number of stores & POSs in one big database "oracle database".
Aspetti negativi:
it takes much time to recover database especially in the main server, 2nd thing when upgrade from old release to a new one with large number of stores and POSs.