Cos'è GMass?
Utilizza Gmail per inviare campagne di stampa unione con e-mail di follow-up automatiche.
Connettiti a Google Sheets.
Personalizza. Programma. Tieni traccia, apri e fai clic.
Crea elenchi e-mail in base ai risultati di ricerca.
Invia e-mail come risposte all'ultimo thread con ogni singola persona.
Imposta e-mail di follow-up automatiche da inviare in sequenza fino a quando non ricevi una risposta.
Chi utilizza GMass?
Chiunque abbia bisogno di una soluzione di e-mail marketing con monitoraggio e personalizzazione dell'e-mail. GMass offrirà una migliore facilità di consegna rispetto ad altre soluzioni di dimensioni più grandi.
Dove si può implementare GMass?
Basato sul cloud
Locale
---
Informazioni sul fornitore
Informazioni sul fornitore
Video e immagini di GMass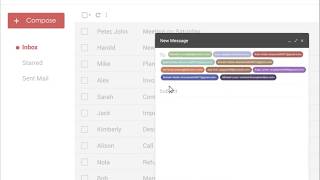 Caratteristiche di GMass
Analisi dei contenuti
Avvisi/Notifiche
Azioni innescate da eventi
Campi personalizzabili
Creazione di report/analisi
Gestione degli elenchi
Gestione degli iscritti
Gestione dei team
Gestione dell'esperienza
Gestione della campagna
Gestione della posta elettronica
Gestione delle campagne e-mail
Integrazioni di terze parti
Monitoraggio del comportamento
Notifiche in tempo reale
Programmazione
Segmentazione della campagna
Targeting comportamentale
Tracciamento dei click
Inna
CEO
Utente LinkedIn Verificato
Biotecnologie, 51-200 dipendenti
Ha utilizzato il software per: 6-12 mesi
the best software ever
Sottotitoli in italiano disponibili nel lettore video
Cara
Director of Growth and Development (USA)
Assicurazioni, 51-200 dipendenti
Ha utilizzato il software per: 1-5 mesi
GMass is AWESOME
Commenti: I have had an increase of interviews since using GMass and it has helped tremendously with my recruiting efforts.
Aspetti positivi:
I love the automatic responses because I don't have to think about checking in with people who haven't replied back. GMass takes the work out of this step and does it for me.
Aspetti negativi:
I was having a problem looking like spam because I hire for multiple states and send anywhere from 1000-1500 emails weekly to candidates that have posted their resume to me. If you're not computer savvy you would have trouble figuring out how to change your domain and use the add ons that helps with this area.
Alternative considerate: Constant Contact
Perché scegliere GMass: People weren't seeing my emails and so I wasn't receiving responses or interview set ups. The customer Support team wasn't helpful in fixing my problem either so I started looking for another way to email candidates and this is WAY better and I'm glad the other program stopped working for me or I may not have discovered Gmass.
Software precedente: CATS
Perché passare a GMass: I chose GMass because it better suited my needs. It looks more personal than business-y. I didn't have hardly any responses with Constant Contact and I found that when I emailed people through that platform, my emails ended up in their promotions option and they wouldn't see it.
Bhushan
Marketing Lead (India)
Utente LinkedIn Verificato
Servizi e tecnologie dell'informazione, 11-50 dipendenti
Ha utilizzato il software per: 6-12 mesi
Simple Email Marketing and Monitoring Tool
Commenti: GMass helped me send multiple campaigns with ease and this tool has a higher value proportion as it has many features for very good price. Highly recommended for startups and small businesses.
Aspetti positivi:
GMass is a simple online email marketing and monitoring tool, As it's been almost 7 months I started using this surprisingly I made the best use of this tool and got quality prospects using campaign reports from GMass. There are some significant features which are quite important for all marketers to understand their target audience and get higher open and conversion rates. They are: 1. Campaign Report: Here I can understand how many people have opened my mail and clicked the links inside it, this feature helped me filter my relevant target audience to generate quality leads. 2. Automated Followups: This feature saved me lot of time by scheduling followup messages to all the prospects with a customized email message with different time intervals. 3. Send as a new message: This helped me show my message to my customer without being left out in followed message in the thread, this helps marketers to use a various unique subject line with similar content to make user open the email ( A effective way to A/B test mail campaigns )
Aspetti negativi:
There is nothing much I didn't like about the tool but while I was running some email campaigns I have tried adding First Name script to send the emails with my customer's first name but most of the times the script didn't work and because of that some of my emails went to spam. This is the one thing I want GMass to fix.
Alternative considerate: Mailchimp
Perché passare a GMass: I have compared several services like MailChimp and other CRM services but I found gmass very cost-friendly and very easy to use.
JACOB
GROWTH MARKETING MANAGER (Israele)
Mezzi di comunicazione, 11-50 dipendenti
Ha utilizzato il software per: Più di 2 anni
BEST MAIL MERGE TOOL I'VE EVER USED
Commenti: OFTEN TIMES I WANT TO DO CUSTOMER SURVEYS AND SEND OUT AN EMAIL TO ABOUT 100 PEOPLE WITH CUSTOM LINK TO EACH ONE. I SET UP THE GOOGLE SHEET, CONNECT GMASS, SET UP THE EMAIL WITH A FEW FOLLOW-UPS AND I'M GOOD TO GO IN ABOUT 10 MINUTES. SOMETIMES YOU DON'T NEED THE FANCY MAILCHIMP, ACTIVECAMPAIGN, OR EVEN MAILSHAKE, AND JUST WANT SOMETHING SUPER SIMPLE TO GET THE JOB DONE AS YOU NEED. GMASS IS PERFECT FOR THIS.
Aspetti positivi:
GMass has been my go-to tool for easily sending out bulk emails for about 3-4 years now. I've just decided FINALLY to pay for a full subscription so that I can send out more than 50 emails per day. Both when I was freelancing and when I was at a more corporate job, I found that using GMass was by far the easiest way to achieving my end goal for mail merging. People don't need special platforms, they just need an easy, simple, and quick way to send out their emails to large audience (within reason and usage limits). GMass is the perfect solution for this.
Aspetti negativi:
FINDING THE STATISTICS CAN BE A BIT CONFUSING FOR A FIRST-TIME USER, BUT ONCE YOU FIGURE OUT AND GET THE HANG OF IT, IT'S SUPER SIMPLE.
Prem
Growth Marketing (India)
Utente LinkedIn Verificato
Marketing e pubblicità, 11-50 dipendenti
Ha utilizzato il software per: 6-12 mesi
Schedule Mass Emails Campaigns With Automatic Follow up Emails
Commenti: For lead generation, Gmass is the best alternative email marketing platform. We can easily mass merge emails and schedule email campaigns with Gmass to generate interested customer inquiries. If we send emails to our clients using Gmail software, we can send one email at a time, and if we send multiple email recipients to email CC, it shows all customers how many email subscriber emails were sent. It is not a professional approach. So, with Gmass, we can easily send bulk emails while dynamically hiding client information from unknown users.
Aspetti positivi:
GMass is the best solution for our company. We can easily send large quantities of personalised emails with just a few clicks using GMass Merge. Schedule Sends allow us to space out our sends so that we don't overwhelm our recipients, and Key Email Campaign Reports provide us with valuable insights into the performance of our campaign. The Email Outreach and Promotions features make it simple to reach out to new leads and customers. When it comes to sending cold emails, the GMass feature ensures that our messages are always professional.
Aspetti negativi:
GMass mail merge does not require the installation of any additional software. We must install a Google Chrome extension and apply it to our existing Gmail account. It protects our email campaigns from spam.
Alternative considerate: MailTrack e Mailmeteor
Perché passare a GMass: This tool handles email deliverability, email lookup, email verification, as well as open and read rates for emails sent via Gmail or G-suite. To be honest, there are so many tools that this replaces or improves that I recommend it to anyone who sends emails. Who doesn't need a little extra help getting into their inbox these days?
Nurul Aishah
Personal Banker (Malaysia)
Utente LinkedIn Verificato
Servizi finanziari, 5.001-10.000 dipendenti
Ha utilizzato il software per: Più di 2 anni
The good and the bad
Aspetti positivi:
It's simple to set up. The directions for setting up a campaign are really simple, and the pricing is also reasonable for people who are just getting started with email marketing. Perfect for cold emailing and delivering customized emails that go straight to inboxes rather than spam drawers. With only one click, we can reach a vast audience. It's beneficial since you can schedule each follow-up ahead of time, and it keeps track of the data you specify.
Aspetti negativi:
I was utilizing Gmass's free plan, and I just wanted to give you a brief explanation of what they mean by 50 emails each day. It indicates that you can only send 50 emails in a campaign at a time. If you choose it, you will not be able to start the campaign with 1000 emails. So I had to get the unlimited email package. There is no way for me to go back if I fail to choose "use duplicate emails," but apart from that, it's fantastic.