lemlist
Cos'è lemlist?
lemlist è la prima piattaforma di outreach tramite e-mail che ti consente di generare automaticamente immagini e video personalizzati. Inizia le relazioni con i clienti rendendo personalizzate e
Scopri di più
umane le e-mail di presentazione fin dal primo giorno. Semplifica e automatizza i tuoi follow-up, automatizza i compiti ripetitivi e non perderti mai nulla. Hai bisogno di inviare e-mail velocemente e su larga scala senza perdere la qualità? Vuoi rendere ogni singola e-mail unica e personalizzata? Oggi hai lo strumento che ti permette di gestire tutto ciò di cui hai bisogno.
Mostra meno
Chi utilizza lemlist?
Aiuta le agenzie, i team di vendita, i recruiter, i SEO e le piccole imprese a crescere grazie all'e-mail outreach.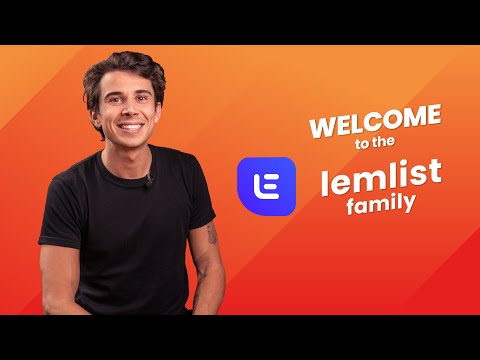 Hai dubbi su lemlist? Confrontalo con una delle alternative più diffuse
Non disponibile nel tuo paese
Versione gratuita
Prova gratuita
Versione gratuita
Prova gratuita
Nessuna integrazione trovata
Bryce
Marketing Director
Utente LinkedIn Verificato
Produzione di media, 2-10 dipendenti
Ha utilizzato il software per: Più di 1 anno
Not fairly priced, yet the backbone is old technology (agency user with 10+ seats)
Sottotitoli in italiano disponibili nel lettore video
Thomas
Director of Marketing (Canada)
Servizi finanziari, 11-50 dipendenti
Ha utilizzato il software per: 6-12 mesi
Great experience overall
Commenti: Really great experience overall - we've had some amazing results with the solution.
Aspetti positivi:
The personalization features are powerful, such as the variables on images. The software is very easy to use and they have an incredible Customer Success team who answers questions in 2-3 min and produce a ton of resources to make you successful. Love the multi-platform capabilities too.
Aspetti negativi:
2 things. One is reporting. You have some campaign stats but no intelligence to help you focus. An example is a leaderboard with the most engaged leads of a campaign across all platforms so that the sales team knows who to focus on. Would love some automated tips based on their knowledge acquired from other customers - similar to Gong giving tips on how to get better on customer calls. Second is automation rules. You don't have the IF THIS THEN THAN rule to create multiple logics based on behavior. Example being if no reply on LinkedIn after 3 days, then switch to email.
Utente Verificato
Freelancer in B2B Growth & Operations (Germania)
Utente LinkedIn Verificato
Servizi e tecnologie dell'informazione, Lavoratore autonomo
Ha utilizzato il software per: Più di 1 anno
Alternative considerate:
Big fan of this tool. Offering an amazing degree of personaliziation
Commenti: Lemlist was extremely helpful in personalizing outreach at scale. You get a lot for your money. Extra features like the pods or super fast customer service make this tool a no-brainer when it comes to cold outreach.
Aspetti positivi:
Degree of personalization; bulk import & export functions; extremely helpful customer service (quick & effective responses)
Aspetti negativi:
The only thing about this software which was not to rate five stars was the design (UI). Used light-grey and white elements were sometimes hard to find..
Brent
Owner (USA)
Utente LinkedIn Verificato
Ha utilizzato il software per: 1-5 mesi
Lemlist makes cold emailing into a personal and fluid experience
Commenti: I have been able to save time on my cold email outreach because of the streamlined process that Lemlist offers. It does everything needed for cold emails, and doesn't try to be everything to everyone. Instead of finding a "jack of all trades" tool, Lemlist has been my "Master of cold email" tool.
Aspetti positivi:
I love the simplicity. The "dashboard" is broken down into sections, and each section isn't littered with menus and filters. It's just organized easy from the beginning so the need for the extra complexities is eliminated. That doesn't mean Lemlist is basic in functionality. It just means they have thought it through so you don't have to "figure out" how to use it. The support has also been very responsive, and features have been added regularly since I have been using Lemlist. You can tell that Lemlist is a love for them, which is awesome. I love that you can personalize your emails, and they even let you personalize meme images to include. Though this isn't a feature I'll be using much, it's a great new way of interacting with certain types of contacts. And it adds some personality to cold emails, which are usually, well, pretty cold feeling. Ultimately, Lemlist simplifies and personalizes the cold email process, and doesn't bog you down with the process. It's the easiest cold email outreach tool I've seen, and while it doesn't have every feature in the book, it benefits from having the specifically targeted and streamlined features it does contain.
Aspetti negativi:
I would like to see the ability to connect to an SMTP server instead of just Gmail, but with Gmail aliases, I can use any email I want. So I can get around it. But would love to see direct support for SMTP My only wish would be that I wish there were more options for sending followup drip emails. Right now, you can choose a time period to lapse between emails, and you can select whether to end a campaign if somebody clicks. But I would like the ability to send a different email if they click on a link, and a different email if they do nothing. So some branching would be good to see. Or only end a campaign if they click a specific link, or visit a specific page on my site, etc. But other than that, Lemlist does exactly what it is supposed to.
Design, 2-10 dipendenti
Ha utilizzato il software per: Più di 1 anno
Alternative considerate:
Fantastic outreach tool with the power of personalized images
Commenti: I picked Lemlist up via Lifetime deal site, and wasn't expecting to use it much. I have been pleasantly surprised on how useful it is and how the product is developing.
Aspetti positivi:
The email outreach space is filled with half baked products, but Lemlist really stands out. They were the first that I know of to implement image templates that could be personalized at scale. A few other features that I really love about Lemlist: - Very active in sharing tips with their community. - Rapidly developing the platform and have added some impressive features including personalized landing pages. - Great collection of premade templates. - Zapier access - Calendly integration Highly recommend!
Aspetti negativi:
Not much that I don't like. Lemlist does its job and does it well. My main complaint is a lack of native integrations. I would to have a direct connection with my CRM. Right now Lemlist does offer Zapier access, but that can get expensive quickly.
Caleb
Owner (USA)
Utente LinkedIn Verificato
Marketing e pubblicità, 2-10 dipendenti
Ha utilizzato il software per: 1-5 mesi
Alternative considerate:
Lemlist Rocks!
Commenti: Warming up campaigns is definitely one of the biggest wins. I love how you can still use lemwarm even after warming up a campaign to keep your inbox engaged and healthy. The statistics for lemwarm and many others make it very easy to keep your inbox happy and healthy. The dynamic images and pages definitely help break the normal boring messages that most of us have all received at some point. It creates a very personal touch even if it is automated. They amount of templates available straight out of the box, definitely helps someone get started.
Aspetti positivi:
The ease and flow of the UI/UX is absolutely beautiful. Very Dynamic software and very creative with dynamic images and Landing Pages. One of the biggest things that brought me to the platform from using a different service is "Lemwarm" and the ability to automatically warm up your inbox before getting ready to launch a campaign. So many amazing features. There was definitely thought and intention with the entire platform to embody everything needed to launch a "cold" email campaign that doesn't feel so cold.
Aspetti negativi:
Downsides? What downsides? ;) i definitely haven't found anything about the platform or Lemlist, that I don't love!