Web Help Desk
Cos'è Web Help Desk?
Grazie a un'interfaccia web intuitiva e a un portale service desk, il software Web Help Desk offre semplicità e automazione per semplificare la gestione dei ticket dell'help desk e delle risorse IT.
Scopri di più
Approfitta della knowledge base integrata, del controllo delle modifiche IT, degli avvisi SLA, dei report sulle prestazioni, dei sondaggi sui clienti e altro ancora.
Mostra meno
Chi utilizza Web Help Desk?
Amministratori IT, tecnici di help desk, tecnici service desk, supporto tecnico.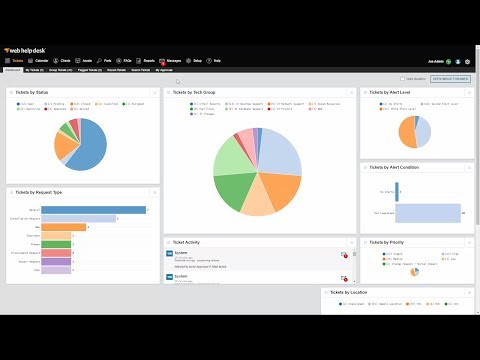 Hai dubbi su Web Help Desk? Confrontalo con una delle alternative più diffuse
Non disponibile nel tuo paese
Versione gratuita
Prova gratuita
Nessuna integrazione trovata
Versione gratuita
Prova gratuita
Alternative a Web Help Desk
Recensioni su Web Help Desk
Sergey
Manager, Technology Infrastructure and Compliance (USA)
Utente LinkedIn Verificato
Industria alberghiera, 1.001-5.000 dipendenti
Ha utilizzato il software per: Più di 2 anni
Make your end user support structured
Aspetti positivi:
I started using this software 4 years ago. From a very first moment I could really see a difference from other products. I liked an ability to have multiple locations, with each location having multiple points of contacts. With that, I was able to set up routings of my tickets so they would always reach a correct IT person. This is very useful, when your business is spread through multiple timezones. Another feature that I really liked is LDAP authentication. This allowed me to restrict access to only authorized users, eliminating a possibility of phishing emails reaching the system.
Aspetti negativi:
As the company grew, at some point my AD structure become very complex - multiple ADs not connected to each other. Unfortunately, at that point, I had to stop using this solution because it couldn't handle more that one AD efficiently.
Mohammad Naseer
IT manager (Afghanistan)
Relazioni governative, 10.000+ dipendenti
Ha utilizzato il software per: Più di 2 anni
Easy gor deployment and usage
Commenti: We have a big organization with more than 60000 staff working and we use this software to recieve issues from customers and to solve it immediately
Aspetti positivi:
Very easy to use and good managed system for daily tasks and solve th probelms of customers
Aspetti negativi:
Its so easy yo use and deploy and i havnt found any missing to write it here
Steve
Director of Business Systems (USA)
, 501-1.000 dipendenti
Ha utilizzato il software per: Più di 1 anno
Our experience with WHD has been ok to underwhelming
Commenti: It allows us to measure how busy our Help Desk group is, we can identify patterns more easily now helping us to resolve problem areas more quickly.
Aspetti positivi:
It allows us to get statistics on our helpdesk calls. Our data center is able to create tickets automatically. It is a repository for all help calls that we did not have before so management can get an overall picture. We like that we can build custom reports and dashboards. Creating forms that can ask a user for data is helpful but we have not implemented any yet because it is cumbersome.
Aspetti negativi:
The UI for the software is stuck in the 90s, very table oriented, Comments in the tickets have a lot of wasted space, we have to scroll constantly to see history. The table widths are not relative or resizable. Images are stored and provided to the user as links with generic names, half the time the link is a signature logo. Our users use screen shots in almost all of our tickets. Not being able to see the images without clicking on a link is painful. Also, we can not use the customizable forms because a user has to save their image to their local hard drive and then upload to the form. Many users don't have a clue how to do this so we have to use email. Because we have to use emails we get duplicate tickets because the software does not recognize a reply. Some of this is the lack of training for our users but if the UI was better we would send them directly to the website. We have compiled a list of questions and will be contacting SW to see if we are missing something in our configurations or if it is a lack of training. If we are not able to resolve most of these issues we will be looking for a different solution.
Risposta di SolarWinds
5 anni fa
We're sorry to hear of these difficulties you are having, but we are encouraged you plan to reach out to seek a resolution. We have a lot really talented people on our team that are willing and ready to help whenever you choose to tap us as a resource. As for you comments regarding providing instruction to your customers for common tasks involved in troubleshooting their issues, we have some advice. We suggest you create an FAQ to provide a set list of instructions to help with image capture and transfer to your help desk team. Alternatively, a solution like Dameware Remote Support from SolarWinds could lend a hand in the troubleshooting process, enabling your team to access an end-user's workstation and snap screenshots instead. The bonus is that it integrates with Web Help Desk. We hope this guidance is helpful. Looking forward to your outreach to address your other concerns.
Betsy
IT Support Services (USA)
Istruzione superiore, 501-1.000 dipendenti
Ha utilizzato il software per: Più di 1 anno
Chatham University's use of Web Help Desk
Commenti: Overall, Web Help Desk was great to work with.
It was very user-friendly and had a lot of tools to get our everyday Help Desk job (ticket logging, working, resolution) done very efficiently.
We had a few issues customer-service-wise (not me personally, but co-workers had said they did), and the issue with duplicates in the asset tracking and management did end up creating problems.
Aspetti positivi:
I liked the easy and multiple ways to find a ticket (open or closed). I liked having the options for searching and the advanced search options. I liked being able to add images and documents to each comment. I loved being able to go in and edit individual comments.
Aspetti negativi:
We had the most problems with customer service and asset management.
Michael
Systems Administrator (USA)
Servizi e tecnologie dell'informazione, 11-50 dipendenti
Ha utilizzato il software per: Più di 2 anni
Effective but interface is dated
Aspetti positivi:
It provides an effective customizable solution for IT help desk. We use this tool for internal and client ticketing. It allows you to configure email rules to allow for tickets to be created based off keywords. This makes it much easier for users to create tickets. We host ours in AWS and it has performed admirably. Customer service has always been easy to get a hold of and will work with you until a solution is discovered.
Aspetti negativi:
The interface is dated. It has not received a refresh since we started using it three years ago. When you attempt to use it on a mobile device it looks like I am back on iOS 3. There have been many changes with HTML 5, CSS and JavaScript and I expect the tool to adopt these new changes to improve the UI.
Risposta di SolarWinds
5 anni fa
Thanks for the feedback Michael. We've got great news! Have you had a chance to check out the new UI that was unveiled with our v12.5.1 release? It has a sleek new look that we're excited to share. We are still working in the IOS application updates and they're currently at the top of our roadmap. You can learn more about what's next with Web Help Desk and suggest additional features for future iterations in our THWACK community. Join us here: https://thwack.solarwinds.com/community/tools_tht/web-help-desk