Prodotto locale
Cos'è KanbanBOX?
KanbanBOX è il software di gestione della catena logistica che consente una gestione snella della catena di distribuzione, dei processi di produzione e approvvigionamento per qualsiasi società di produzione. Con KanbanBOX puoi gestire ogni processo aziendale di creazione di valore: acquisti, produzione, logistica e vendite. KanbanBOX migliora la collaborazione nella catena logistica attraverso un portale condiviso tra vendite, produzione, fornitori e clienti esterni. Ogni flusso, informativo o fisico, è sotto controllo.
Chi utilizza KanbanBOX?
Società di produzione e distribuzione in tutti i settori merceologici: alimentare, meccanico, componenti e attrezzature, macchinari, automobilistico, arredamento, medicina, abbigliamento, illuminazione ed energia, viti ed elementi di fissaggio e molti altri.
Dove si può implementare KanbanBOX?
Cloud, SaaS, Web, Android (mobile), iPhone (mobile), iPad (mobile)
Informazioni sul fornitore
KanbanBOX
Sede: VICENZA, Italia
Fondata nel 2010
Assistenza telefonica
Chat
Disponibilità per Paese
Italia
Lingue
francese, italiano, spagnolo, tedesco
Informazioni sul fornitore
KanbanBOX
Sede: VICENZA, Italia
Fondata nel 2010
Assistenza telefonica
Chat
Disponibilità per Paese
Italia
Lingue
francese, italiano, spagnolo, tedesco
Video e immagini di KanbanBOX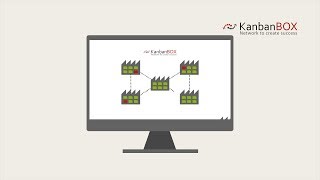 Confronta il prezzo di KanbanBOX con prodotti simili
Caratteristiche di KanbanBOX
Avvisi/Notifiche
Controllo dell'inventario
Creazione di report/analisi
Evasione di ordini
Formulazione di previsioni
Gestione degli approvvigionamenti
Gestione degli ordini
Gestione degli ordini d'acquisto
Gestione dei fornitori
Gestione del magazzino
Gestione dell'inventario
Gestione nuovi ordini
Identificazione del prodotto
Ottimizzazione dell'inventario
Pianificazione di vendite e operazioni
Previsione della domanda
Ricerca/Filtro
Verifica dell'inventario
Sergio S.
Operations manager (Italia)
Utente LinkedIn Verificato
Ambiente ed energie rinnovabili, 51-200 dipendenti
Ha utilizzato il software per: Più di 2 anni
Kanbanbox and us, a success story
Commenti: I've been one of the first users of kanbanbox many years ago. Our production was previously pulled by physical kanban card system. Just from the beginning I felt that something good happened in the company.
From that day many things happened:
We connected kanbanbox to our ERP
we synchronized our drawings database
We extended the kanban system also to multi-supplier item categories
We connected our last laser cutting machine in order to start cutting new batches just after the customer asks for them with no time loss or in-office information process
In few words kanbanbox was by our side during last years while our company was doubling its size
Aspetti positivi:
Easiness and plug-and-play are the features that you feel at first glance, however pro user features will enable you to use kanban pull system in ways you didn't even wonder. And if a particular feature isn't available yet... try to ask for it at the managing team!
Aspetti negativi:
I never find major remarks about this software yet
Risposta di KanbanBOX
2 anni fa
Thank you, Sergio, for the positive feedback. We always aim to operate as a partner, to build successful and long term relationships!
Francesco P.
Lean Coordinator (Italia)
Design, 201-500 dipendenti
Ha utilizzato il software per: Più di 2 anni
Kanbanbox: a strategic tool for the lean
Commenti: Our company, Lago Spa, was using the pull system when it appers essential to adopt a new tool to manage easier the old paper kanban. We looked for a software that could offer a visual and a simply management of the kanban for our warehouse workers and, at the same time, that could share the kanban logic with suppliers, to make smarter also the puchasing office.
The electonic kanban permitted us to strenghten the relationships with our suppliers, thanks to these main functions: the sharing of the blackboard, the traceability of the large packages and the rigour in observing the lead time.
Aspetti positivi:
What I like most about Kanbanbox is the idea through which it has been designed and implemented, that offers a possibility of a clear communication and a smart interaction between suppliers and clients. The main goals in using this software are both the reduction of non-value time for our purchasing office and the growth of the efficiency of the supply chain. Another positive aspect of Kanbanbok is its ductility: thanks to its logic and simply language we had the possibility to apply this system also in the carpentry, which is a strategic and multifaceted sector in our company. The electronic kanban permits to manage different types and quantity of products during all the different phases of the production, keeping the stocks at a minimun level and previewing the future needs. In my opinion Kanbanbox can been considered not only a tool for the supply chain but also an instrument to support the planning of the inner production.
Aspetti negativi:
Since Kanbanbox receives inputs from the financial markets and the buyers as well, there are some areas that can be implemented thanks to the suggestions of the users. For instance, we asked Kanbanbox to develop dashbords that can be personalized to show kpi. This function, at the beginning, was for us less high-performance than now.
Risposta di KanbanBOX
2 anni fa
Thank you for your feedback, Francesco. To provide better service around the KPI monitoring, we have implemented the possibility to gather data from KanbanBOX and to customize BI dashboards with different BI Tools. In particular, we have developed pres-set dashboards for Microsoft PowerBI.
Roberto B.
Production Manager (Italia)
Utente LinkedIn Verificato
Ingegneria meccanica o industriale, 11-50 dipendenti
Ha utilizzato il software per: Più di 2 anni
Eight years with Kanbanbox
Aspetti positivi:
Easy way to manage my daily operations, from purchase to production , the network is working efficiently, my suppliers ( internal or external) can every time check the situation of kanban stocks. Since we have introduced kanbanbox in our business , we reduce delays with our customers and supplier . Another plus is the statistic record report that you have about all the operations made.
Aspetti negativi:
Honestly what I didn't like in the past has been improved
Risposta di KanbanBOX
2 anni fa
Thank you, Roberto, for the positive feedback. We are aware that the improvement process of KanbanBOX is still in place and we work hard to continuously add new features.
Pier antonio F.
KPO (Italia)
Arredamento, 201-500 dipendenti
Ha utilizzato il software per: Più di 2 anni
Kanbanbox in IdeaGroup
Commenti: A problem in supply chain management in our market sector is the high seasonality of products: this is the reason why initially implemented traditional kanban didn't work. It demanded an hard maintenance, a stock increasing instead of decreasing, and stock out was a problem. So we tested the electronic kanban with Kanbanbox combined with a weekly maintenance based on past (historical consumption) and future data (order backlog): in this way we reached a "pull" management of materials with the control of seasonality.
This result was also presented and exported in all Ideagroup's companies: now we are able to manage 2700 items and 8000 kanban in 4 hours a week (with a staff saving of 5 days a month).
Passing from a material management with MRP to electronic kanban, we have reached a 50% stock reduction, an improving in consumption and suppliers data analysis (it's easy to integrate Kanbanbox with a software of Business Intelligence), a decreasing of stock out, an increasing of suppliers reliability: Kanban system needs punctuality (the buffer stock is sized with a fixed delivery time) and this promote a partnership between the two parts.
Aspetti positivi:
The product is very easy to use, it's not a problem to integrate the software with the ERP. Kanbanbox is a very specific solution for electronic kanban system but it has a high flexibility to implement it in all production processes. Recently Kanbanbox has presented an extension to integrate all the supply chain (to manage not only kanban items but also "closed orders" created with an ERP).
Aspetti negativi:
The "maintenance kanban" function could be improved (in our company we use an external platform to combine Kanbanbox and ERP data).
Risposta di KanbanBOX
2 anni fa
Thank you for your feedback Pier. New functionalities on the Kanban maintenance will be available during 2020. The most relevant will be the implementation of suggestions in case of seasonal trends, and the reliability assessment of the maintenance suggestions!
Enrico paolo S.
Plant Director (Italia)
Ingegneria meccanica o industriale, 51-200 dipendenti
Ha utilizzato il software per: Più di 2 anni
Irreplaceable tool
Commenti: Switching, where possible, from MRP to visual management. Full control of stock, rotation increase, sqeueezing of the cahin between the plant and the supplier.
It is a continuous way to check the status of art of the parts you're waiting for and, in the meantime, the supplier also can observe the plant behaviors and prepare to adjust his plans.
Aspetti positivi:
Quick to be implemented, both for the Plant and for Suppliers. User friendly interface, it is a tool for evverybody, from logistics directors to direct workers Suppliers accepted to use it just for its simplicity. Immediate barcodes printing which could be read by every smartphone
Aspetti negativi:
A little bit complicated to manage the differences among the relationships to be correctly created: planner, supplier, partner...
Risposta di KanbanBOX
2 anni fa
Thank you, Enrico, your suggestion is appreciated: during the implementation at your facility, only pdf guides were available. Now there is a completely new knowledge center with on-line hypertextual guides and video-guides, specifically developed to ease the training for news users. A You-Tube channel is in development!