Dynamics 365 Business Central
Cos'è Dynamics 365 Business Central?
Microsoft Dynamics 365 Business Central è una soluzione di gestione aziendale completa progettata per le piccole e medie imprese. Il software fornisce funzionalità di previsione e creazione di report
Scopri di più
finanziari, ottimizzazione della catena logistica, oltre a pianificazione e monitoraggio dei progetti.
Mostra meno
Chi utilizza Dynamics 365 Business Central?
Progettata per le piccole e medie imprese, è una soluzione di gestione aziendale che aiuta a tracciare le prestazioni finanziarie in tempo reale, ottimizzare la capacità di produzione e dare priorità ai lead di vendita.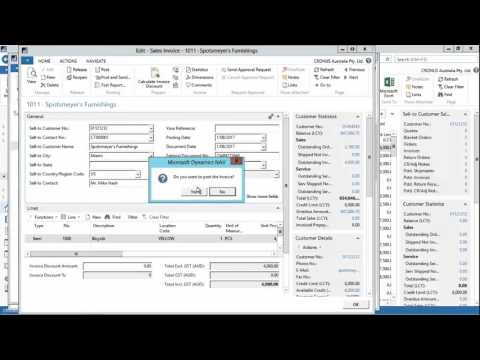 Hai dubbi su Dynamics 365 Business Central? Confrontalo con una delle alternative più diffuse
Dynamics 365 Business Central
Non disponibile nel tuo paese
Versione gratuita
Prova gratuita
Versione gratuita
Prova gratuita
Alternative a Dynamics 365 Business Central
Recensioni su Dynamics 365 Business Central
Yonatan
Head of sales Northern Europe
Utente LinkedIn Verificato
Internet, 11-50 dipendenti
Ha utilizzato il software per: Più di 1 anno
Keeps everything in once place.
Sottotitoli in italiano disponibili nel lettore video
Akash
Quality Engineer (India)
Elettronica di consumo, 501-1.000 dipendenti
Ha utilizzato il software per: Più di 2 anni
Dynamics 365 Business Central - One Stop Business Management solution
Commenti: It saves time by processing huge amounts of data in few secs and keeps records of everything that we want and helps a lot in inventory management and resource planning as per Customer's requirement.Helps to calculate profit/loss on monthly basis/yearly basis.
Aspetti positivi:
Every firm/business needs a solution for managing Daily Ledger, Inventory management, Supply chain management, Process Management, Accounting management, HR management, Profit Management, etc - Dynamics 365 Business Central has everything available in a single software which can be accessed on all types of devices running on different platforms. It provides flexibility to the users to work from anywhere/ anytime by having authorized access. It has top level encryption to keep your data safe and keeps a log of it in its database to compare and analyze data according to our need. I mostly use it for Project management and Process management.
Aspetti negativi:
The user interface of the software is little complex one as use of icons is very less due to which we have to read the name of that particular option/field which we want to choose. Rest there are no cons according to my use
Software informatici, 2-10 dipendenti
Ha utilizzato il software per: Più di 2 anni
Feature rich and easy to use
Commenti: Extremely happy and would only ever use this as an ERP
Aspetti positivi:
It is so easy to use and has got lots of functionality
Aspetti negativi:
Sometimes the interfaces can get a bit complex
Ayass
CFO (Emirati Arabi Uniti)
Produzione di media
Ha utilizzato il software per: 1-5 mesi
Fonte: SoftwareAdvice
Best Modern ERP Solution
Aspetti positivi:
I joined AL FANAR Electricals Co. KSA -in 2003, it has been decided to replace ERP system with NAV, Tec.Support was provided by AL FANAR IT an affiliate company who became golden partnership with Microsoft later and provided the system if Gulf Market, the implementation was very successful, early versions of NAV in 2003 was famous as (Navision Attain) at that time, the system provided a splendid AR, AP, and inventory reports and controls, was helpful in regional trading credit controls and manufacturing process, in 2006 the company upgraded the software to NAV5 and we learned a lot about setup requirements, Posting groups, general business posting groups, sales and system generated transactions setup accounts and matrix, Exr. Var and global dimensions etc..., in 2007 I joined Gulf Capital KSA the company management recommended NAV at that time tec. support provided by (NEWWAY) and I was assigned as a project manager, later in 2009 I joined ROTANA Media Group who recommended same ERP as well. now new versions of NAV are available with business intelligence tools and some additional great features, I expect this fast positive evolvement of MS Dynamics will make them first Market Choice in a short time. I used several softwares before and after NAV like (Dolphin, Oracle, Klipper, and others..) from my experience what I like most in NAV and make it remarkable are the following : - SQL Server which provides flexible opened platform allow users to move to any information details and jump between templates they want from anywhere in the system to get information rather than closing screens and reopening another, other systems cannot provide this Dynamic feature. - Reasonable and Logical controls of the system over transactions complying with exact financial requirements, other systems have nonsense controls in useless areas and gaps in other critical areas, and stand hopeless needing customization for an axiomatic small things. - Easy and Smart setup requirements and users profiles access. - Huge bank of ready reports provided by global MSD teams and partnership - Friendly user = easy training - Easy setup of financial reporting BS, Income statements , cash flow , Budgeting and variances any other because it leaves to user to choose , items lines name , tagging accounts, dimensions needed cost centers or business units , even user can add the equations of some financial statements lines ! - Easy customization and easy editing of all tables screens - High Compatibility with Excel MS Office. - Reasonable cost with complete business solutions package and including project management, Human resources, Cash Management etc..
Aspetti negativi:
No Disadvantages or defaults in my opinion if implementation requirements are clear and correct and finance knows exactly controls, processes outputs they need. everything is there in this system.
Utente Verificato
Managing Director (Kenya)
Utente LinkedIn Verificato
Servizi e tecnologie dell'informazione, 2-10 dipendenti
Ha utilizzato il software per: Più di 1 anno
Alternative considerate:
Best ERP software so far
Commenti: The procurement process has been made easier.
Our asset management is now on point.
The human resource management especially the payroll management bit is awesome.
Aspetti positivi:
Dynamics 365 BC has a variety of tools including the procurement module, human resource module, and the finance module. It has a interface that is user friendly and easy to use. It's workflows are outstanding and carrying out an activity from one end to another is made easy. With the workflows, at least a track can be made on the movement of activities carried out in the system. The ability to generate reports is a plus which is also easy. Another good feature is that it can be customized to accommodate the user needs. It is also compatible with Microsoft Excel such that one can export and import data between the two.
Aspetti negativi:
At first, you will need some practice on how to manage it to avoid messing up with your crucial data. Another issue is that running many processes at once can slow it down and this will force you to wait longer.
Utente Verificato
Selbstständig (Germania)
Utente LinkedIn Verificato
Logistica e catena di approvvigionamento, 2-10 dipendenti
Ha utilizzato il software per: Più di 1 anno
Fonte: GetApp
Sehr gut,....und sehr teuer
Commenti: Man sollte sich im Vorfeld schon ziemlich genau mit Business Central beschäftigen. Ausserdem sollte das Budget anfangs sehr großzügig ausfallen. Die Auswahl eines guten Systemhauses ist unabdingbar.
Wenn alles gut läuft, bekommt man dann aber eine Software, welche im täglichen Einsatz voll zu überzeugen weiss.
Aspetti positivi:
Mit dem passendem Systemhaus, guten Nerven und einem üppigen Budget lässt sich ein begeisterndes ERP zaubern. Anpassungen und Optimierungen sind nahezu keine Grenzen gesetzt,...für mehr Produktivität bei allen Abläufen. Wir konnten in allen Bereichen enorme Zeitersparnis erzielen. Die Arbeitsgeschwindigkeit ist ebenfalls überragend. Darüber hinaus arbeiten wir wesentlich präziser. Kunden, Lieferanten und Partner sind begeistert.
Aspetti negativi:
"Out of the box" geht hier gar nichts. Nahezu alles muss angelegt, eingerichtet und definiert werden. Darüber hinaus fällt es anfangs sehr schwer, den Umfang und die Systematik von Business Central einzuschätzen. Wir kamen von einem "geschlossenen" System, bei dem man nach Eingabe der Stammdaten eigentlich direkt loslegen konnte. Dies funktioniert hier nicht. Im Ergebnis führt das zu viel Stress und hohen Kosten für die Entwicklung. Die ersten Wochen und Monate nach dem "live" sind echt nicht lustig.