Kinetic
Cos'è Kinetic?
Epicor Software Corporation promuove la crescita del business. Fornendo software aziendali versatili e specifici del settore, è in grado di soddisfare le precise esigenze dei clienti dell'ambito
Scopri di più
manifatturiero. In ogni soluzione nel cloud o on-premise sono concentrati oltre 45 anni di esperienza con esclusivi processi aziendali e i requisiti operativi dei clienti. Grazie a questa profonda conoscenza del settore, le soluzioni di Epicor migliorano notevolmente le prestazioni e la redditività, risolvendo le complessità e permettendo di concentrarsi sulla crescita.
Mostra meno
Chi utilizza Kinetic?
Produttori del settore aerospaziale/della difesa, produzione discreta, elettronica e alta tecnologia, energia, metalli fabbricati, macchinari industriali, mobili, dispositivi medici, gomma e plastica e imballaggi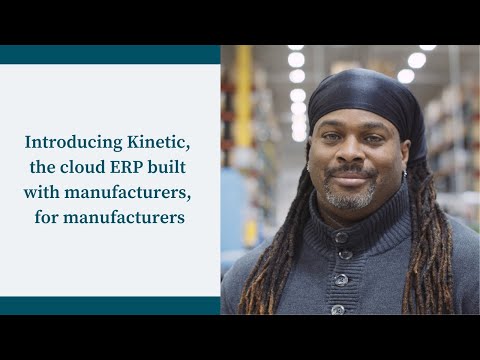 Hai dubbi su Kinetic? Confrontalo con una delle alternative più diffuse
Non disponibile nel tuo paese
Versione gratuita
Prova gratuita
Versione gratuita
Prova gratuita
Rob
IT Directior (USA)
Utente LinkedIn Verificato
Ristoranti, 501-1.000 dipendenti
Ha utilizzato il software per: Più di 2 anni
Full-featured mid-tier ERP based on Microsoft Stack (or cloud option)
Commenti: Very simple to implement. Training people was the hardest part. We upgraded from a 20 year old ERP which was not WYSIWYG but users liked new formats. As usual customers wanted every option but after implementation realized that they could live without it since there were similar features in the existing software. We have a factory with about 40 office workers, 400 on factory floor, two distribution centers and main office. Factory in Mexico, others in US. Project management support from Epicor was great. Not impressed with support. Often had to wait long time for solutions and it required a lot of data on our part to answer their questions. The MS Stack was easy to configure, secure and administrate. We purchased our own servers and hosted them in a shared DC. Performance was good once we figured out how to configure everything including firewalls, WAN and various remote servers. No problems migrating data to new environment but we kept the legacy system for queries. We added a 3rd-party EDI solution and it worked well to reduce Order processing issues. The Epicor software was rarely the problem. Mostly project and training issues that delayed the effort.
Aspetti positivi:
The MS stack makes it easy to customize for reporting, data storage. Multi-tier configuration with database, application server and options for web-clients, fat clients and terminal servers. Many options for customization in addition to code development. Multi-everything. Relatively easy to upgrade and stay on current releases. Great administrative tools and ability to add resources as demand grow, including localizing servers for better performance.
Aspetti negativi:
Nothing really. There are lots of modules and each has a lot of simple to understand configuration options.
Risposta di Epicor Software
2 anni fa
Hi Rob, thank you for your feedback about Epicor ERP. We're glad to hear you find the ease of customization beneficial. Your feedback is invaluable. Please email us at [email protected] to share additional comments and learn about the program.
Jeff
ERP Software Implementation Specialist (USA)
Utente LinkedIn Verificato
Software informatici, 51-200 dipendenti
Ha utilizzato il software per: Più di 2 anni
Alternative considerate:
Exceptional ERP Software for Manufacturers
Commenti: Over the course of nearly twenty years as an Epicor admin in manufacturing, my experience has been fantastic. The software is simply to use, extremely flexible, and the ways that the data can be extracted (reports, BAQ's, and Dashboards) make it a VERY powerful analysis tool when the time to enter data is done properly. The support team is also fantastic...and while maintenance and support is expensive, it's worth it and you get what you pay for.
Aspetti positivi:
Epicor is extremely flexible right out of the box, and is exceptionally strong in the areas of managing and tracking Production Jobs, Bill of Materials, Scheduling, Labor, Inventory, Purchasing, and Order Entry. It also has the ability to have customized development, and things like the Epicor BAQ's, Dashboards, and Business Activity Manager features allow customizes information, exportable grids, and notifications to be setup by administrators and even end users as these modules are user-friendly and fairly intuitive! The Shop Floor Data Entry Module (MES) is also very intuitive and simple to use for the users on the production / manufacturing floor.
Aspetti negativi:
Epicor ERP is expensive software, and since it's such a wide product that handles so many aspects of your business, setup really must be done according to Epicor's recommendations and completed thoroughly. Also, since it's so flexible, there is a lot of it that you won't use, so it's best to create clear work instructions for your team and/or hide fields and/or functions that you will not need to use.
Risposta di Epicor Software
2 anni fa
Hello Jeff, thank you for your feedback about Epicor ERP. We're glad to hear you find it flexible and intuitive. Your feedback is invaluable. Please email us at [email protected] to share additional comments and learn about our customer reference program.
Vendita al dettaglio, 51-200 dipendenti
Ha utilizzato il software per: Più di 2 anni
Not user friendly
Commenti: Though I think that Epicor is very over priced, and charges for any additional service you want, it is able to be personalized to each of our stores' needs. I wish there were a different system that was comparable to what Epicor can do, so I could switch, but with our specific company it integrates well and gets the job done.
Aspetti positivi:
This software has about anything you could think of to help and personalize it to your business. It has so many different reports and assets to help your business. It even has the ability to link together different chains of stores owned by the same owner. They also use what is called "Bomgar" which is a system that allows them to view and control your screen on any terminal to help resolve any issue.
Aspetti negativi:
Nothing is free with this software. If you want the smallest thing they will charge you. You do pay a monthly fee, just like anything else, so you do have access to a call center to walk you through things. However, depending on who you talk to, it is a hit or miss if he/she knows what they are doing and understand what you are looking for. They have different help levels so if they don't understand that can pass you up to a different help level. Sometimes they charge will charge you by hour to take to someone high up. Another CON, is that nothing is simple or straight forward. With it being such a high-tech system, if you want your system to do more than basic, you have to call the help line to help set it up. Sure, you could do it, but good look trying to figure it out and knowing what other flags in the system you need to mark so nothing else is messed up.
Risposta di Epicor Software
2 anni fa
Hi Kevin, thank you for your feedback about Epicor ERP. We note your comments regarding personalization complexity. Please email us at [email protected] to share any additional comments.
Jack
Network Administrator III (USA)
Macchinari, 51-200 dipendenti
Ha utilizzato il software per: Più di 2 anni
Fonte: SoftwareAdvice
ERP system that is easy to setup, easy to use, and has the features you need and want.
Commenti: We rely heavily on a product configurator and Epicor had the best configurator we seen on the market. Epicor has continued to improve their product, adding new features, making it available while mobile. The third party software plug-ins are great and add many time saving functions that are easy to use.
Aspetti positivi:
Like the fact that it had the features we needed, was easy to use, and see continued effort by Epicor to improve it by adding new abilities and features to it. We get great support and training is available in many different forms.
Aspetti negativi:
Cost was a little higher than what we initially were thinking of in our budget. However, after looking a many ERP systems we quickly found that Epicor had what we wanted and felt that it was worth the investment. It has been 10 years now, and still believe we made the right decision to go with Epicor as our ERP system.
Risposta di Epicor Software
3 anni fa
Hi Jack, Thank you for your feedback about Epicor ERP. We're glad to hear the configurator has enabled better efficiency within your business. Your feedback is invaluable, and if you would like to send us an email to [email protected], we would be pleased to receive additional comments, we thank you for your continued advocacy. Sincerely, The Epicor Social Team
Utente Verificato
IT Manager (Nuova Zelanda)
Utente LinkedIn Verificato
Arredamento, 51-200 dipendenti
Ha utilizzato il software per: Più di 2 anni
ERP for Medium-sized manufacturers
Commenti: Epicor ERP is the lifeblood of our company. It has all the transactional records and ensures items are produced, delivered, and invoiced efficiently. Requires a large up-front investment of time and energy to get set up, but once it has gone LIVE, you won't be able to imagine running your business without it.
Aspetti positivi:
Epicor ERP is an all-in-one solution for medium-sized manufacturers. It covers everything needed and has lots of optional modules. We use it for: Quoting Orders Jobs/BOMs Product Configurator Dashboards Reports Purchasing Inventory Production AP & AR invoicing The Epicor team has worked hard to improve the software over the years, and it is now 100% Microsoft Stack. The SQL database can be queried from within the software using reports and dashboards, or externally using Business Intelligence software such as Power BI or Tableau. The price point is better compared to some of its larger competitors in the ERP space. If you have less than 200 users, Epicor will be a much more cost-effective ERP than the ERP leaders. The opportunities for customisation and personalisation are very high.
Aspetti negativi:
Earlier versions of Epicor ERP were slow and clunky, but the new version is really fast. Also, you need experts to help you implement the software, and a dedicated team to maintain it. This is not an "out of the box" solution. It requires you to map your business processes and then implement the software carefully to suit the way your business works. You can customise almost anything you want in the system, but greater customisation brings with it added complexity and possible issues when upgrading point releases and versions.