Absorb LMS
Cos'è Absorb LMS?
Scelto come il miglior LMS dagli editori di PCMagazine, Absorb LMS è la scelta di leader e rivoluzionari del settore. Usa Absorb per formare dipendenti interni, clienti e partner esterni o entrambi.
Scopri di più
Prezzi e tecnologia scalabili sia che tu abbia 100 o oltre 100.000 utenti. Absorb include una moderna interfaccia per studenti con marchio personalizzato in grado di funzionare su qualsiasi dispositivo. Include funzioni e-commerce complete e supporta xAPI, SCORM e AICC. Intuitivo, elegante e agile, Absorb LMS rappresenta un punto di svolta per amministratori e utenti. Richiedi una demo oggi stesso.
Mostra meno
Chi utilizza Absorb LMS?
Organizzazioni che forniscono formazione ai dipendenti, formazione esterna o entrambi, incluso il settore e-commerce. Risulta utile per le organizzazioni con da poche centinaia fino a centinaia di migliaia di studenti.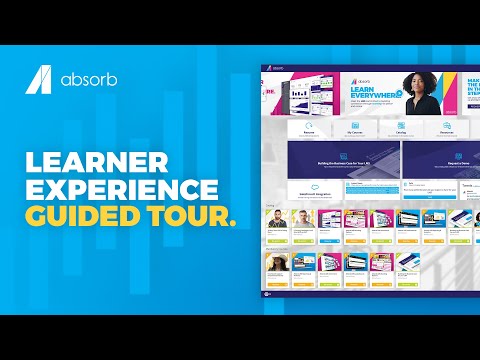 Hai dubbi su Absorb LMS? Confrontalo con una delle alternative più diffuse
Versione gratuita
Prova gratuita
Versione gratuita
Prova gratuita
Craig
Consultant of Continuous Improvement
Utente LinkedIn Verificato
Assicurazioni, 1.001-5.000 dipendenti
Ha utilizzato il software per: Più di 2 anni
Absorb is a Great Choice for a LMS
Sottotitoli in italiano disponibili nel lettore video
Mark
Training Program Manager (USA)
Settore petrolifero ed energetico, 201-500 dipendenti
Ha utilizzato il software per: Più di 2 anni
Alternative considerate:
Making My Life Easier
Commenti: My overall experience has been great. The LMS has allowed me to build an entire corporate training program while simultaneously building the LMS to support it. The time-based credential reporting and compliance tracking has allowed to avoid those possible awkward moments with clients' specific training requirements. With this tracking and reporting, we're also able to respond to a client's immediate need by knowing who is qualified and current on a given access or occupational training requirement.
Aspetti positivi:
The Absorb LMS is easily customizable and Admin/Learner user-friendly. This allowed me to expand my Training effort and capabilities with not only scope but greater efficiencies in that I can customize the LMS to meet the varying needs of my different stakeholders.
Aspetti negativi:
If there is a negative, it is in the format of the Training Transcript when printed, or exported as an electronic file. The courses appear in alphabetical order without the ability to filter for a time period, or sort chronologically. This frustrates Supervisors who then have to review the entire transcript to find what training an employee has completed in the last year. I understand the Transcript are being reworked by Absorb for 2022, so this may become a non-issue.
Stefan
Manager, Knowledge Management (Canada)
Software informatici, 201-500 dipendenti
Ha utilizzato il software per: 1-5 mesi
Alternative considerate:
Easy to use LMS platform with the right amount of features for our needs
Commenti: We were looking for an LMS platform for internal training that could be expanded to customer training afterwards. The sales engagement with Absorb LMS has been a great experience, providing us with the tools and knowledge to properly evaluate the platform (including a trial portal which we could test with our own content). Onboarding was well structured, with a clear plan of tasks to accomplish both on our side and on the vendor side. Absorb provides a series of well-made self-training modules to go through, which complemented the training provided by the implementation project manager. Compared to other LMS, the platform itself is easy to use while providing a good breadth of features for our use. It's a mature product, with a solid backend. We did not experience any performance issues or security concerns. Look and feel customization is relatively basic. The interface is also quite rigid: for example, thumbnails or banners must have precise dimensions, otherwise images are stretched. Because of that it requires a lot of efforts, trials and errors, if you want to have a visual experience distinct from the Absorb default. The main shortcoming we experienced is that some common workflows could be streamlined. They can involve a lot of clicks, which is irritating when you're repeating the same workflow several times in a row. Keyboard shortcuts could be introduced to facilitate some operations, which would alleviate this.
Aspetti positivi:
Easy to use Solid onboarding training for admins Provides content hosting Supports SCORM and xAPI (Tin Can) Supports Instructor Led Classes Zoom integration BambooHR integration Salesforce integration Overall mature platform Great customer support
Aspetti negativi:
Look and feel customization lacks flexibility Some workflows could be streamlined, especially for course management No actual course authoring functionality: users need to import learning objects created with external tools, such as 3rd party eLearning authoring tools. This is fine for our needs, but it would add flexibility if there was at least some content authoring functionalities.
Celia
Manager, Volunteer Partnerships & Engagement (USA)
Gestione di organizzazioni non profit, 51-200 dipendenti
Ha utilizzato il software per: Più di 1 anno
Finally, an LMS that is Simple and Customizable
Commenti: We use Absorb for an external audience - volunteers - and they have no complaints. They find it simple to use and don't require an official onboarding process.
Aspetti positivi:
I love that this product is customizable according to your organization's needs. The business model is to teach you how to fish so that you own the system and can make branding updates, page templates, email templates, etc. You can customize the Learner Home to your preferences. You're not stuck with an LMS in a box where you have to rely on customer support for everything. In addition, the system is simple to learn administratively. I'm most impressed with its reporting function which has been very complicated in my experience with many other learning systems. Also, the Global Resources field is awesome so you don't have to pretend documents always belong with a course.
Aspetti negativi:
The ILC course feature could use more flexibility. Would be great to have users be able to register for more than one ILC session within a course. I end up duplicating a lot of courses just to add the ability to register for more sessions.
Utente Verificato
Manager Training Operations (USA)
Utente LinkedIn Verificato
Agricoltura, 1.001-5.000 dipendenti
Ha utilizzato il software per: 6-12 mesi
Absorb, the flexible, powerful yet easy to use LMS!
Commenti: We use the LMS for the management of both internal and external training. It has been uneventful in the setup and management for both organizations. We have observed a few lacking capabilities in out of the box reporting to be able to report on these programs in a holistic way. However, with their APIs and direct database connections we have succeeded. While system availability and performance has been stellar, we have experienced some delays in customer support addressing our needs. They do respond, at the moment it is just taking a little longer than expected. While migrating to their system can be quite busy and a little laboring, the process was easy to follow and not too problematic for us. Our users have commented upon their migration as quite refreshing with the newer interface, layout and feel. Our overall experience has been good and we are looking forward to the new capabilities and features Absorb is continually to invest in. Happy & Productive Learning!
Aspetti positivi:
Ease of use, no matter a user or administrator. Quick and responsive page loading, and simply ability to export data reports. Advance API and direct database access capability for growth and in-depth training program management and reporting. Customizable interface and deployment options with integration to other content provider libraries. Simple enrollment & curriculum rule writing and deployment.
Aspetti negativi:
Some difficulties in the management and deployment of blended learning within these challenging COVID times. Would like to see more out of the box higher level training program reports for a department, group, or training center. Could use some more options for defining departments, roles and user privilege's within the system.
Allison
VP of L&D Solutions (USA)
E-learning, 11-50 dipendenti
Ha utilizzato il software per: 1-5 mesi
Unexpected Limitations
Commenti: Overall it's ok. Again we were really disappointed about the department/sub-department functionality. So if you are using Absorb for multiple clients not just internally then beware. It is definitely easier to see how many users we have in the system, who has taken what courses, our popular courses, and course evaluation scores which for us are all important KPI's. overall great value for the price.
Aspetti positivi:
Absorb is really easy to use and navigate. We purchased it for the ability to have "department" or sub-companies. We provide training materials and the platform to our clients so having a multi-tenant LMS was critical. I love the ability to customize colors and layout for various clients. The onboarding process was pretty smooth and the staff is attentive.
Aspetti negativi:
My biggest disappointment was that that the multi-tenancy or segregating by departments did not function as we expected causing us to have to adjust our offering and prices for clients. When assigning courses you can only assign to a whole or sub-department, you can exclude. So if 99 customers get the library and one doesn't, you have to allow 99 clients instead of just restricting one. When restricting departments they can manage only the users and courses within their department. However, this does not apply to the mercury module, Global Resources, Competencies, Categories, Message Templates, Ecommerce, and Public Catalogs. So we had to disable access to department admins for these features otherwise they would see other departments (clients) information which is terrible!!!! So instead we have to manage all of these features for our clients. So every time they want a billboard changed we have to do it for example. It puts a lot more management on our behalf that we weren't expecting. other little things we don't like are: -no course number field -can't control the order modules are consumed ina chapter only the order of the chapters. -can't change the reports on the dashboard or re-order it -resources don't have a thumbnail- makes them look empty/incomplete -no place for text on the home dashboard. -roles are not department-specific -can't change password expiry beyond 7 days -task functionality is way too basic -no ability to integrate tasks or due dates with calendars